Prospect Roundup: Games of July 18
Yanks' Andujar provides heroics; Rays' Honeywell returns strong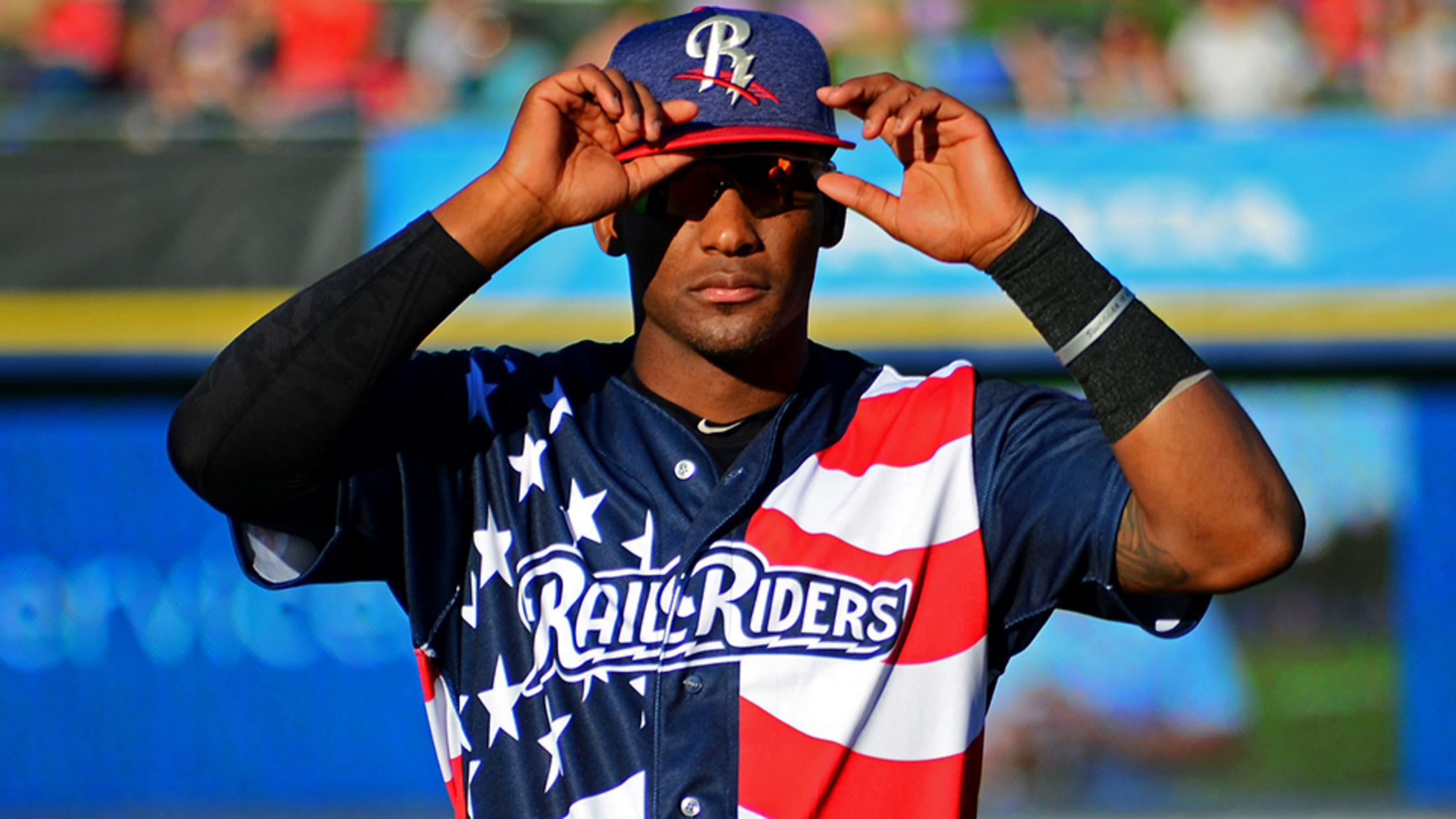 Miguel Andujar has four home runs in 22 games for Triple-A Scranton/Wilkes-Barre. (Stephen Pellegrino/MiLB.com)
Rays RHP Brent Honeywell Jr., Triple-A Durham: 5 IP, 3 H, 0 R, 2 BB, 5 K, 88 pitches, 54 strikes -- The Rays' No. 2 prospect returned from his MVP performance at the All-Star Futures Game with five scoreless innings in Durham's 5-1 win over Indianapolis. He hasn't allowed a run
Rays RHP Brent Honeywell Jr., Triple-A Durham: 5 IP, 3 H, 0 R, 2 BB, 5 K, 88 pitches, 54 strikes -- The Rays' No. 2 prospect returned from his MVP performance at the All-Star Futures Game with five scoreless innings in Durham's 5-1 win over Indianapolis. He hasn't allowed a run in his last 11 International League innings -- a streak that extends to 13 frames if you count the Futures Game -- lowering his Triple-A ERA from 4.91 to a more palatable 4.27 through 16 starts (84 1/3 innings). Even when the 22-year-old right-hander's traditional stats are out of whack, his more advanced numbers are more in line with his talent level. Following Tuesday's gem, Honeywell leads the IL with a 28.3 percent strikeout rate and ranks second with a 2.84 FIP. Not surprisingly, the 1.43 difference between his ERA and FIP is the biggest in the IL, in part because his .379 BABIP-against is 20 points higher than anyone else's in the Triple-A circuit. With four above-average pitches and impressive control, Honeywell should push for a spot with Tampa Bay as the Rays continue to fight in both the AL East and Wild Card races.
Orioles C Chance Sisco, Triple-A Norfolk: 3-for-4, 3 2B, 4 RBI, 2 R -- The Orioles' top prospect, and Honeywell's batterymate at the Futures Game, continued his strong July with a career-high three doubles in the first game of a doubleheader at Scranton/Wilkes-Barre on Tuesday. (More on that twin bill below.) Sisco has hits in six of his seven games this month, going 11-for-26 (.423) with four doubles and eight RBIs. Since June 1, he owns a .346/.413/.462 line with one homer and nine doubles over 29 contests, ranking third in average among IL hitters since that date. The 22-year-old backstop is known for his hit tool, which is even more impressive given the demands of his position, and that's been shining most of late. He remains Baltimore's catcher of the future, and don't be surprised if he gets a late-season look in the Majors, given the fact that he'll be added to the 40-man roster as Rule 5 protection by November anyway.
Yankees 3B Miguel Andújar, Triple-A Scranton/Wilkes-Barre: 4-for-7, HR, 2B, 2 RBI, 2 R -- On the same night the Yankees acquired a big-name third baseman in Todd Frazier, their No. 8 prospect tried to prove himself worthy of another big-league look in that doubleheader between the RailRiders and Tides. He homered in the first game and went 3-for-4 with a double and a walk-off RBI single in the eighth inning of Game 2. The 22-year-old third baseman has hits in eight straight games, going 13-for-29 (.448) with three homers and two doubles to raise his Triple-A slash line to .321/.363/.536. It's been an ascendant season for Andujar, who began the campaign at Double-A Trenton and made a one-game Major League cameo on June 28, going 3-for-4 with a double and four RBIs. There shouldn't be much worry about Frazier's acquisition blocking Andujar's path back to the Bronx; the former White Sox slugger will share time with Chase Headley at both third and first, and only Headley is signed through 2018. Should the 22-year-old continue to hit like he has in the Minors this season, he might eclipse a sometimes-struggling Headley for at-bats come September.
Royals 1B Ryan O'Hearn, Triple-A Omaha: 3-for-4, HR, 2B, 2 RBI, 2 R -- The Royals' No. 7 prospect finished a triple shy of the cycle Tuesday in a 9-7 win over Colorado Springs, though it was unlikely to come. O'Hearn has yet to collect a three-bagger this season and has only three over 415 career games in the Minors. That said, the 23-year-old first baseman has the power to provide plenty of extra-base hits. His homer Tuesday was his 16th of the season, and he should hit enough to crack the 20 mark for a third straight season. His .199 isolated slugging percentage ranks second on Omaha's roster, and that number jumps to .212 in games played away from Omaha's Werner Park. The rest of O'Hearn's offensive profile (.254 average, .322 OBP, 97 wRC+) doesn't quite reach the higher thresholds for first-base prospects, but more second-half slugging could give the Royals something to think about this offseason, should Eric Hosmer leave in free agency.
Orioles LHP Keegan Akin, Class A Advanced Frederick: 5 IP, 6 H, 2 R, 2 ER, 1 BB, 10 K, 104 pitches, 71 strikes -- MiLB.com's Farm System Grades series gave the Orioles a C-, noting that the organization has little to be found in terms of big-time pitching. That may be a little harsh for Akin, Baltimore's No. 5 prospect, who matched a career high with 10 strikeouts Tuesday. The 22-year-old southpaw ranks fourth in the Carolina League with 100 strikeouts in 89 1/3 innings and, even more impressively, is third in the Class A Advanced circuit with a 27 percent strikeout rate, thanks to a plus fastball and above-average slider. However, where he loses points is his control. Akin's 10.8 percent walk rate ranks 25th out of 26 qualified Carolina League hurlers, so his 3.63 ERA isn't quite as eye-popping as his K's suggest it could be. Tuesday's outing is a step in the right direction, but it comes on the heels of a start last Thursday in which he issued five free passes in four innings. Akin will have to find the zone more consistently from start to start if he wants to be a standout arm on the O's farm.
Sam Dykstra is a reporter for MiLB.com. Follow and interact with him on Twitter, @SamDykstraMiLB.