Prospect Roundup: Games of July 19
Cardinals' Kelly keeps raking; A's Olson homers, walks four times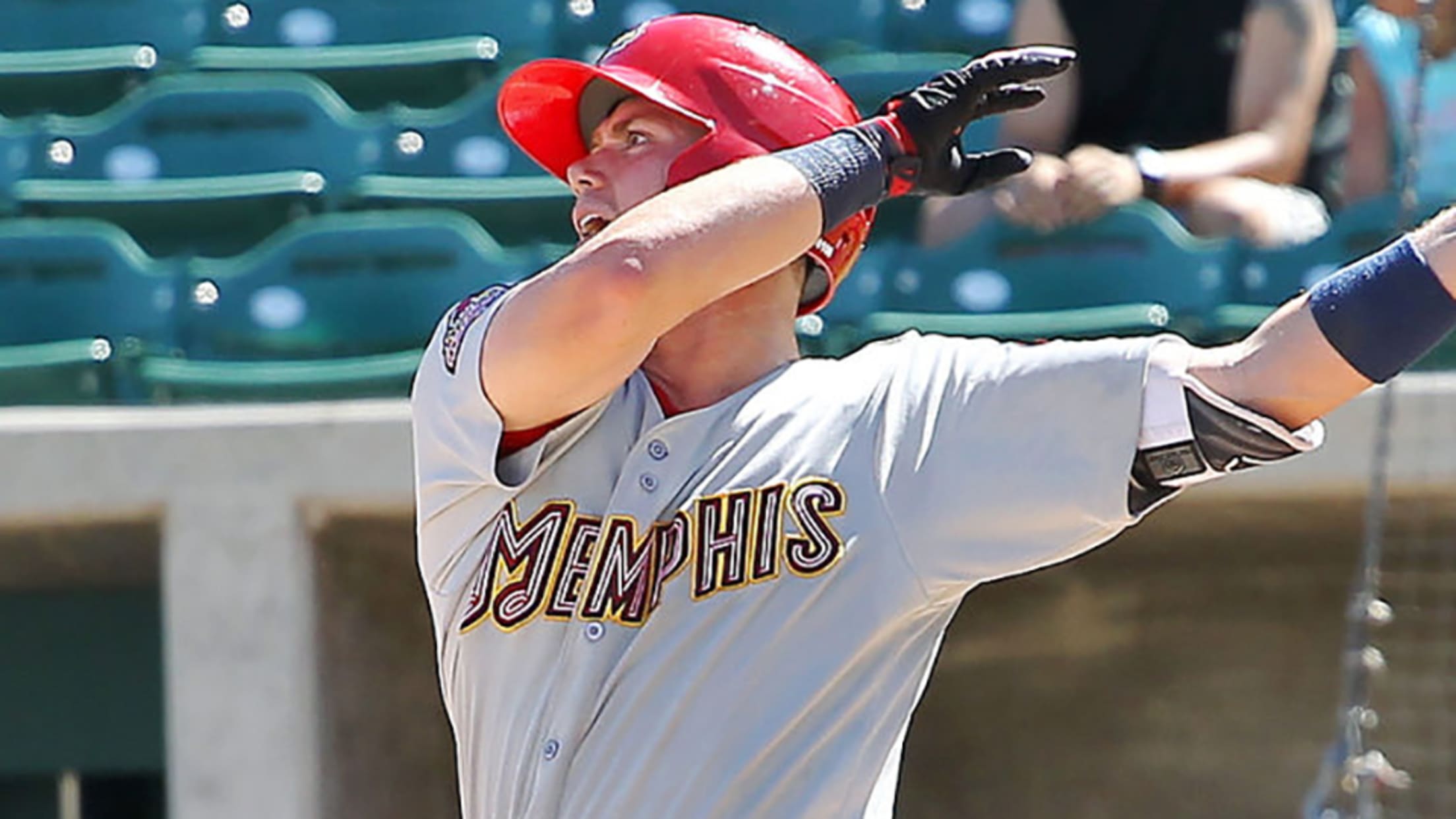 Carson Kelly didn't go deep in 32 games with Triple-A Memphis last season but has 10 homers for the club in 2017. (Ben Sandstrom/MiLB.com)
Cardinals C Carson Kelly, Triple-A Memphis: 3-for-4, HR, 2 RBI, R, K -- Kelly put himself in the conversation to be the game's top catching prospect last season when he broke out offensively at Double-A Springfield and Triple-A Memphis, and he's been even better with the bat in 2017. Wednesday brought
Cardinals C Carson Kelly, Triple-A Memphis: 3-for-4, HR, 2 RBI, R, K -- Kelly put himself in the conversation to be the game's top catching prospect last season when he broke out offensively at Double-A Springfield and Triple-A Memphis, and he's been even better with the bat in 2017. Wednesday brought his fifth three-hit game of the season and his 10th home run, which set a career high. He's now hitting .283/.375/.459 with 23 extra-base hits and a 118 wRC+ in 68 games during his second go-round with the Redbirds. The 23-year-old has grown into an asset defensively behind the plate after playing third base during his first two seasons in the Minors, and he's become a more well-rounded player with his improvements at the dish. He'll be back in St. Louis at some point this season, but Yadier Molina's extension through 2019 did him no favors over the longer term. If Kelly keeps performing like this, however, some tough decisions could be coming soon for the Major League club.
A's 1B/OF Matt Olson, Triple-A Nashville: 1-for-2, HR, 4 RBI, 3 R, 4 BB -- This performance was, in a word, Olson-esque. The A's No. 17 prospect has proven to be one of the Minor League masters of the three true outcomes with 19 homers, a 24.3 percent strikeout rate and 14 percent walk rate in 68 games with Triple-A Nashville this season. He was just missing the strikeout Wednesday, not that he or the Sounds are complaining. His grand slam highlighted a six-run eighth inning that forced extra innings in an eventual 11-8 win, but it's tough to not focus on the four free passes. For any other player, that would likely be a career first. For Olson, it was his third, matching his marks set on June 14, 2015 and Aug. 29, 2014. The 23-year-old is enjoying his best statistical season yet in the Pacific Coast League, hitting .267/.370/.563. The A's have taken notice, calling him up to the big club on four different occasions, but the expected signing of Chris Carter could complicate matters. Olson has played exclusively at first base in the Minors this season but could get more looks in right field, where he played 10 times for Oakland, to make room for the veteran slugger.
Giants RHP Tyler Beede, Triple-A Sacramento: 7 IP, 5 H, 1 R, 0 ER, 1 BB, 5 K, 109 pitches, 78 strikes -- It's been a season of one step forward, one step back for the Giants' top prospect, but there's no denying Wednesday's gem was a big move in the right direction. Beede's outing was his longest of the season without an earned run allowed, and it was also his longest of any kind in terms of pitches thrown. The 24-year-old has had a rough first go-round in the Pacific Coast League, posting a 4.79 ERA with 83 strikeouts, a .282 average-against and 14 home runs allowed over 109 innings. Despite having a solid four-pitch mix, he just hasn't made batters miss much this season. He'll likely fall out of MLB.com's top 100 as a result, but perhaps Wednesday will provide the second-half boost he needs to finish on a high note.
Mets RHP Chris Flexen, Double-A Binghamton: 7 IP, 4 H, 1 R 1 ER, 3 BB, 7 K, 100 pitches, 66 strikes -- It's tough to find a Mets pitching prospect who's improved his stock more in 2017, when healthy, than the system's No. 22 prospect. Following preseason knee surgery that kept him from moving to Double-A Binghamton until June, the 23-year-old righty has a 1.66 ERA and 0.72 WHIP with 50 strikeouts and seven walks in 48 2/3 innings for the Rumble Ponies. Since he debuted in the circuit on June 7, he leads Eastern League hurlers in ERA, WHIP and strikeouts. Flexen underwent Tommy John surgery in 2014, and this was meant to be just his second full season following the procedure. When healthy, he's made batters miss much more efficiently with his strikeout rate jumping from 16.6 percent last season at Class A Advanced St. Lucie to 27.9 percent with Binghamton this season. He'll have to hold up the rest of the year to keep durability concerns at bay, but it's an impressive trajectory right now for the right-hander.
Indians LHP Brady Aiken, Class A Lake County: 5 IP, 3 H, 1 R, 1 ER, 4 BB, 2 K, 86 pitches, 43 strikes -- An odd statistical month of July continued for the Indians' No. 4 prospect. On the one hand, Aiken has allowed two runs or fewer in each of his four starts this month and has posted a 2.01 ERA. On the other, he's walked more batters than he's struck out in each of those outings and has issued 18 free passes compared to 10 punchouts in 22 1/3 innings in July. The Indians will take whatever good news they can get from the 2015 first-rounder, who owns a 3.98 ERA with 59 strikeouts and 71 walks in 95 innings this season, but his control issues need to be ironed out if he's going to climb the ladder post-Tommy John surgery.
Sam Dykstra is a reporter for MiLB.com. Follow and interact with him on Twitter, @SamDykstraMiLB.