Prospect Roundup: Games of July 2
Rosario adds to Major League case; Lauer, Jax dominate in debuts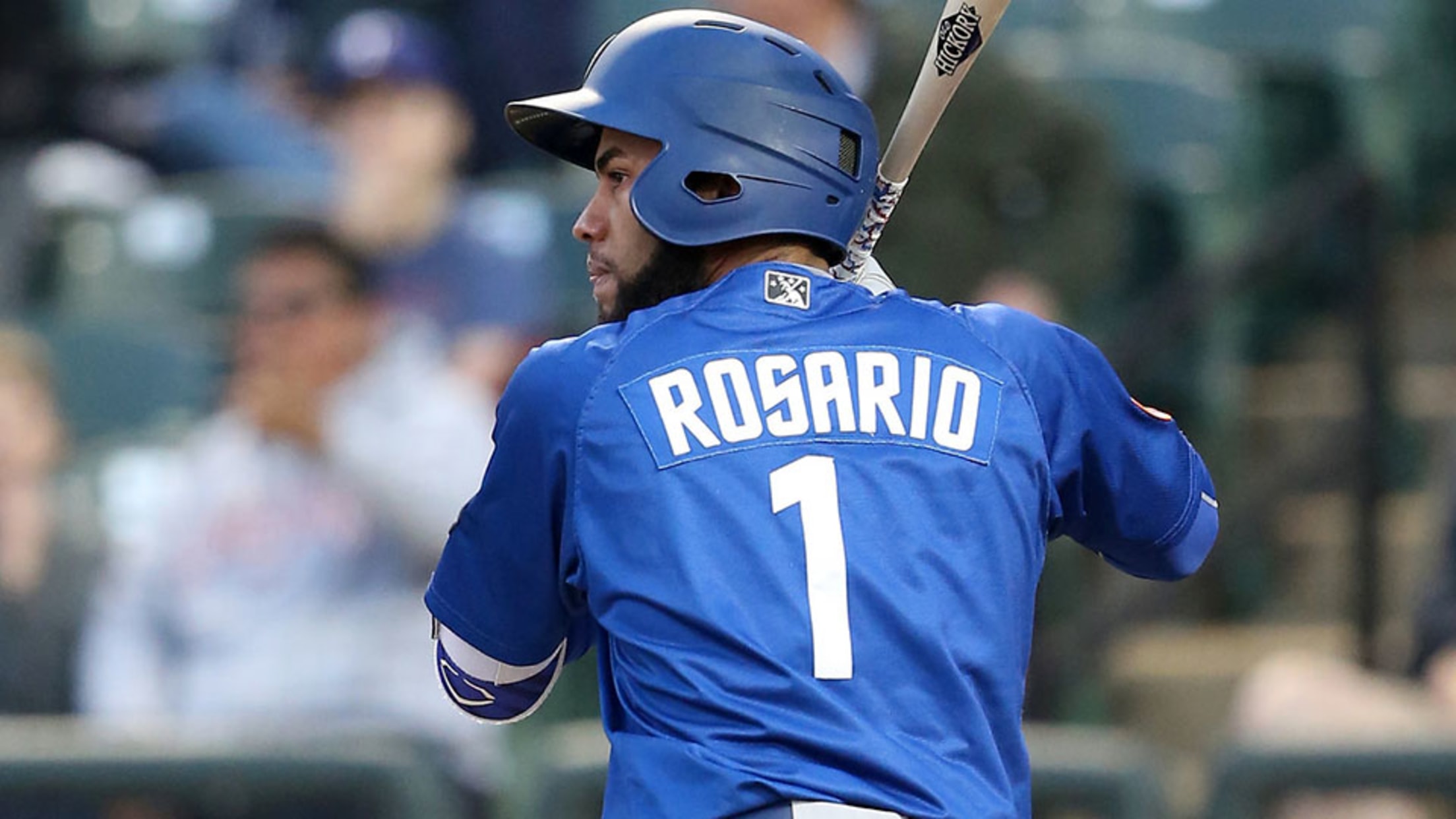 Amed Rosario ranks second among Las Vegas hitters with a .320 average this season. (Jamie Harms/MiLB.com)
Mets SS Amed Rosario, Triple-A Las Vegas: 3-for-4, 3B, 2B, 3 RBI, R, BB, CS -- The Mets' middle-infield situation has settled some with Asdrúbal Cabrera moving over to second since he came off the disabled list and José Reyes, who owns a .941 OPS since June 16, taking over at
Mets SS Amed Rosario, Triple-A Las Vegas: 3-for-4, 3B, 2B, 3 RBI, R, BB, CS -- The Mets' middle-infield situation has settled some with Asdrúbal Cabrera moving over to second since he came off the disabled list and José Reyes, who owns a .941 OPS since June 16, taking over at short. Will that calm the calls for Rosario? Not likely. In his last five games -- all on the road -- the 21-year-old shortstop is 9-for-23 (.391) with two triples, a double and six runs scored, boosting his season line to .320/.361/.476 through 79 games. Despite 13 errors in 74 games at the position, he also represents a significant defensive upgrade over Reyes or Cabrera at short. Cabrera has already asked for a trade, though there doesn't seem to be much of a market for the 31-year-old. If the Mets can move the veteran, Rosario might finally get his shot. For now, expect MLB.com's No. 3 overall prospect to be in Miami as a full Futures Game participant this Sunday.
D-backs 1B Christian Walker, Triple-A Reno: 4-for-7, HR, 3B, 5 RBI, 3 R in doubleheader -- The D-backs seem to want to find a spot for their No. 30 prospect in the Majors, and it's understandable given his bat. Walker did most of his damage Sunday in the first game of a doubleheader, going 3-for-4 with a homer, triple and five RBIs in against El Paso. The long ball was his 20th of the year, putting him second in the PCL behind Renato Núñez's 21 for Nashville, while his .948 OPS ranks sixth. The 26-year-old has spent almost his entire first season in the Arizona system at first base, where he's blocked by All-Star Paul Goldschmidt, so he's recently started trying out third base with two of the last four starts coming at the hot corner. The problem is he's also blocked there by All-Star Jake Lamb. Walker played most of 2016 in left field for Triple-A Norfolk in the Orioles' system but hasn't gotten a start on the grass with Reno since May 21. It's obvious Walker is hitting well enough to get a Major League look, even if he's no longer on the 40-man roster. But without an obvious position and with no DH in Arizona, he'll have to keep slugging it out in Reno.
Padres LHP Eric Lauer, Double-A San Antonio: 7 2/3 IP, 7 H. 0 R, 0 BB, 9 K, 96 pitches, 76 strikes -- The Missions may have heard tales of Lauer's impressive control and dominant outings with Class A Advanced Lake Elsinore. On Sunday, they got to experience the Padres' No. 8 prospect first-hand. Lauer made easy work of Double-A Northwest Arkansas in his Texas League debut, leading San Antonio to a 1-0 win Sunday. The 22-year-old southpaw had a 2.79 ERA with 84 strikeouts and 19 walks over 67 2/3 innings in the California League and was promoted one start after the circuit's All-Star Game last month. He's got two above-average offerings in his fastball and slider, but it's the control that really makes his four-pitch mix work so well. Time will tell if Double-A hitters can catch onto Lauer in ways their Class A Advanced cohorts could not, but Sunday made it seem like the 2016 first-rounder's profile will still be effective at the Minors' second-highest level.
Cardinals RHP Jordan Hicks, Class A Peoria: 8 IP, 4 H, 0 R, 2 BB, 9 K, 1 HBP, 103 pitches, 65 strikes -- The Cardinals' No. 18 prospect set career highs for innings, pitches and strikeouts in an 8-1 win over Kane County on Sunday. It was also his first scoreless outing since April 12, his second start of the season. Hicks was taken 105th overall in 2015, and the Cardinals have taken the slow road with the 20-year-old, keeping him in Rookie-level and Class A Short Season ball in 2016 before bumping him to the Midwest League for this campaign. (A shoulder issue in 2015 had something to do with that.) The 6-foot-2 right-hander has impressive offerings in his fastball -- a pitch that can touch the upper-90s -- and curve, but his biggest knock has been control. He walked 10.9 percent of the batters he faced last season, and that number has gone up to 11.3 percent with Peoria. That's what made Sunday's outing so encouraging. Hicks was able to limit the free passes so well that the Chiefs allowed him to complete eight frames and hit triple digits in pitches. Hicks has also done a better job of late in the K department with 31 strikeouts in 30 2/3 innings since the start of June. These are the types of developments that should have the Cardinals enthused about Hicks' future as he continues to power through at his first full-season stop.
Twins RHP Griffin Jax, Class A Cedar Rapids: 7 IP, 3 H, 0 R, 1 BB, 4 K, 84 pitches, 51 strikes -- Jax was stellar in his Class A debut Sunday, tossing seven innings in a 3-0 win over Clinton. The 22-year-old right-hander was a third-round pick out of Air Force in 2016 but returned to the academy this spring to complete his degree. He reported to the Twins after graduating on May 24 and is pitching while on 60-day leave before he has to report to Cape Canaveral Air Force Base in Florida later this summer. The Twins' No. 30 prospect is trying to make the most of that time with one start each in Elizabethton and Cedar Rapids so far, and it'll be interesting to see how much more he can squeeze out of this run before it ends later this month.
Sam Dykstra is a reporter for MiLB.com. Follow and interact with him on Twitter, @SamDykstraMiLB.