Prospect Roundup: Games of July 20
Mets' Lindsay, Padres' Urias collect four hits apiece Thursday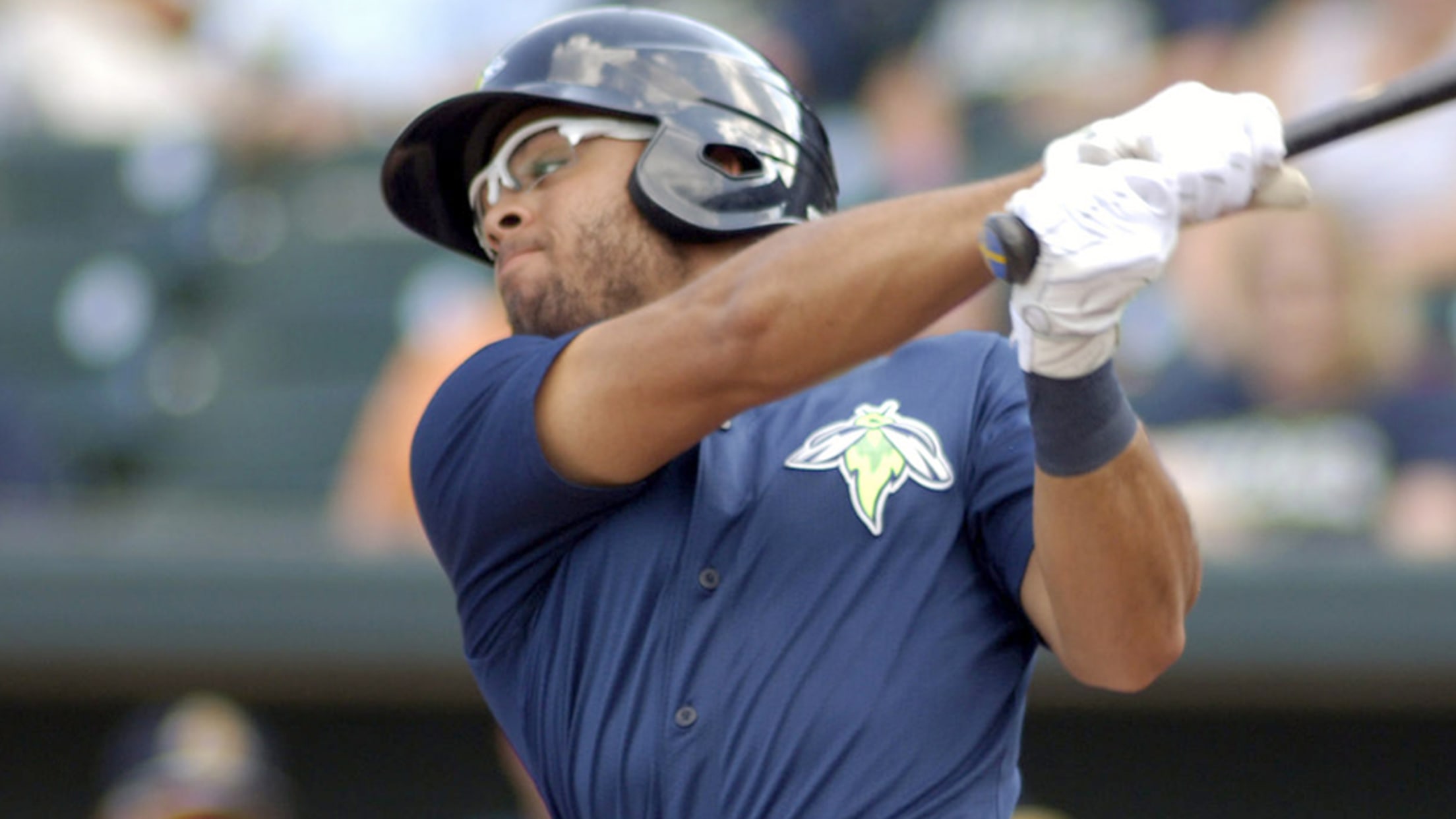 Desmond Lindsay is 16-for-51 (.314) with five extra-base hits in 12 games since coming off the disabled list. (Lianna Holub/MiLB.com)
Padres SS/2B Luis Urías, Double-A San Antonio: 4-for-5, 2B, R, K -- If there's anything Urias is known for, it's his age -- he was the Texas League's only teenager on Opening Day -- and his ability to hit wherever he goes. He's certainly shown the latter of late. Thursday saw
Padres SS/2B Luis Urías, Double-A San Antonio: 4-for-5, 2B, R, K -- If there's anything Urias is known for, it's his age -- he was the Texas League's only teenager on Opening Day -- and his ability to hit wherever he goes. He's certainly shown the latter of late. Thursday saw the Padres' No. 4 prospect match his season high with four hits -- a number he had produced on four previous occasions -- and extend his hitting streak to 10 games. He's gone 18-for-40 (.450) over that stretch with two doubles, six walks and only five strikeouts. Those are a lot of singles, yes, but it's also a lot of contact in general. Despite his age, the right-handed-hitting middle infielder leads the Texas League with a .412 on-base percentage and ranks third with both a .316 average and 109 hits. He's also walked more times (52) than he's struck out (46) in 89 games. Now 20, there's no doubt Urias has a shot to make San Diego by next season, and the Padres have split his time between second base and shortstop this season to find the route that will get him there most quickly.
Astros SS Anibal Sierra, Class A Advanced Buies Creek: 3-for-4, HR, 3B, 5 RBI, 3 R -- Batting from the ninth spot, the Astros' No. 18 prospect likely would not have been anyone's pick to flirt with the cycle and drive in five runs Thursday. But that's exactly what Sierra did as he proved to be the difference in Buies Creek's 8-3 win at Carolina. The 23-year-old shortstop, who was signed for $1.5 million out of Cuba last July, is hitting just .206/.280/.309 with four homers and 84 strikeouts in 70 games with Buies Creek. So it hasn't been a thrilling introduction to the States. The good news is he's played exclusively at shortstop in the Carolina League, and according to MLB.com, he has the instincts and arm to stick there, making the offensive threshold a little lower. But the arms aren't going to get any easier up the chain, and he'll have to start figuring things out offensively, as he did Thursday, if he's going to remain an asset in a solid Astros system.
Indians LHP Juan Hillman, Class A Lake County: 8 IP, 4 H, 0 R, 0 BB, 4 K, 1 HBP, 93 pitches, 64 strikes -- The Indians' No. 10 prospect has made tremendous strides after starting the first two months of the season with a 7.38 ERA, and that work culminated in Thursday's gem -- the longest of his career. Hillman told MiLB.com back in late June that he was focusing more on his lower half and that focus has improved his fastball command. He's tossed quality starts in four of his last five outings and owns a 1.85 ERA with 28 strikeouts and four walks over 34 innings in those five starts. Taken in the second round out of a Florida high school in 2015, the 20-year-old southpaw was a project entering the pros. After some scuffling at the short-season levels, he looks like he's finally putting it together in full-season ball. He's earned solid grades for his fastball and changeup in the past, which means the potential was always there. Now the results seem to be too.
Mets OF Desmond Lindsay, Class A Columbia: 4-for-5, 2 2B, 2 RBI, 2 R -- Speaking of Class A turnarounds, the Mets' No. 5 prospect continued his with a career-high four hits Thursday in a 4-0 win at Lexington. At the end of May, Lindsay was hitting just .150/.299/.260 through 42 games. Since the start of June, he's produced a .322/.372/.575 line with five homers, one triple and five doubles in 23 games. (A three-week disabled list trip following a collision at the plate also figures in there.) While those recent returns are stellar, they're much closer to what the Mets have expected from their 2015 second-rounder. Hamstring issues had limited him to only 72 games over his first two Minor League seasons, and his general ineffectiveness in the first half threatened to hurt his stock even more. But when things are going right for Lindsay, he has the potential to shine with all five tools, and the Mets are finally getting glimpses of that in the South Atlantic League.
Dodgers OF Jeren Kendall, Rookie-level Ogden: 3-for-5, 3B, 2 RBI, R, K -- Kendall was expected to be a high first-rounder in this year's Draft, but his stock dropped after he struck out in 25.1 percent of plate appearances during his junior year at Vanderbilt. He's still got plenty of offensive potential as he showed by hitting .307/.372/.556 with 15 homers and 20 steals with the Commodores, and the Dodgers scooped him up with the 23rd overall pick before giving him an above-slot $2.9 million signing bonus. He's played only two games in the Pioneer League, but he's shown off all of his offensive tools with the Raptors thus far, going 6-for-8 with a triple, four RBIs and two steals in his first two games. Nobody expects him to hit .750 for long, but for a player whose hit tool was questioned entering Draft Day, Kendall is letting his bat do a lot of answering early on in his pro career.
Sam Dykstra is a reporter for MiLB.com. Follow and interact with him on Twitter, @SamDykstraMiLB.