Prospect Roundup: Games of June 13
Catching prospects Alfaro, Collins put on power show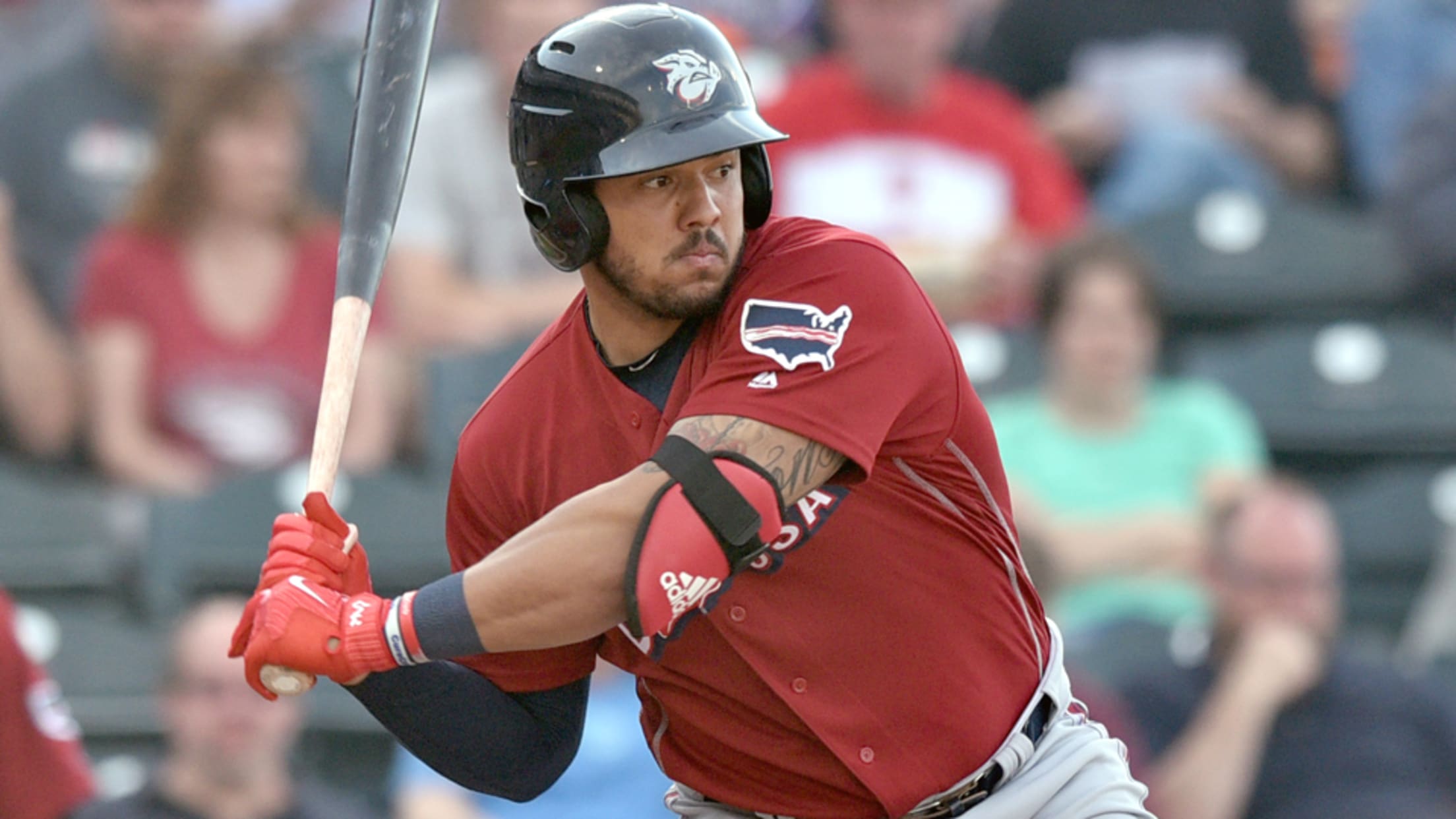 Jorge Alfaro made his Major League debut in 2016 but has some work to do offensively to get back on the big stage. (Ken Inness/MiLB.com)
Phillies C Jorge Alfaro, Triple-A Lehigh Valley: 3-for-5, HR, 2B, 2 RBI, R -- At the start of the season, Alfaro was looking like a Triple-A prospect demanding to be called up after hitting .333/.368/.528 in his first 18 games. However, he then hit .213/.242/.270 with a 35.9 percent strikeout rate
Phillies C Jorge Alfaro, Triple-A Lehigh Valley: 3-for-5, HR, 2B, 2 RBI, R -- At the start of the season, Alfaro was looking like a Triple-A prospect demanding to be called up after hitting .333/.368/.528 in his first 18 games. However, he then hit .213/.242/.270 with a 35.9 percent strikeout rate over 30 games after April ended. Perhaps Tuesday will be looked back on as the day he broke out of that funk and returned to his early form. His performance in a 9-7 win over Buffalo marked the first time this season he had collected multiple extra-base hits in a game, thanks to his fourth homer and ninth double through 49 contests. Alfaro also threw out two attempted baserunners and is now 11-for-31 (35.5 percent) on the year. MLB.com's No. 62 overall prospect will likely be able to show off that plus arm in the Majors at some point in 2017, but it'll take sustained improvements with the bat before the Phillies give him that chance.
Twins SS Nick Gordon, Double-A Chattanooga: 3-for-7, 2B, 2 RBI, R, 3 K, SB -- The Twins took shortstop/center fielder Royce Lewis with the first overall pick Monday, making this as good a time as any to check in on how Gordon, the system's top prospect who also happens to play short, is doing. As it turns out, he's handling himself quite well of late. The 21-year-old is riding an eight-game hitting streak and has multiple hits in six of those contests. He ranks among the top four in the Southern League with a .316 average (third), .500 slugging percentage (fourth) and .881 OPS (fourth) through 60 games. It's the power that's made the biggest leap in 2017 with Gordon's five homers already representing a career high, while his slugging percentage has jumped from .386 over 116 games in the pitcher-friendly Florida State League last season. Gordon has played some second base this season to help with his versatility, though he hasn't done so since May 14. The Twins obviously weren't going to disregard someone of Lewis' talents just because they already have a top shortstop prospect in Gordon, and the hope in the organization is that the pair creates the best type of positional logjam down the road.
Yankees LHP Justus Sheffield, Double-A Trenton: 6 IP, 5 H, 1 R, 1 ER, 2 BB, 8 K 1 HR, 87 pitches, 61 strikes -- The Yankees' No. 6 prospect delivered one of his best starts of 2017, striking out a season-high eight in an 8-1 win at Hartford. Sheffield's first full season with the Yankees has had its bumps in the road -- like a six-inning, five-run outing last time out on June 7 -- but for the most part, he's proven to be a reliable member of the Thunder rotation with a 3.29 ERA over 68 1/3 innings. He's had to rely on more contact with his 20.5 strikeout rate representing a career low, but the Yankees don't need to rush the southpaw, given that he only turned 21 last month. With a plus fastball and above-average slider from the left side, it's a decent bet that Sheffield will eclipse Tuesday's eight strikeouts at some point this summer as he continues to acclimate to the Double-A level.
White Sox C Zack Collins, Class A Advanced Winston-Salem: 2-for-3, HR, 2B, RBI, R, BB, K -- The No. 7 White Sox prospect showed the best parts of his offensive game Tuesday. He showed power with a homer and a double. He walked. He reached base three times. Collins is among the Carolina League leaders in walk rate (20.2 percent, first), home runs (10, fifth), OBP (.388, sixth) and isolated slugging percentage (.233, fifth). Unfortunately, he's also struck out 27.3 percent of the time, limiting his average to .228 and OPS to .854. The 2016 first-rounder has been the stereotypical three-true-outcome slugger in his first full season, and it's likely that the White Sox are looking for a little more offensive growth before seeing how his tools play at Double-A Birmingham.
Braves C Brett Cumberland, Class A Rome: 3-for-4, 2B, 4 RBI, 3 R, BB -- The Braves' No. 29 prospect broke an 0-for-15 stretch with his second three-hit effort of the season in a 17-3 rout of Augusta. Before going cold, Cumberland was one of the hottest hitters in the Minors at the end of May, and even after the skid, he still leads the South Atlantic League with a .437 OBP and .962 OPS through 50 games. He talked to MiLB.com last month about how working with hitting guru Craig Wallenbrock has helped him hit the ball more in the air both in college and the Minors. But the biggest questions about Cumberland relate to his work behind the plate. He's split catching duties with No. 28 prospect Lucas Herbert in Rome, playing only 19 of his 50 games behind the plate with the rest coming at DH.
Sam Dykstra is a reporter for MiLB.com. Follow and interact with him on Twitter, @SamDykstraMiLB.