Prospect Roundup: Games of June 18
Mets' Thompson, Flexen dominate at Double-A; Wentz tosses gem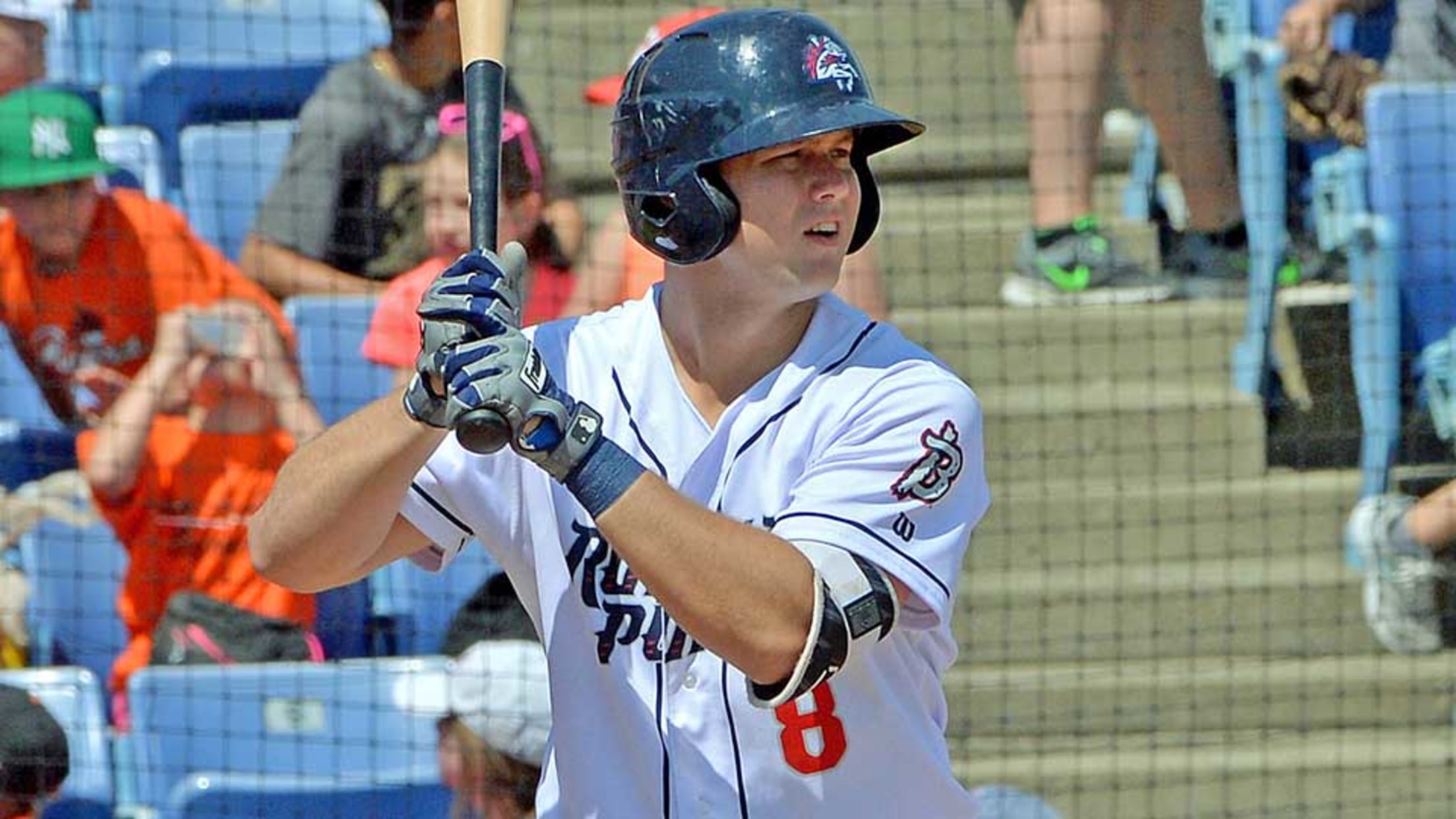 David Thompson has hit 20 career home runs over three seasons in the Minor Leagues. (Rick Nelson/MiLB.com)
Mets 3B David Thompson, Double-A Binghamton: 3-for-3, 2 HR, 3 RBI, 2 R, BB, CS -- It was a powerful weekend for the Mets' No. 23 prospect. Thompson entered Saturday with three homers over 59 games and none since May 18. He proceeded to hit three over the weekend's two
Mets 3B David Thompson, Double-A Binghamton: 3-for-3, 2 HR, 3 RBI, 2 R, BB, CS -- It was a powerful weekend for the Mets' No. 23 prospect. Thompson entered Saturday with three homers over 59 games and none since May 18. He proceeded to hit three over the weekend's two contests. Sunday's showing was his second career multi-homer performance, the other coming last Sept. 2 with Class A Advanced St. Lucie. What's more, the 2015 fourth-rounder has taken four walks over his last three games while not striking out. His 9.1 percent walk rate is a significant bump from his 5.8 percent over two levels last season. So while his .245/.320/.392 line and six homers through 61 games this season aren't impressive, Thompson is showing significant improvement offensively, which he'll need to push him forward as a bat-first third baseman.
Mets RHP Chris Flexen, Double-A Binghamton: 7 IP, 5 H, 1 R, 1 ER, 0 BB, 8 K, 99 pitches, 64 strikes -- Pitching in the same game as Thompson's slugfest, Flexen tossed a gem in the Rumble Ponies' 6-2 win over Reading. The Mets' No. 24 prospect didn't begin his season until May 17 with St. Lucie after knee surgery kept him on the DL for the first month-plus of 2017, but he's made up for lost time. Since making his Double-A debut on June 7, Flexen has allowed four earned runs on 16 hits while striking out 19 and walking none over 20 2/3 innings (three starts). Sunday's eight punchouts represented a Double-A high for the 22-year-old, who's walked only three of the 130 batters he's faced this season (2.3 percent) after walking 8.9 percent at Class A Advanced a season ago. Such an improvement can be a big boost to an arsenal that only has one true plus pitch, his fastball. Six starts is still early in the process to deem these long-term improvements, but they're highly encouraging for a pitcher pushing the upper levels.
Angels 1B Matt Thaiss, Class A Advanced Inland Empire: 3-for-5, HR, 3 RBI, 2 R -- The Angels' No. 2 prospect homered for the second time in three games Sunday, giving him seven long balls over 66 contests this season. Thaiss had undergone a bit of a power drought, failing to go deep in his previous 25 games before Friday. Thaiss was a bat-first catcher when the Angels took him 16th overall out of the University of Virginia last year, and indeed Los Angeles moved him from behind the plate to first base to speed up his ascent. He hasn't pushed the envelope, however, with a .262/.351/.396 line over 299 plate appearances in the hitter-friendly California League. That still translates to just above league-average, thanks to an 11.0 percent walk rate, but the Halos will be looking for a bit more in the second half.
Twins 3B Travis Blankenhorn, Class A Cedar Rapids: 4-for-5, HR, 3 RBI, 2 R -- An impressive week by the Twins' No. 7 prospect ended on a high note. Blankenhorn matched his career high with four hits, including his eighth homer of the season, in the Kernels' 16-3 romp over Clinton. The left-handed slugger went 11-for-27 (.407) with a homer, four triples, a double, six RBIs and five walks over seven games last week, pushing his season line from .241/.327/.407 to .259/.348/.457 through 66 contests. The 2015 third-rounder jumped into the rankings after impressive hitting spells at Cedar Rapids and Rookie-level Elizabethton, hitting .293 with an .850 OPS between those spots, but has had a rough go of it back in the Midwest League, particularly in May when he hit .221 with a .604 OPS in 27 games. This latest run suggests he's adjusted to the full-season level, and he should be one to watch in the season's second half.
Braves LHP Joey Wentz, Class A Rome: 6 IP, 2 H, 1 R, 1 ER, 3 BB, 6 K, 84 pitches, 49 strikes -- The Braves' No. 13 prospect was nearly untouchable in his latest gem. Sunday marked the second straight start -- and the third time in 13 outings on the season -- in which he had completed six innings. The 19-year-old left-hander's 3.30 ERA and 1.25 WHIP might not jump off the page, but he's struck out 26.3 percent of the batters he's faced and has yet to allow a home run. With three above-average pitches, he has the stuff to overmatch lower-level hitters, and the Braves don't need to rush him either with all the pitching talent higher up the chain. Wentz will have all the time he needs to build on his already strong start in the South Atlantic League.
Sam Dykstra is a reporter for MiLB.com. Follow and interact with him on Twitter, @SamDykstraMiLB.