Prospect Roundup: Games of June 19
Granite pads lead for IL batting title; Groome solid in rehab start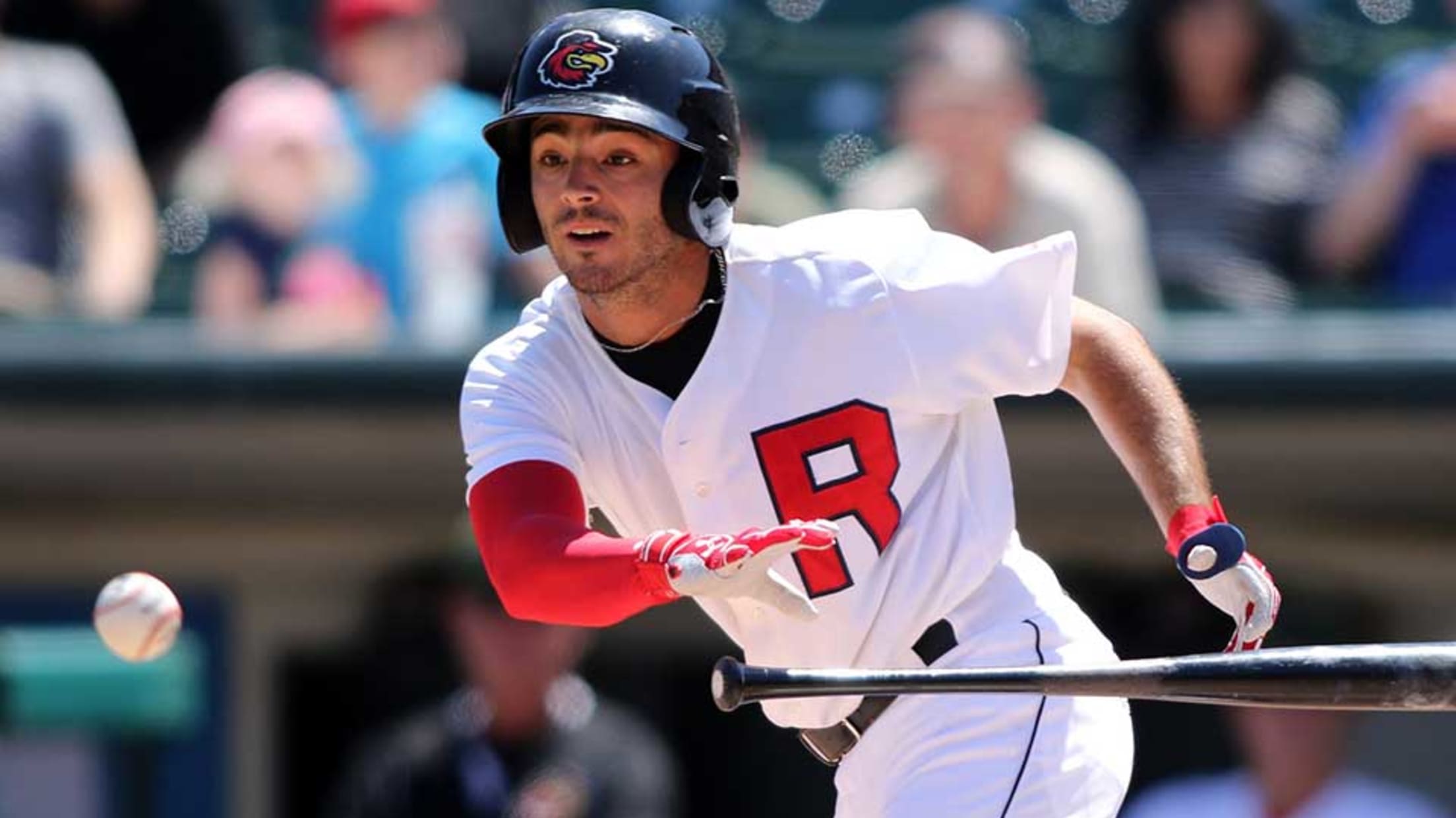 Zack Granite leads the International League with a .349 average and .402 OBP through 41 games. (Joe Territo/Rochester Red Wings)
Twins OF Zack Granite, Triple-A Rochester: 3-for-5, 2B, RBI -- Granite's scorching June got even hotter Monday night as the Twins' No. 21 prospect notched his eighth three-hit game of the season. His .349 average leads the International League by a wide margin. (Scranton/Wilkes-Barre infielder Tyler Wade's .322 is closest.) The 24-year-old
Twins OF Zack Granite, Triple-A Rochester: 3-for-5, 2B, RBI -- Granite's scorching June got even hotter Monday night as the Twins' No. 21 prospect notched his eighth three-hit game of the season. His .349 average leads the International League by a wide margin. (Scranton/Wilkes-Barre infielder Tyler Wade's .322 is closest.) The 24-year-old outfielder has gone 37-for-76 (.487) with three triples and 10 doubles in 19 games this month, leading all full-season Minor Leaguers in hits and average over that span. Granite wasn't included in the Toolshed ballot for the Triple-A All-Star Game because he didn't have enough at-bats to qualify for the IL batting title at the time after missing most of April with a left oblique strain. However, he's certainly playing his way into contention, and though he doesn't have much power (one home run in 186 plate appearances), he's got the speed (13 steals) to be the perfect leadoff man on July 12 in Tacoma.
Aces 1B Christian Walker, Triple-A Reno: 3-for-4, HR, 2B, RBI, 2 R -- Walker strengthened his own Triple-A All-Star candidacy with his third three-hit performance in six games, pushing his season slash line to .291/.355/.590 with a .945 OPS that ranks seventh in the Pacific Coast League. Though his power has cooled off -- he has three homers in June -- his blast Monday night put him in a tie for the PCL lead with Nashville slugger Renato Núñez at 18 apiece. Walker has the unfortunate assignment of being placed in the same category as PCL batting leader Garrett Cooper (.366/.427/.620), and it doesn't get any easier when you consider the larger goal for Walker is to force his way to the Majors and Paul Goldschmidt occupies his position in Arizona. All Walker can do for now is keep hitting and see what opportunities open for him, and he's got that first part down for now.
Red Sox 3B Rafael Devers, Double-A Portland: 2-for-6, HR, 3B, 2 RBI, R, K -- The extra-base hits keep coming for MLB.com's No. 12 prospect. Devers' long ball Monday was his fourth in his last six games and his 14th extra-base hit through 16 contests in June. Only Triple-A Fresno's Tyler White (16) has more in the Minors this month, and Devers' .754 slugging percentage in June ranks second among Double-A hitters behind Francisco Mejía's .920. The Red Sox keep saying that they're looking for more consistency out of the Eastern League's youngest hitter, and Devers is showing it in the season's third month. He'll be challenged with a jump to Triple-A Pawtucket, if not straight to Boston to help fill a hole at the hot corner, at some point in the second half.
Red Sox LHP Jay Groome, Class A Short Season Lowell: 2 1/3 IP, 1 H, 0 R, 1 BB, 3 K, 38 pitches, 24 strikes -- The good news was that Boston's No. 2 prospect looked fully healthy and found success in his second outing of the 2017 season. The first was a disaster as the 18-year-old left-hander gave up nine earned runs on seven hits and three walks in just 1 1/3 innings for Class A Greenville on April 10. He was put on the disabled list with a lat strain and didn't return until Monday for what was officially called a rehab outing. The bad news was that rain cut short Groome's return and kept him from being truly tested. But Boston will take any good news it can get from the 2016 12th overall pick, and he should be back in full-season ball before long.
Rockies OF Pedro Gonzalez, Rookie-level Grand Junction: 3-for-4, HR, 2 RBI, 2 R, BB, K -- The Rockies first sent their No. 17 prospect to the Pioneer League as an 18-year-old last season and saw him flounder a bit with a .230/.290/.394 line in 58 games. The results weren't much of a worry because of the aggressiveness of the assignment and the above-average power, run and arm tools Gonzalez possesses. On Monday, he showed he's ready to turn those skills into production. He hit only two homers over 248 plate appearances last season but went deep in his second time in the box Monday. Now 19, Gonzalez has the building blocks to become a toolsy outfielder, and Monday was just a preview of what could come in 2017 should all those pieces comes together.
Sam Dykstra is a reporter for MiLB.com. Follow and interact with him on Twitter, @SamDykstraMiLB.