Prospect Roundup: Games of June 21
Nats' Stevenson swipes three bags; Gillaspie collects three hits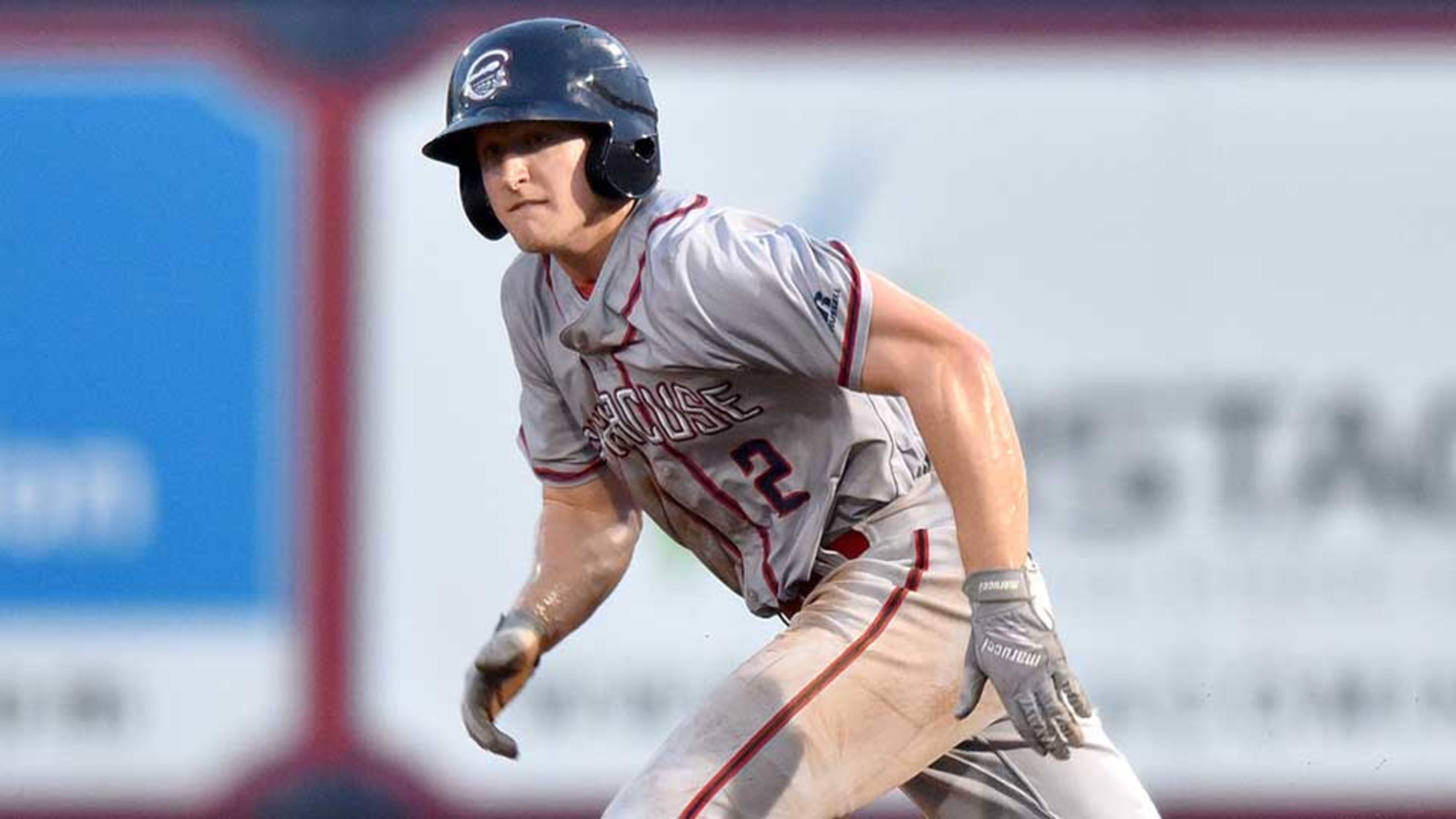 Andrew Stevenson has stolen 70 bases over three seasons in the Minor Leagues. (Ken Inness/MiLB.com)
Nationals OF Andrew Stevenson, Triple-A Syracuse: 3-for-5, RBI, R, 3 SB -- The Nationals' No. 5 prospect kicked his running game into high gear Wednesday, swiping his sixth, seventh and eighth bags of the season in a 5-2 win over Scranton/Wilkes-Barre. It was the first time he had even attempted to
Nationals OF Andrew Stevenson, Triple-A Syracuse: 3-for-5, RBI, R, 3 SB -- The Nationals' No. 5 prospect kicked his running game into high gear Wednesday, swiping his sixth, seventh and eighth bags of the season in a 5-2 win over Scranton/Wilkes-Barre. It was the first time he had even attempted to steal multiple bases since he was unsuccessful twice for Double-A Harrisburg on April 9. The reason all this might come as a surprise is that Stevenson had 39 steals a season ago between Harrisburg and Class A Advanced Potomac. (He added nine more over 21 games in the Arizona Fall League.) He's got the plus speed to make that happen and be an asset in center field. Part of the issue this season is that he simply hasn't gotten on base as much. Since joining Syracuse on May 1, he's posted just a .275 on-base percentage over 46 games in the International League. There are signs he's turning it around, however. Stevenson owns a .319/.372/.431 line over 21 games in June, and six of his seven Triple-A steals have come this month. The Nationals would love to have Stevenson's speed available off the Major League bench for a potential playoff run or even have him fill in for the injured Adam Eaton, but he'll need to keep hitting to prove he's worthy of the roster spot right now.
Rays 1B Casey Gillaspie, Triple-A Durham: 3-for-4, 2B, RBI, K -- The Rays' No. 5 prospect, who's been sitting around the Mendoza line for most of the year, collected a season-high three hits Wednesday to push his average up to .215 and had his first extra-base hit in a week. The 24-year-old switch-hitter had a chance to force his way into the Major League conversation after hitting .307/.389/.520 with seven homers in 47 games in the International League last season, but upon returning to the Minors' highest level, he hasn't produced much of anything offensively. His power has been sapped with his isolated slugging percentage dropping from .212 to .121, and he's fanning more with his 21.3 percent strikeout rate up from 18.7 at Triple-A in 2016. There might be a reason to be optimistic about Gillaspie's second-half chances given his .253 BABIP, down from .358 last season. His statistical truth is likely somewhere closer to the middle of those two figures, but more hits should fall as that normalizes. Logan Morrison has been an offensive revelation at first base in Tampa Bay, so the Rays wouldn't have pushed Gillaspie anyway, even if he had gotten off to a better start.
Braves OF Dustin Peterson, Triple-A Gwinnett: 2-for-6, 2 2B, 4 RBI, R, BB in doubleheader -- The Braves' No. 17 prospect is in Triple-A at just 22, but there have been plenty of growing pains and, well, just plain pains. Peterson was out until May 19 after undergoing left-hand surgery in the spring and hasn't quite popped offensively since returning, with a .254/.333/.322 line in 32 games. He did most of his damage Wednesday in the first game of a doubleheader against Charlotte, going 2-for-3 with two doubles and four RBIs in a 6-0 win. Both doubles drove in a pair of runs and came against No. 61 overall prospect Carson Fulmer. It marked the first time this season that he had multiple extra-base hits in a game. The 2013 second-rounder won't typically wow anyone with his offensive skills, but he should add more power (no homers in 132 plate appearances) as he gets further from the hand surgery.
Indians 1B Nellie Rodríguez, Triple-A Columbus: 1-for-3, HR, 3 RBI, R, BB, K -- There are few Triple-A hitters who needed a hit, never mind a home run, more than Rodriguez entering Wednesday. The Indians' No. 25 prospect was 0-for-28 with 15 strikeouts in his last eight games before hitting a three-run blast in the seventh inning of Columbus' 9-7 win over Louisville. That homer gave the Bats a 7-6 lead, so it had more than just the value of breaking a long 0-for. Power has never been an issue for the 23-year-old first baseman, who hit 20-plus homers in each of his previous three seasons entering 2017, and he has an off-chance to reach that again with eight long balls in 58 games this season. But the hit tool has been challenged in Triple-A, resulting in a paltry .134/.234/.299 line with a 43.2 percent strikeout rate. (No other qualified IL hitter has fanned more than 40 percent of the time.) Rodriguez's pop has earned him his climb up the ladder, but he has to make more contact for the tool to play at all.
Tigers 2B Will Maddox, Class A Advanced Lakeland: 4-for-5, 3B, 2B, 3 RBI, R -- Maddox, an 18th-round pick out of the University of Tennessee in 2014, jumped onto the radar with a .339 average and 28 steals in 127 games for Class A West Michigan last season. He's had difficulty reproducing those numbers in 2017 with a .248 average over 33 games with Lakeland, though a hip flexor injury kept him out for a month starting in late April. The 25-year-old infielder is on one of his hottest spurts of the season, however. After Wednesday's season-high four hits, he is 7-for-12 with a homer, a triple, a double and five RBIs over his last three games.
Sam Dykstra is a reporter for MiLB.com. Follow and interact with him on Twitter, @SamDykstraMiLB.