Prospect Roundup: Games of June 22
Dodgers' Calhoun, Rios tee off; Royals' Blewett fans career-high 12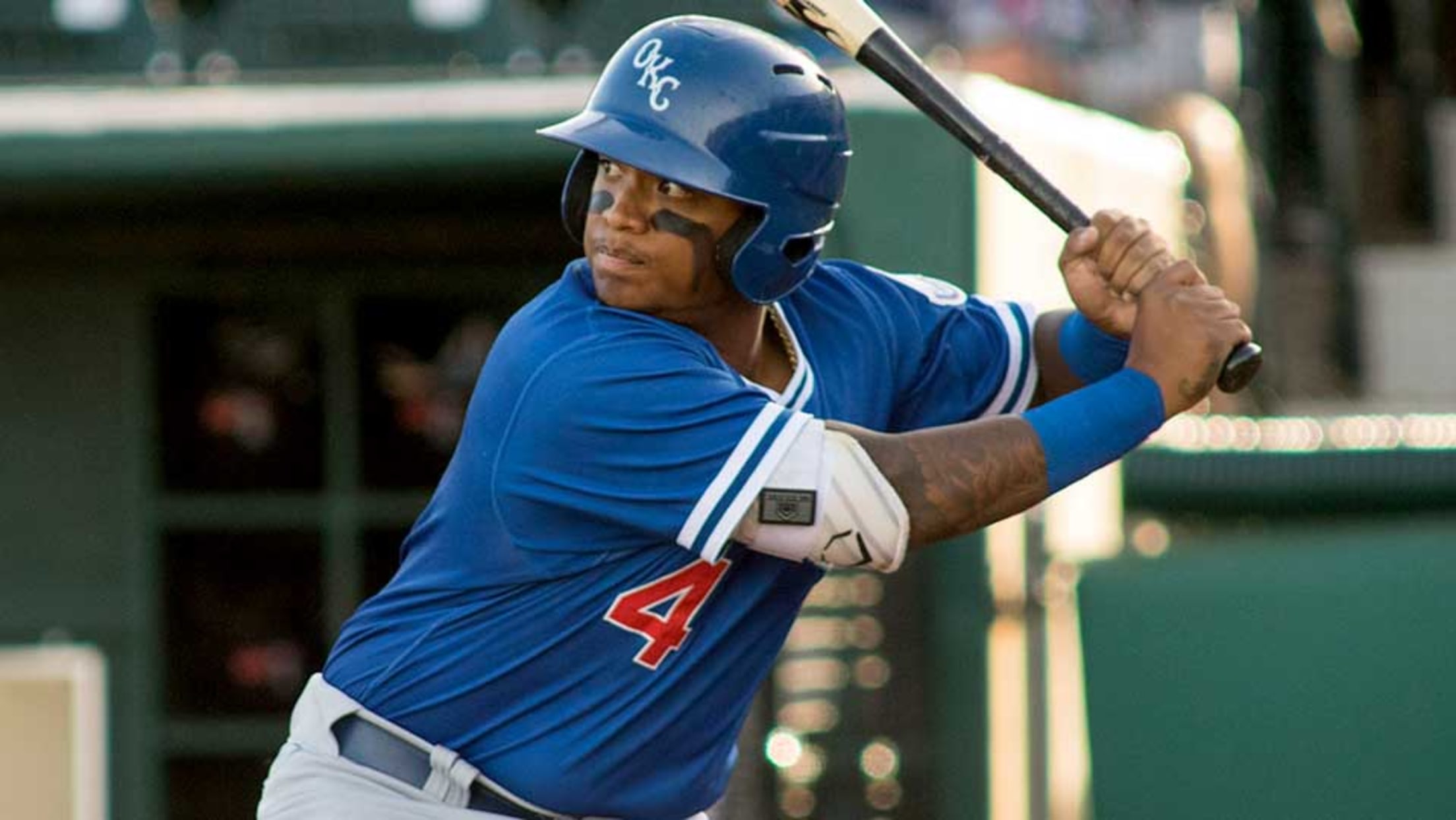 Willie Calhoun leads qualified Oklahoma City batters with a .913 OPS this season. (Bobby Stevens/MiLB.com)
Dodgers 2B Willie Calhoun, Triple-A Oklahoma City: 2-for-4, HR, 2B, 2 RBI, 2 R, BB, 2 K -- It was a joyous night at Chickasaw Bricktown Ballpark for the Dodgers' Triple-A affiliate, which tallied 19 hits in a 14-5 win over Nashville. The focus here will be on Calhoun as L.A.'s
Dodgers 2B Willie Calhoun, Triple-A Oklahoma City: 2-for-4, HR, 2B, 2 RBI, 2 R, BB, 2 K -- It was a joyous night at Chickasaw Bricktown Ballpark for the Dodgers' Triple-A affiliate, which tallied 19 hits in a 14-5 win over Nashville. The focus here will be on Calhoun as L.A.'s No. 3 prospect clubbed his 15th home run and 15th double of the season and improved his slash line to .297/.343/.570 through 65 games. The 22-year-old second baseman showed some impressive power last season with 27 homers for Double-A Tulsa and has been out to prove that the tool is real in his first trip to Triple-A. His biggest questions are on defense, where MLB.com has deemed him a below-average defender at the keystone. The Dodgers have tried him out in left field this month in an attempt to give him another route to the Majors, though he hasn't been featured there since June 11. Los Angeles has relied on aging veteran Chase Utley and the struggling Logan Forsythe at second this season, but if Calhoun can keep the power on in the second half, there's a chance he wedges his way into that conversation down the stretch.
Dodgers 3B/1B/OF Edwin Ríos, Double-A Tulsa: 1-for-3, HR, RBI, R, BB -- Staying in the same organization with another powerful display, Rios seems to find a way to impact the Tulsa offense on a nightly basis, and Thursday was no different. His homer was also his 15th of the season, putting the Dodgers' No. 21 prospect in a three-way tie with Calhoun and Ibandel Isabel for second in the organization in that category. With the Texas League All-Star Game coming up next Tuesday, he should be considered the circuit's first-half MVP with the lead in total bases (148), RBIs (58), slugging (.558) and OPS (.920). Like Calhoun, Rios has begun to move around the field as the Dodgers try to keep him from a path that would be blocked by Justin Turner at third and Cody Bellinger/Adrian Gonzalez at first. He made two starts in right field for the first time this week, and there's a chance his arm could play there, though he lacks the speed to be really effectively on the grass. One thing's for sure -- his bat will get him a long look at the upper levels.
Astros OF Kyle Tucker, Double-A Corpus Christi: 2-for-6, HR, 2B, 2 RBI, R -- The Astros' No. 2 prospect was featured in the Tuesday Roundup for a similar performance, so consider this a quick update: He's done it again. Tucker has now gone deep three times in his last four games and five times in 22 contests since joining Corpus Christi on May 30. His .255, .300 OBP and 25 percent strikeout rate indicate it hasn't been a perfectly peachy start to his Texas League career, but the 20-year-old outfielder is showing plenty of pop at Double-A as 13 of his 24 hits with the Hooks have gone for extra bases.
Cardinals RHP Dakota Hudson, Double-A Springfield: 8 IP, 8 H, 2 R, 0 ER, 1 BB, 5 K, 103 pitches, 75 strikes -- The Cardinals' No. 9 prospect has been as dependable as one could hope in his first full season, and that narrative only got stronger Thursday with career highs in innings and pitches thrown. The gem was Hudson's eighth straight quality start and lowered his season ERA to 2.66, fourth-best in the Texas League, through 81 1/3 innings. The 22-year-old right-hander relies on forcing weak contact -- with just a 16.4 percent strikeout rate -- but it's a strategy that's worked so far. The Cardinals like getting aggressive with their pitching prospects, and a move to join former Springfield teammate Jack Flaherty in Memphis in the second half should be in the cards.
Royals RHP Scott Blewett, Class A Advanced Wilmington: 6 IP, 4 H, 2 R, 2 ER, 1 BB, 12 K, 100 pitches, 64 strikes -- The Royals' No. 4 prospect matched a career high with 10 strikeouts over six scoreless innings last Friday. He went out and set a new career mark Thursday with a dozen K's over six frames. To give an idea of how unprecedented this run of whiffs is for him, Blewett struck out 12 over three starts combined from May 26-June 11 before hitting double-digits in each of his next two outings. The 21-year-old right-hander has a good fastball and curveball mix that seems to be clicking with Wilmington after two seasons at Class A Lexington. It'll be interesting to see how sustainable this run is, but for now, his 22 percent strikeout rate is his highest at a full-season level.
Sam Dykstra is a reporter for MiLB.com. Follow and interact with him on Twitter, @SamDykstraMiLB.