Prospect Roundup: Games of June 7
Honeywell fans nine to get back on track; Arroyo collects three hits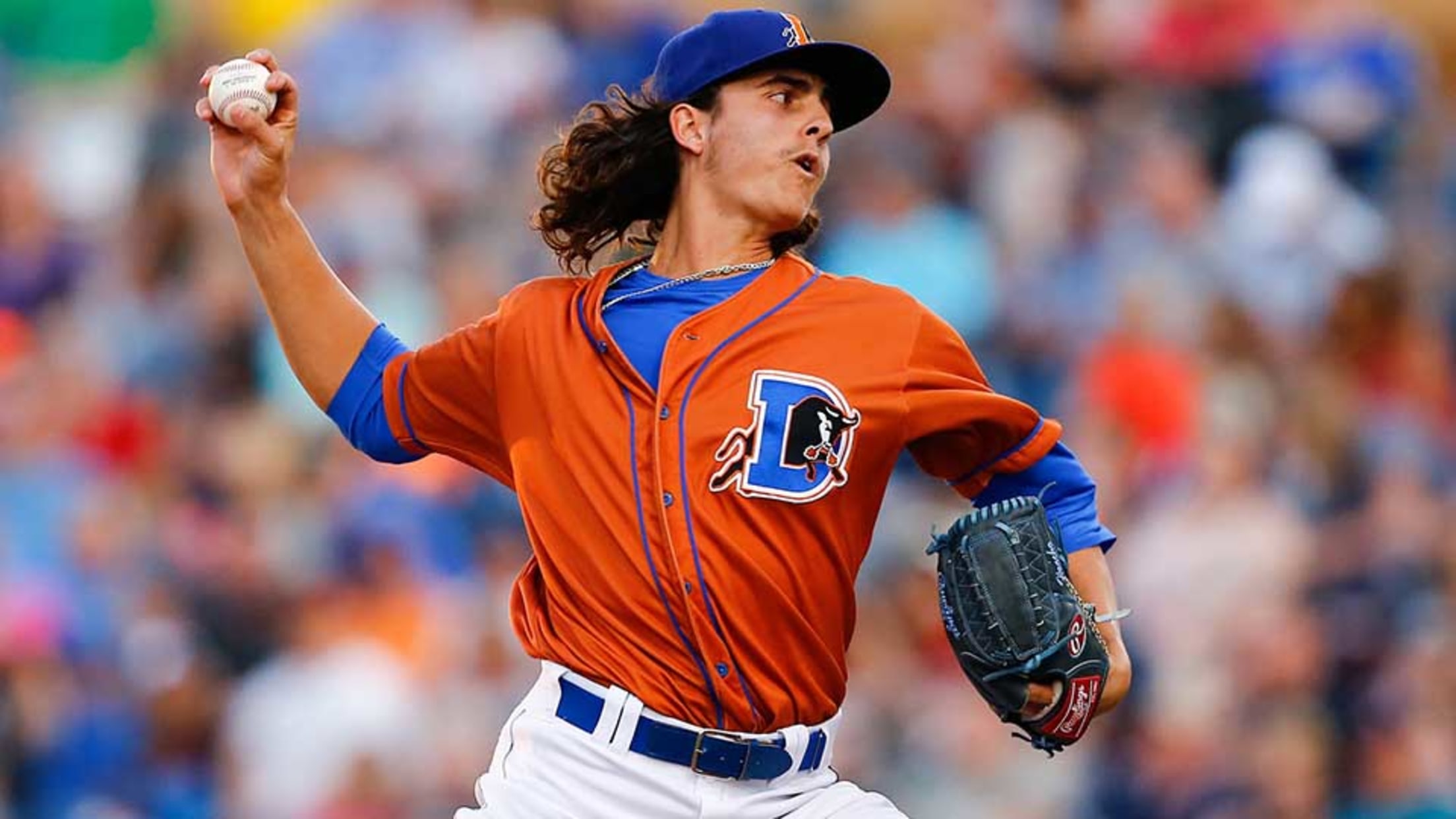 Brent Honeywell has struck out 64 batters in 53 2/3 innings this season for Triple-A Durham. (Chris Robertson/MiLB.com)
Giants INF Christian Arroyo, Triple-A Sacramento: 3-for-5, RBI, R -- The Giants rewarded a hot Arroyo with a Major League promotion in April, only to see their No. 2 prospect struggle with a .192 average and .548 OPS over 34 games for the big club. They optioned him to the PCL
Giants INF Christian Arroyo, Triple-A Sacramento: 3-for-5, RBI, R -- The Giants rewarded a hot Arroyo with a Major League promotion in April, only to see their No. 2 prospect struggle with a .192 average and .548 OPS over 34 games for the big club. They optioned him to the PCL on Sunday, and he's back to his hitting ways. The 22-year-old has gone 4-for-10 with a homer, three RBIs, four runs scored and three walks in three games since rejoining the River Cats. Over 19 total games at Triple-A, Arroyo is hitting .440/.494/.694 with four homers and seven doubles, and while no one expected him to build on those numbers following his demotion, he's doing his best to make them hold.
Rays RHP Brent Honeywell Jr., Triple-A Durham: 6 IP, 7 H, 1 R, 1 ER, 1 BB, 9 K, 105 pitches, 71 strikes -- Tampa Bay's No. 2 prospect righted the ship Wednesday. His nine strikeouts marked the third time in 10 starts with the Bulls that he had matched or exceeded that total. Despite his 4.70 ERA and 1.40 WHIP -- he allowed 11 earned runs over 8 2/3 innings in his prior two starts -- Honeywell's FIP sits as 3.28 and he's done a solid job piling up strikeouts (27.4 percent K rate) and limiting walks (4.7 percent). There's a good chance the ERA and WHIP will drop as his .375 BABIP-against normalizes -- it's currently the highest among the International League's 39 qualified hitters -- so even with some rough numbers of late, the 22-year-old screwballer's march to the Majors continues.
Tigers OF Christin Stewart, Double-A Erie: 1-for-3, HR, 4 RBI, R, 2 K in Game 2 of a doubleheader -- A sixth-inning grand slam by Detroit's No. 2 prospect was all Erie needed to capture a 5-1 win in the second game of the day in New Hampshire. It was Stewart's 15th homer of the year, placing him in sole possession of second place in the Eastern League behind Scott Kingery (17). It also puts him at the halfway mark to matching the 30 homers he hit during a standout 2016 season between Class A Advanced Lakeland and Erie. With his limited run and fielding tools keeping him in left field, it's the 23-year-old's power that will push him up the Detroit chain, and it's promising to see him produce a .562 slugging percentage and .923 OPS over 56 games in his effort to show last year's breakout was not a one-off.
D-backs RHP Justin Donatella, Class A Advanced Visalia: 6 2/3 IP, 4 H, 0 R, 1 BB, 5 K, 90 pitches, 61 strikes -- The D-backs' No. 26 prospect enjoyed his first scoreless start of the season to drop his ERA to a 2017-low 4.35 through 12 outings. The season didn't get off to a good start as the 22-year-old allowed eight earned runs in two innings on Opening Day, though that did come in the hitter's haven of Lancaster. It's been a season of fits and starts ever since, but he appears to have found himself of late with a 1.78 ERA, 33 strikeouts and five walks over his last five starts (30 1/3 innings). A 15th-round pick in 2015, Donatella thrived in his first full season in 2016 with a 3.35 ERA, 1.14 WHIP and only 29 walks in 145 innings between Class A and Class A Advanced. It's taken some time to find his form in his second trip to the California League, but the right-hander is beginning to show some of the special control that pushed him into the prospect rankings last season.
Astros OF/1B Yordan Alvarez, Class A Quad Cities: 2-for-5, 2 HR, 4 RBI, 3 K -- The Astros' No. 14 prospect not only notched his first career multi-homer performance Wednesday, he also extended his hitting streak to 12 games. It was also his fifth straight game with exactly two hits. Signed by the Dodgers in June 2016, Alvarez has only played professionally with the Astros, having been traded in August for Josh Fields, and he's done nothing but hit for his second organization. The 19-year-old owns a .413/.500/.693 line with five homers, six doubles and 20 RBIs in 21 games for Quad Cities after joining the club May 15. Since that date, no Midwest League player has posted an OPS higher than his 1.193. He's split his time between left field, first base and designated hitter while the Astros find him a position, but it's clear his bat is playing stateside.
Sam Dykstra is a reporter for MiLB.com. Follow and interact with him on Twitter, @SamDykstraMiLB.