Prospect Roundup: Games of Sept. 3
Potts continues second-half power; Honeywell shines in return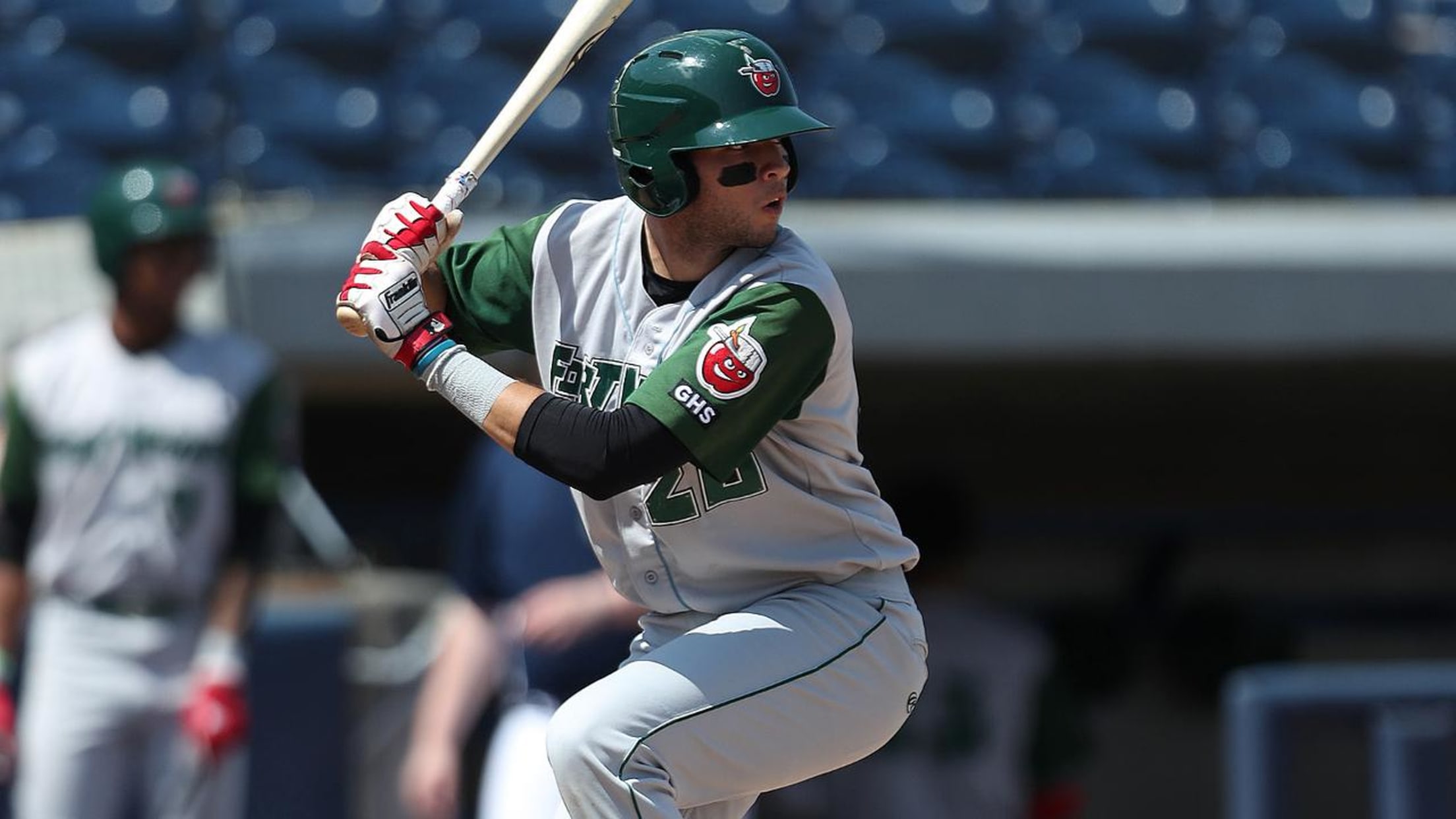 Hudson Potts ranks fifth among Padres farmhands with 69 RBIs this season for Class A Fort Wayne. (Andrew Woolley/AP)
Rays RHP Brent Honeywell Jr., Triple-A Durham: 5 1/3 IP, 4 H, 0 R, 0 BB, 5 K, 74 pitches, 51 strikes -- The Rays' top prospect enjoyed a scoreless outing at an opportune time. The 22-year-old right-hander was coming off a four-game suspension that, according to Marc Topkin of
Rays RHP Brent Honeywell Jr., Triple-A Durham: 5 1/3 IP, 4 H, 0 R, 0 BB, 5 K, 74 pitches, 51 strikes -- The Rays' top prospect enjoyed a scoreless outing at an opportune time. The 22-year-old right-hander was coming off a four-game suspension that, according to Marc Topkin of the Tampa Bay Times, was due to "disciplinary reasons." Honeywell's previous start wasn't a memorable one as he allowed two earned runs on two hits and three walks while recording just one out before being pulled after 38 pitches. There are also the looming questions about whether the Durham ace will get a September callup -- so a scoreless outing with more strikeouts and fewer batters reached than innings pitched is just what the doctor ordered. Honeywell, who is well-known for his screwball but works well with all five of his offerings, isn't likely done with the Bulls as they're set to begin a best-of-5 International League semifinal series with Indianapolis on Wednesday, but if he was hoping to prove to the big club that he's worth a look this month, he couldn't have done much better than Sunday's outing. The wild card here is innings limit. Honeywell hasn't been allowed to go past six innings since May 21 -- he was cut off after just 74 pitches Sunday -- and his 136 2/3 innings this season are a career high, albeit by just 6 1/3 frames over his 2015 total. That might be the excuse Tampa Bay uses to justify holding him back until 2018. In any event, Honeywell finishes the regular season with 152 strikeouts (second in the IL) to go with a 3.43 ERA over 123 2/3 frames with the Bulls.
A's RHP Grant Holmes, Double-A Midland: 8 IP, 3 H, 1 R, 0 ER, 1 BB, 5 K, 94 pitches, 61 strikes -- The No. 9 A's prospect matched his longest outing of the season in what could be his curtain call for 2017. (Midland is heading into the season's final day tied with Corpus Christi for the Texas League South Division's final playoff spot.) It's been a mixed bag for Holmes in his first full season in the Oakland organization. On the one hand, he stayed healthy for the entire campaign, finishing with a career-high 148 1/3 innings -- all in Midland. He also got plenty of swings and misses with a Texas League-best 150 strikeouts, thanks to a three-pitch mix that includes a plus fastball and plus curve. On the other, the 21-year-old right-hander was inconsistent during his first trip to Double-A. His 4.49 ERA and 1.42 WHIP ranked 12th and 11th, respectively, out of the Texas League's 16 qualified hurlers in 2017. His biggest issue remains finding the strike zone with regularity. His 9.5 percent walk rate ranked 58th among 68 qualified pitches in all of Double-A. The good news is that Holmes won't be 22 until next March, meaning he'll start what would've been his senior year of college at the upper levels of the Minors, either back in Midland or at Triple-A Nashville. He'll have his work cut out for him to show better control wherever he is in 2018, though Sunday's outing was certainly a strong note to end on in that department.
Braves 3B Austin Riley, Double-A Mississippi: 3-for-4, 2B, 2 R, BB, K -- The Braves' No. 11 prospect put together a strong final weekend of the Minor League regular season. Riley went 3-for-4 with a triple Saturday and added three more hits (including a double) and a walk in Sunday's affair, both against Birmingham at home. The 20-year-old third baseman benefited from the Braves' philosophy to push their prospects in 2017. Riley hit just .252/.310/.408 with 12 homers and a 109 wRC+ in 81 games at Class A Advanced Florida but was promoted to Mississippi on July 13. Perhaps a matter of getting out of the pitcher-friendly Florida State League, the right-handed slugger has taken off in Double-A, hitting .309/.387/.503 with eight homers and a 160 wRC+ in 47 games for the M-Braves. Riley's power has always been his biggest strength, and his 20 homers this season are tied for second among Braves farmhands. But his ability to hit for average at the Minors' second-highest level could give him a more well-rounded offensive profile. An abnormally high .390 BABIP certainly plays into the equation, and that would have likely dropped over a longer sample, causing Riley's .309 average to similarly fall at some point. That said, this impressive version of the 2015 41st overall pick will be tested even more when he heads to the Arizona Fall League next month.
Dodgers OF DJ Peters, Class A Advanced Rancho Cucamonga: 1-for-4, HR, RBI, R -- The California League Most Valuable Player couldn't leave the Golden State without one last show of power. The Dodgers' No. 17 prospect homered in his third straight game Sunday, giving him 27 on the season in 131 games for Rancho Cucamonga -- third-most in the Cal League. Peters enters the final day of the season with a league-best .517 slugging percentage, .891 OPS and 139 wRC+, and the Quakes will hope to squeeze a little more magic out of his bat in the Cal League postseason beginning Wednesday. Then, it'll be off to the AFL, where Peters' power will be tested. Pay special attention to his contact rate when he does head to Arizona. For all the positives of his 2017 campaign, he also sits second in the Cal League with 187 strikeouts, and the pitching will only get tougher when he heads to what's known as prospect finishing school.
Padres 3B Hudson Potts, Class A Fort Wayne: 3-for-4, HR, 5 RBI, R, K -- The Padres' No. 23 prospect has salvaged what was looking like a rough first full season, becoming one of the Minors' hottest hitters since the start of August. Potts was hitting .223/.261/.367 line over his first 95 games with Fort Wayne, but he's produced a .347/.391/.661 line with nine homers and 10 doubles in 30 games since the calendar flipped from July to August. His 1.052 OPS and 19 extra-base hits are both tops among all Class A hitters in that span. Many believe the 24th overall pick in last year's Draft has solid offensive potential when it comes to both hitting for average and power. It's just taken some time for him to show it. His season line stands at .253/.293/.438 with 20 homers in 125 games, cause for optimism as he enters his second offseason as a pro.
Sam Dykstra is a reporter for MiLB.com. Follow and interact with him on Twitter, @SamDykstraMiLB.