MWL notes: Dawson benefits from bat boy days
Astros prospect put aside football following high school experience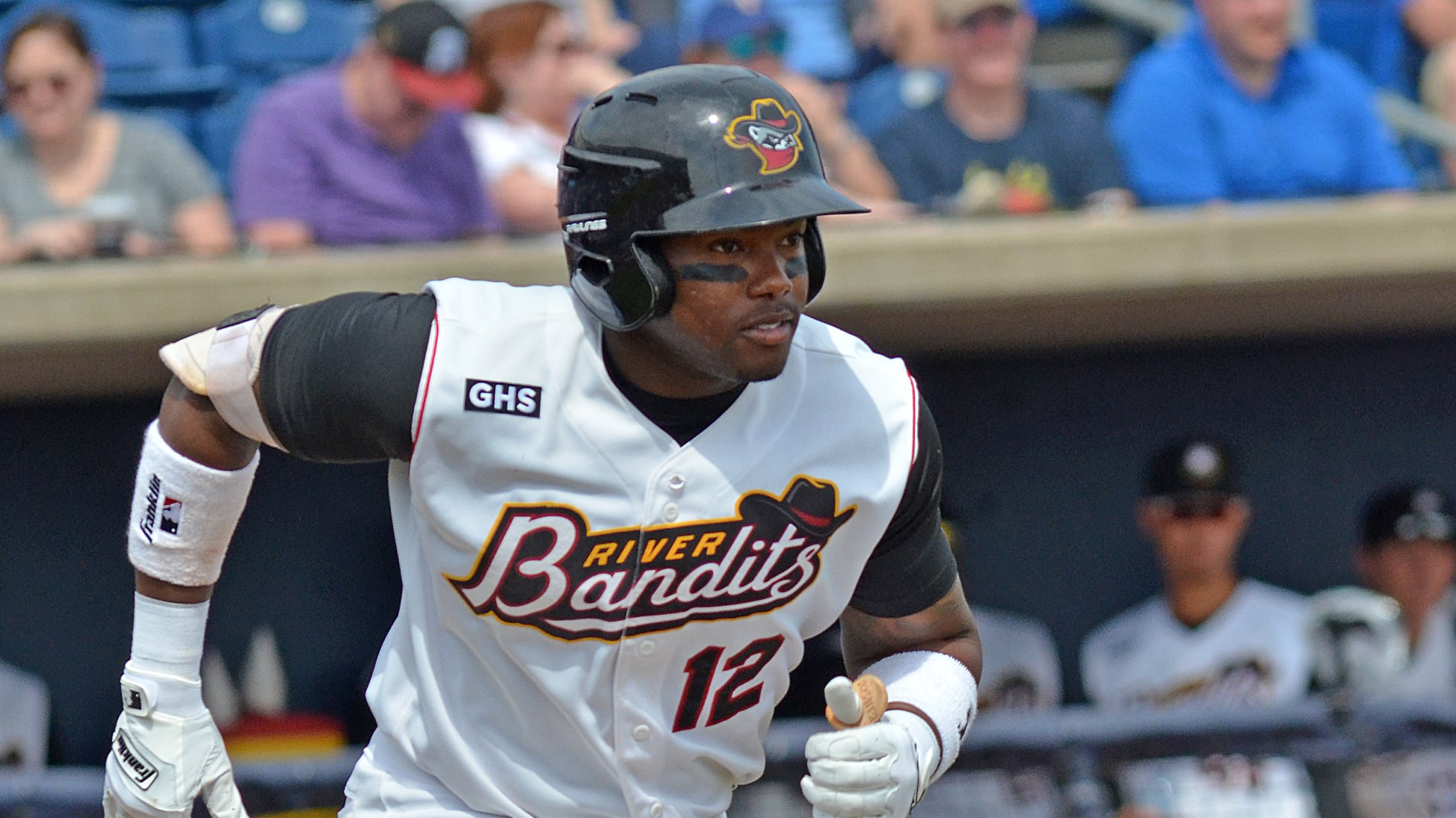 A second-round pick in 2016, Quad Cities' Ronnie Dawson turned down offers to play football at Big Ten universities. (Paul R. Gierhart/MiLB.com)
Baseball wasn't much of a blip on Ronnie Dawson's radar when he was a high school junior. A punishing linebacker, the Ohio native was getting offers from Michigan and Wisconsin to play football.  But that all changed after a staff member for the Triple-A Columbus Clippers saw Dawson play high
Baseball wasn't much of a blip on Ronnie Dawson's radar when he was a high school junior. A punishing linebacker, the Ohio native was getting offers from Michigan and Wisconsin to play football.
But that all changed after a staff member for the Triple-A Columbus Clippers saw Dawson play high school baseball.
George Robinson, who was the Clippers' director of clubhouse operations, came to a Licking Heights game to watch one of their bat boys play ball. Dawson, a teammate of the bat boy, turned in a sensational performance that day, causing Robinson to seek him out after the game.
"[Robinson] invited me to come to Huntington Park and hit," said Dawson, now an outfielder for Class A Quad Cities after being taken in the second round of the 2016 Draft by the Astros. "He said they hit every day, and since it was only five or 10 minutes from my house, I decided to try it. I started hitting every day and talking to him about baseball. I really did hit every day,"
Dawson, Houston's No. 20 prospect, accepted a role as a Clippers bat boy and turned the dugout, clubhouse and field into his personal learning lab.
"George Robinson is a big reason I'm here playing baseball," Dawson said. "I was a good athlete, but as far as baseball, I was raw, and I mean raw. He asked me about being a bat boy, and it was such a valuable experience. Things I learned from being a bat boy -- I still apply today."
The 22-year-old earned an undeniable edge in Columbus, learning from future All-Stars and Indians players who were crucial to the club's run to the World Series last year.
"I was there with Francisco Lindor, Corey Kluber, Lonnie Chisenhall, Danny Salazar … all those guys, they were in Triple-A, and now they're with the Indians," Dawson said. "I got to see all of those guys in the Minor Leagues. That experience is priceless. I got to see future All-Stars, future Cy Young winners, the way they prepare for the game. A lot of guys don't get to see that. Then I started talking to the guys. Matt LaPorta … I still talk to him. He checks in on me. He helped me get to where I'm at, and to pursue baseball. The experience helped turn me into a student of the game. I learned so much."
Once Dawson got serious about baseball, offers started rolling in. He committed to play for Ohio State and eventually carved out an impressive career. He led the Buckeyes to the 2016 Big Ten Championship and was named the conference tournament MVP with a .577 (15-for-26) batting average, eight runs scored, six doubles, one home run, six RBIs, four walks and four stolen bases. Dawson set Big Ten tournament records for hits and doubles.
The 6-foot-2, 225-pound left-handed slugger struggled early in his first full pro season, hitting .217 in the first half of 2017 for Quad Cities. He's raised that mark to .250 for the season, including a sizzling .385 in his last 10 games that includes a two-homer, five-RBI performance last night.
"I'm going in the right direction," Dawson said. "In life, you can only get so far, and you have to make adjustments. I got away with being stronger and more athletic with metal bats. I had to make an adjustment when I got to pro ball. I talk to the coaches every day. It's really helping me make the adjustment. I had to change my load. The first half of this season, the power numbers were there, but the average wasn't there. I've had to really focus on the process."
Quad Cities manager Russ Steinhorn said Dawson has character to match his talent.
"Ronnie has an infectious personality, and that's really important," Steinhorn said. "He's a great guy and a great teammate. He leads by example. He's always working hard and doing the extra things. Ronnie just needs to work on being consistent. He knows exactly what he has to do."

In brief
Dominant force:
Michel Baez
, a 6-foot-8 right-hander who signed with the Padres as a Minor League free agent in 2016, has been punishing Midwest League hitters. Baez, a 21-year-old in his first season, is 3-0 with a 1.17 ERA in four games. In his last three outings, he's only allowed one run in 18 innings (a 0.50 ERA), striking out 24 and walked two.
Hey, Siri:
Dayton center fielder
Jose Siri
owns a 23-game hitting streak, snapping the team record of 20 games set by Carlos Mendez in 2009. Siri extended his hitting streak to 21 in the ninth inning of a game against Clinton. The 21-year-old is batting .344 with 15 home runs over his last 47 games (since May 21) and has lifted his batting average from .218 to .289 and his slugging percentage from .303 to .511. Siri's .672 slugging percentage since May 21 ranks third among all players in the Minors (full-season leagues). His 15 home runs since May 21 is tied for fourth in the Minors, and his.344 batting average since May 21 is fourth among all full-season Class A players.
Rough start:
South Bend pitcher
Carson Sands
struggled in his first start following off-season surgery, giving up seven earned runs and five walks in two innings. Sands, a fourth-round selection by the Cubs in the 2014 Draft, has walked 16 in 13 2/3 innings and given up 11 earned runs in five starts this season.
Curt Rallo is a contributor to MiLB.com