Rain, Lookouts Halt Barons In 12-2 Loss
Hansen suffers loss in first start of season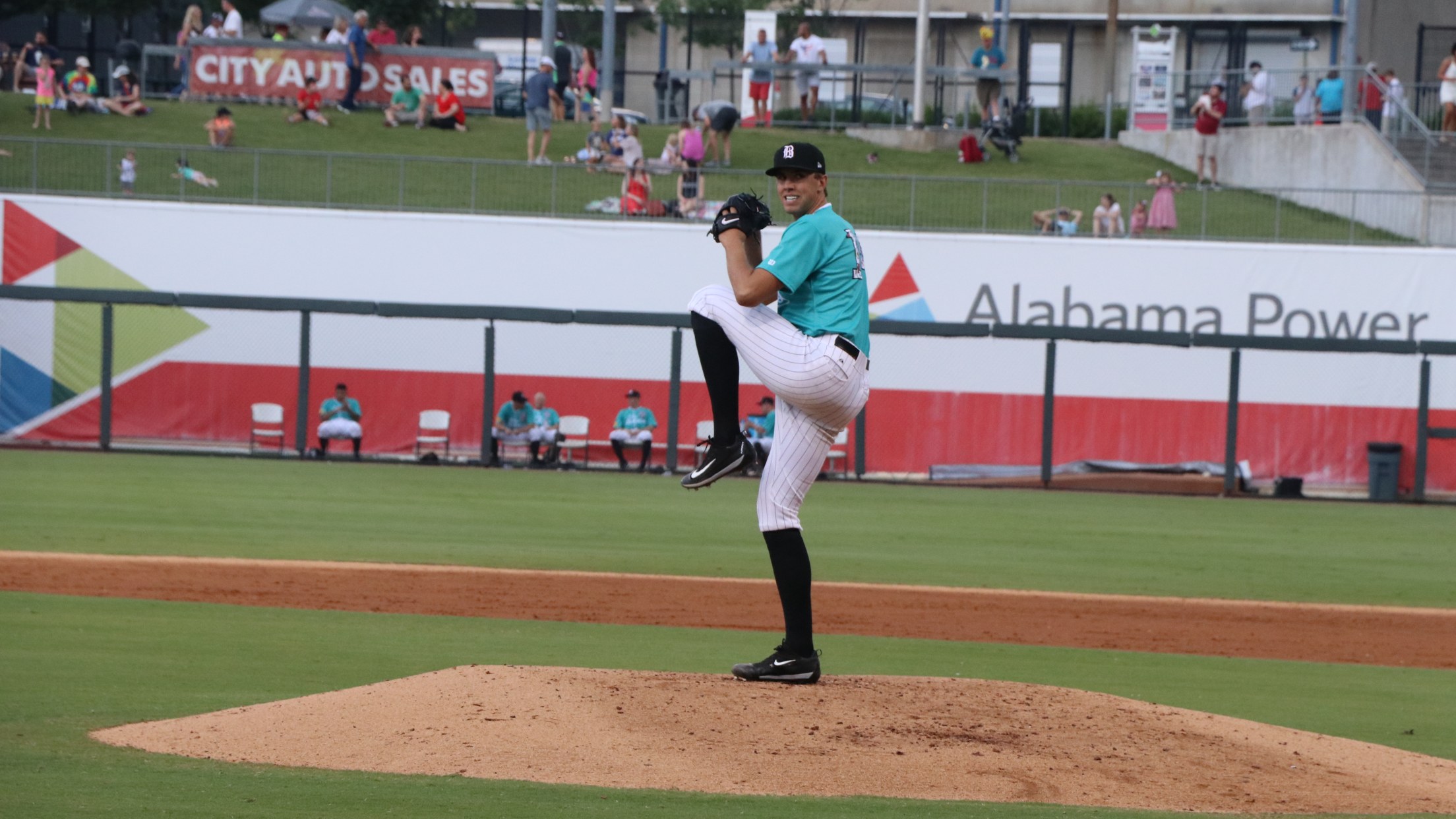 Alec Hanson struck out four in 4.2 innings in Saturday's loss. (Aaron Cheris)
On a wet night at Regions Field, the Birmingham Barons (32-36) fell to the Chattanooga Lookouts (36-33) by a 12-2 score on Saturday night in a rain-shortened contest. The Birmingham loss evens up the five-game series at two games each. Turning Point: In the second inning, James Ramesy launched a three-run
On a wet night at Regions Field, the Birmingham Barons (32-36) fell to the Chattanooga Lookouts (36-33) by a 12-2 score on Saturday night in a rain-shortened contest. The Birmingham loss evens up the five-game series at two games each.

Turning Point: In the second inning, James Ramesy launched a three-run home run off debuting Barons starter Alec Hansen (L, 0-1), and that proved to be the difference. The homer put Chattanooga in front 4-1 after both teams scored in the first inning.
Moments That Mattered: In the sixth, former Baron Andy Wilkins hit a three-run homer off Birmingham reliever Connor Walsh to make the lead 11-2 Lookouts. After Chattanooga plated another run, the skies above Regions Field opened up, leading to a delay of more than an hour before the umpires called the game, giving the visitors a win.
By The Numbers: In his first start since recovering from a forearm injury, Hansen struggled. Over 4.2 innings, he gave up six earned runs on nine hits with one walk and four strikeouts to take the loss. In relief, Walsh gave up six runs of his own over two thirds of an inning.
Facts and Figures: At the plate, the Barons got two hits and two runs from leadoff hitter Danny Mendick , but little else as the rest of the offense combined for three hits. Eloy Jiménez drove in the first run on a sacrifice fly while Bryant Flete added an RBI single in the fifth inning.
Up Next: The Barons end the first half with Jordan Guerrero (2-6, 6.35) set to start on Sunday afternoon. First pitch against the Lookouts is scheduled for 3 p.m. Curt Bloom will have the call on 960 WERC News Radio and the iHeart Radio app.