McCaughan deals on #DarrenDay, flirts with no-hitter 
Rainiers RHP Darren McCaughan throws 116 pitches over 7.1 IP of near-flawless work on Wednesday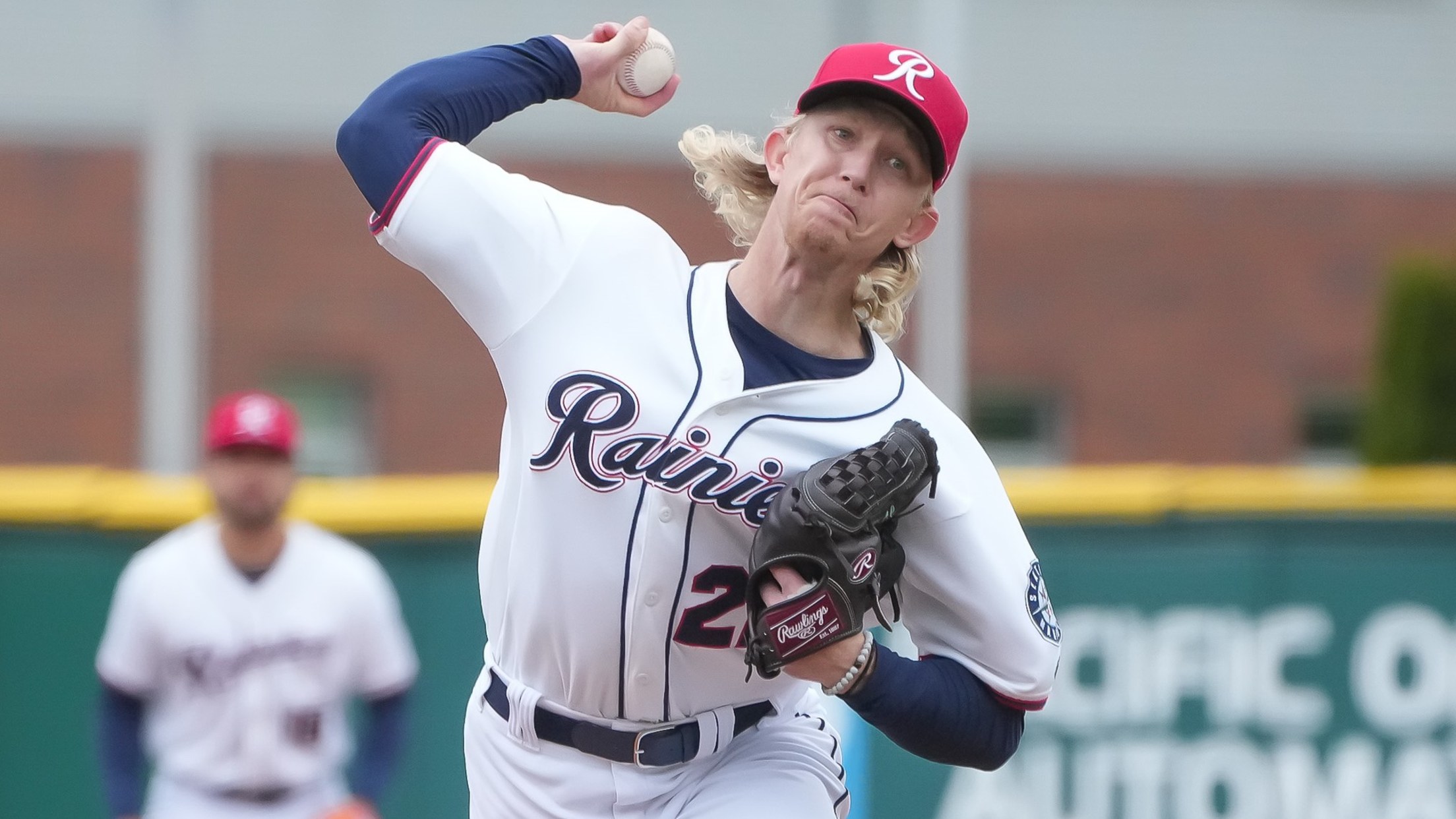 Tacoma, WA (6/15/22) – The Tacoma Rainiers (25-36) were victorious over the Sacramento River Cats (24-38) at Cheney Stadium on Wednesday night by a 4-1 final, improving to 4-1 on this homestand. Tacoma has now won six of their last seven games and has jumped in front of Sacramento in
Tacoma, WA (6/15/22) – The Tacoma Rainiers (25-36) were victorious over the Sacramento River Cats (24-38) at Cheney Stadium on Wednesday night by a 4-1 final, improving to 4-1 on this homestand. Tacoma has now won six of their last seven games and has jumped in front of Sacramento in this weeklong series two games to none, and have taken six of eight games from the River Cats this season.
RHP Darren McCaughan had himself a career night for the Rainiers; he faced the minimum number of River Cat batters through 5.2 IP, surrendering only a walk in the sixth inning to Ka'ai Tom. McCaughan's night would continue to be exemplary, as he took a no-hit bid into the eighth and with one out Isan Diaz doubled, breaking up the no-hitter. The right-hander was lifted from the game after allowing the double, on his 116th pitch of the night (2 BB).
McCaughan struck out 11 batters, a career-high and one fewer than Tacoma's club-high this season (Daniel Ponce de Leon, 12 K, 5/21 at Sacramento). He has now recorded the two longest outings for any Rainiers starter this season, after going 7.1 IP on Wednesday, breaking his own season-high set on April 22 at Cheney Stadium against Sugar Land (6.1 IP).
Offensively Tacoma got off to a slow start, after scoring in the first inning their previous four games. Tacoma pushed their first run across in the fourth with a Cesar Izturis, Jr. RBI fielder's choice, which scored Joe Odom (BB) from third base.
Tacoma pushed runs across in back-to-back innings when in the fifth with two out the Rainiers would increase their lead to 3-0. Kevin Padlo hit his 10th home run of the season (third with Tacoma), with Justin Upton (single) on base.
The Rainiers would continue to build their lead in the bottom of the seventh: Padlo (single) would score from second base on an infield hit against the shift from Andrew Knapp.
Sacramento would get their only run on the scoreboard following the double from Diaz that ended McCaughan's no-hit bid in the eighth. The River Cats would cash in that run with another double from Will Wilson, as Sacramento scored only a single run to break up a shutout as the night's final tally, for a consecutive game.
LHP Nick Ramirez entered in the ninth and nailed down his third save this season in as many opportunities. Ramirez worked around a Donovan Walton leadoff single before retiring the next three batters in order with a strikeout and a pair of grounders for Tacoma's third straight win.
The Rainiers are back in action Thursday night with a 7:05 p.m. PT first pitch against the River Cats. RHP Konner Wade is Tacoma's scheduled starter, and RHP Anthony DeSclafani is scheduled to make a Major League rehab appearance to begin the game for Sacramento.
All 2022 Rainiers games, home and away, can be heard for free on the MiLB First Pitch app. HD video broadcasts of every game can be viewed with a MiLB.TV subscription.
About the Tacoma Rainiers
The Tacoma Rainiers are the Triple-A affiliate of the Seattle Mariners. The Rainiers are a member of the Pacific Coast League and have been a Mariners affiliate since establishing the Rainiers moniker in 1995.
The most up-to-date news and notes about the Tacoma Rainiers and Cheney Stadium can be found at WeRTacoma.com, or by following the Rainiers on Twitter (@RainiersLand), Instagram (@tacomarainiers) and liking the team on Facebook.