Rally Falls Short as 'Hounds Walk-Off
Dario Pizzano doubles, homers and drives in three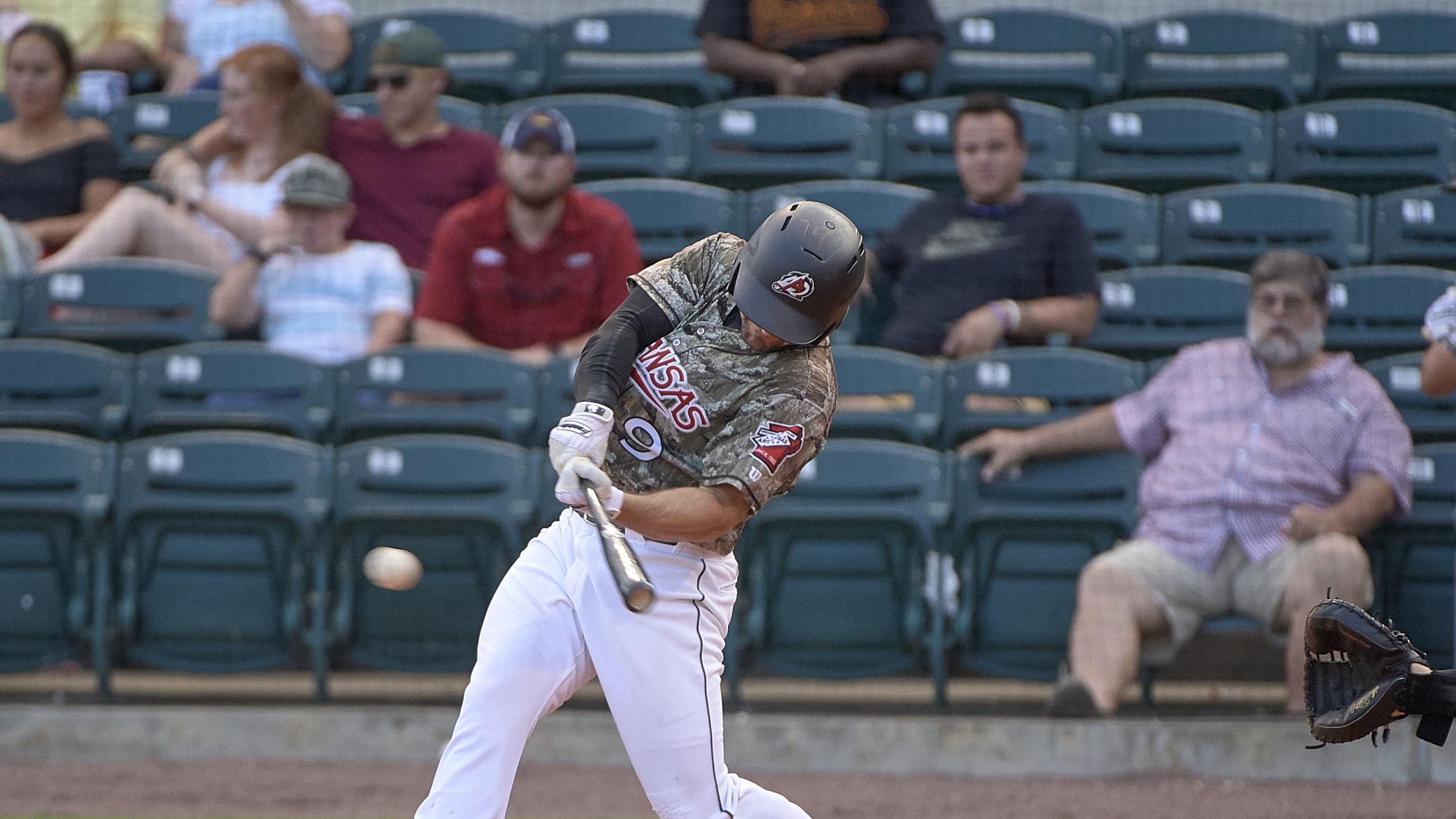 Dario Pizzano doubled, homered and drove in three in a loss at Midland. (Mark Wagner)
Midland, TX-Dario Pizzano led the Arkansas Travelers back from three runs down to a 4-4 tie but Jonah Heim's walk-off hit sent the Midland RockHounds out as winners, 5-4 on Friday night. Pizzano drove in three runs on the night with a two-run homer and an RBI double with another
Midland, TX-Dario Pizzano led the Arkansas Travelers back from three runs down to a 4-4 tie but Jonah Heim's walk-off hit sent the Midland RockHounds out as winners, 5-4 on Friday night. Pizzano drove in three runs on the night with a two-run homer and an RBI double with another run scoring on that play via an error. The winning hit for the RockHounds came off reliever Trevor Frank who retired the first seven batters he faced before consecutive hits brought the night to a close. Both starters carried the game deep with Arkansas' Nathan Bannister working six inning before handing the ball off and Midland's Ben Bracewell went seven innings. Both Bannister and Bracewell yielded four runs. While Pizzano drove in three, they struggled overall, going just 1-8 with runners in scoring position. The loss brought a three game win streak to a close. It also marked the sixth walk-off loss of the season for Arkansas but first in exactly two months since a June 17 defeat at Northwest Arkansas.
Moments That Mattered
* Three of the RockHounds first four runs scored with two out in an inning. Back-to-back hits scored a pair in the third and then another hit in the fourth scored the final two out run.
* Pizzano's homer got the Travs on the board and his double with an error on the play brought the tying runs in. However, Joel Seddon struck him out with two on for the second out of the eighth inning. Arkansas would load the bases then after an error but Seddon got a fly out to end the threat.
* Heim's heroics were preceded by a hustle double from Luis Barrera that put the winning run in scoring position.
Notable Travs Performances
* SS Yonathan Mendoza: 2-4, run
* 1B Joey Curletta: 2-4, run
* DH Dario Pizzano: 2-4, run, 2B, HR, 3 RBI
Up Next
The Travs look to bounce back in the middle game of the series on Saturday night at 7:00. Right-hander Chris Mazza makes his Traveler debut as the starting pitcher against righty Parker Dunshee (5-3, 2.29). The game will be broadcast on the Sports Animal 920, the First Pitch App, TuneIn radio and milb.tv.