Ramirez makes MLB debut with Marlins in New York
Former outfielder becomes 82nd former Power player to debut in the bigs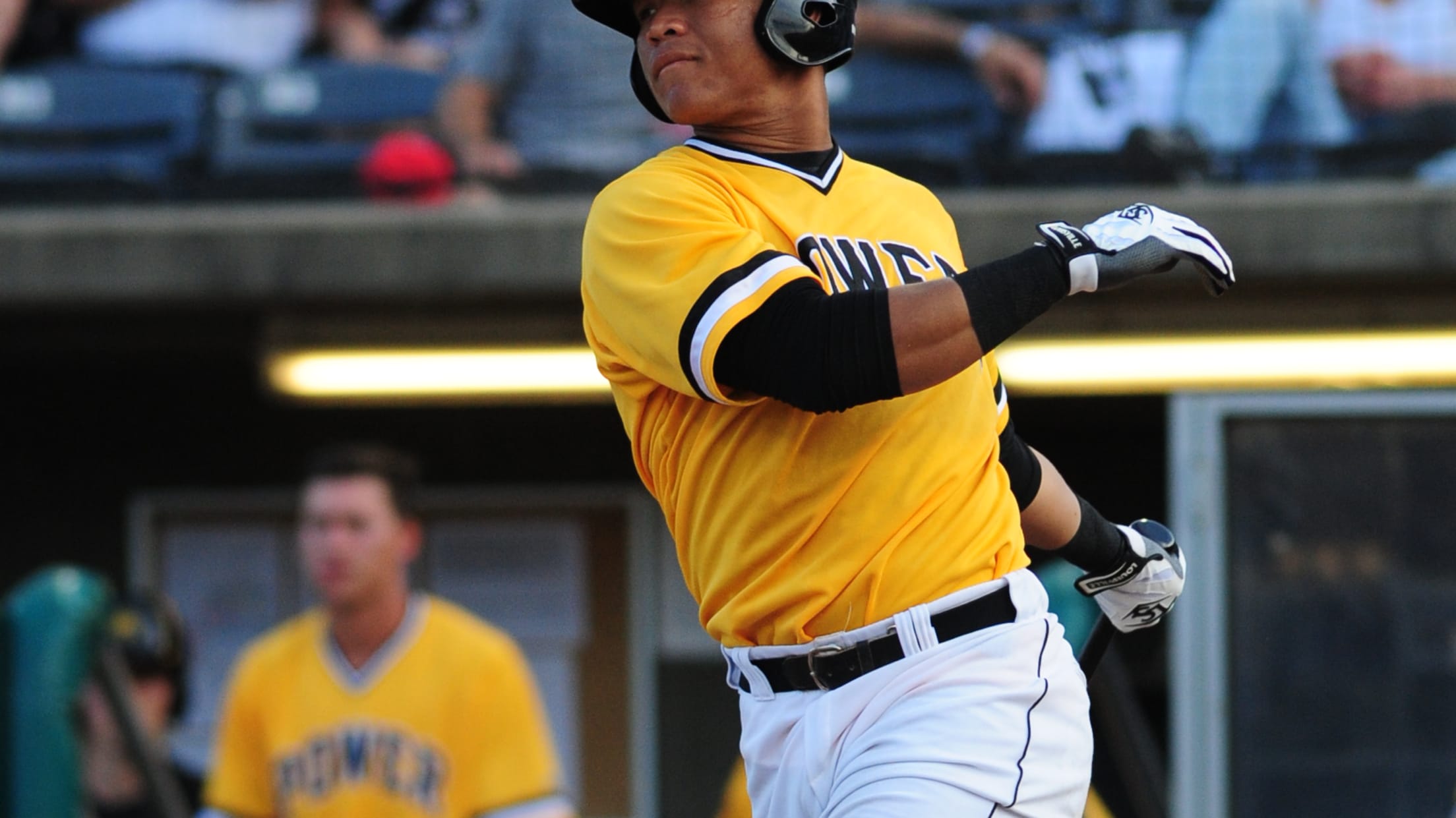 Harold Ramirez is the 82nd former Power player to make his MLB debut. (Sam Santilli)
CHARLESTON, W.Va. (May 12, 2019) - After having his contract selected from Triple-A New Orleans Saturday by the Miami Marlins, outfielder Harold Ramirez became the 82nd former Power player to make his MLB debut after he started in left field against the New York Mets at Citi Field. The Cartegena, Colombia, native went 1-for-4
CHARLESTON, W.Va. (May 12, 2019) - After having his contract selected from Triple-A New Orleans Saturday by the Miami Marlins, outfielder Harold Ramirez became the 82nd former Power player to make his MLB debut after he started in left field against the New York Mets at Citi Field.
The Cartegena, Colombia, native went 1-for-4 in his big league debut, singling on a sharp ground ball to short off former Mariners closer Edwin Diaz with two down in the ninth inning for his first MLB hit.
After being signed by the Pittsburgh Pirates as an international free agent on July 2, 2011, Ramirez worked his way to West Virginia in 2014. Unfortunately, the 2014 campaign was an injury-filled one for Ramirez, as he played in just 49 games for the Power and missed three full months with two different stints on the injured list.
Despite the injuries, Ramirez holds quite the distinction in club history, as he currently possesses the longest hitting streak in Power history at 23 games, stretching from June 5 to July 1, 2014, the last game that Ramirez would appear in for West Virginia. The outfielder surpassed Starling Marte, who had a 22-game streak in 2009. Ramirez averaged .347 with one homer and 12 RBI during his incredible run, hoisting his overall average to .309 with 24 RBI during his time in the Kanawha Valley.
Ramirez spent all of 2015 with High-A Bradenton before elevating to Double-A Altoona in 2016, where he was a Midseason All-Star with the Curve. The 21-year-old was then dealt to Toronto August 1 along with LHP Francisco Liriano and catcher Reese McGuire in exchange for RHP Drew Hutchison.
After playing just one game in 2016 with Double-A New Hampshire, Ramirez appeared in 241 games for the Fisher Cats over the next two seasons, including a banner year in 2018, during which he averaged .320 in 120 games with 11 homers and 70 RBI. He was named an Eastern League Postseason All-Star and Playoff MVP, as he helped New Hampshire raise its fourth league banner in team history.
The Marlins signed Ramirez to a free agent deal in December 2018 and he opened the 2019 campaign with New Orleans, playing in 31 games and notching four homers and 14 RBI with a .355 clip before getting called up. The 24-year-old boasted a career .303 average in 610 Minor League games before his debut.
Ramirez is the fifth former Power player to make his big league debut this season, joining OF Connor Joe, INF Cole Tucker, LHP Taylor Hearn and RHP Montana DuRapau.
West Virginia continues its homestand with the middle match of a three-game series against the Kannapolis Intimidators Sunday afternoon at Appalachian Power Park, with first pitch set for 2:05 p.m. For tickets and more information, call the Power at 304-344-2287 or visit www.wvpower.com.