Ramiz's late-inning heroics lead to 9-8 walk-off win
Ryan Ramiz ties it with a two-run homer in the ninth and wins it in the 10th with a base hit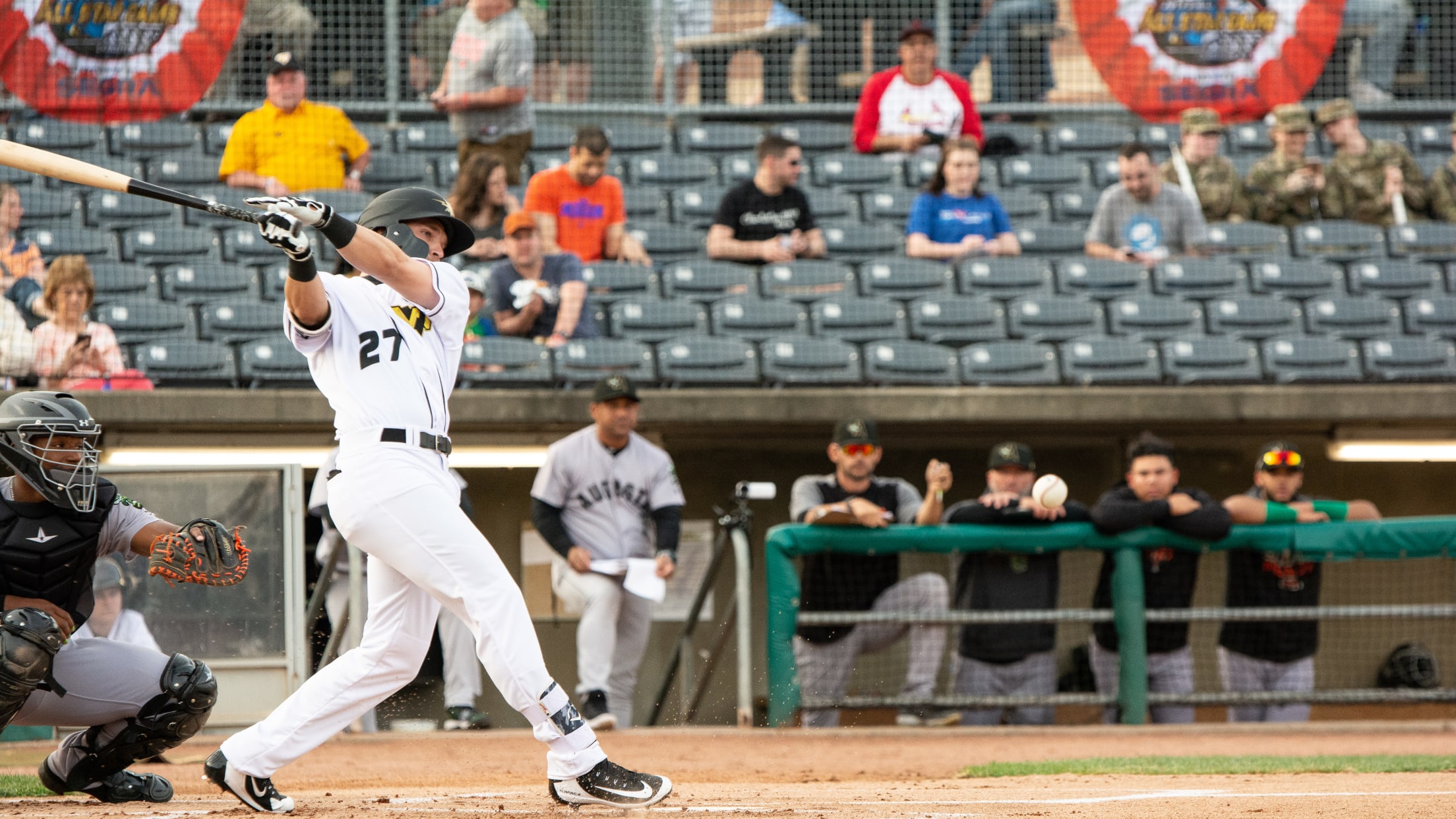 Ryan Ramiz homered in the ninth to tie it and won it in the 10th with a base hit Sunday afternoon. (Joe Williams)
CHARLESTON, W. Va. (June 30, 2019) -Ryan Ramiz smacked a two-run home run in the ninth to tie the game at six and won it in the 10th with a base hit to right field to shock the Kannapolis Intimidators, 9-8, and secure a series split for West Virginia Sunday
CHARLESTON, W. Va. (June 30, 2019) -Ryan Ramiz smacked a two-run home run in the ninth to tie the game at six and won it in the 10th with a base hit to right field to shock the Kannapolis Intimidators, 9-8, and secure a series split for West Virginia Sunday afternoon at Appalachian Power Park.
Down 6-4 with one down in the ninth, Joseph Rosa stepped in to face Kannapolis' J.B. Olson (0-1). Rosa singled to right to bring the tying run to the plate in Ramiz, who blasted his fourth home run of the season 364 feet to right field and knotted the game at six.
Dayeison Arias (1-1) entered in the top of the 10th, but was unable to keep the Intimidators (6-5, 34-45) at bay, as Romy Gonzalez smacked an RBI double that plated Alex Destino to vault Kannapolis ahead 7-6. Two batters later, Amado Nunez stroked a single to left that brought in Gonzalez, handing the Intimidators an insurance run and ending Arias' streak of not allowing an earned run at 22.1 innings.
Olson returned for the bottom of the 10th to face off with Julio Rodriguez. With Charlie McConnell standing as the placed on runner at second base, Julio pushed one through the left side that sent McConnell to third. Bobby Honeyman then worked a walk to load the bases for David Sheaffer, who stroked a base hit to left that scored McConnell and made it a one-run game. After Onil Pena struck out looking, Jake Anchia worked a bases-loaded walk that tied the game at eight and set the stage for Ramiz. The Power (5-6, 42-39) outfielder ripped an 0-1 elevated fastball into right field, sending in Honeyman and winning it for West Virginia.
For the third straight game, the Intimidators struck for a run in the opening frame, as Lenyn Sosa singled against Ryne Inman to begin the ballgame, moved to second on a pickoff throwing error by Inman, trotted to third on a fly out and scored on a balk. However, unlike the last two affairs, the Power did not respond in the first, as Davis Martin held West Virginia to just one hit through the first three innings.
Meanwhile, the Intimidators padded their lead with a solo home run from Corey Zangari in the second and an RBI groundout by Johan Cruz in the third to make it 3-0. The Power finally answered with two runs in the fourth thanks to a two-run double from Honeyman, closing the deficit to one.
Kannapolis expanded its lead from there, tacking on one run in the fifth, sixth and eighth frames to hold a 6-2 advantage, but West Virginia would start to rally in the bottom of the eighth. With Devon Perez on the hill, J.R. Davis and McConnell each laced singles to put two on with one out. Julio then bounded a ball off the glove of Cruz at third and into left field, bringing in Davis to make it 6-3 Intimidators. Honeyman followed with a base hit and Sheaffer lofted a sacrifice fly to left that scored McConnell and shrunk the Kannapolis lead to 6-4.
The Power continues their first second-half homestand with a three-game series against the Hickory Crawdads Monday evening at Appalachian Power Park, with first pitch set for 7:05 p.m. RHP Devin Sweet (3-3, 3.31 ERA) heads to the hill for West Virginia, while Hickory goes with righty Cole Winn (0-3, 7.59 ERA). Pregame coverage begins at 6:45 p.m. on The Jock 1300 and 1340 AM, as well as online at wvpower.com and via the TuneIn Radio App and MiLB First Pitch App.
Monday is our first Family Buck Night of the second half, where fans can purchase box seats for $3.00 and general admission tickets for $1.00, while hot dogs, popcorn and 12-ounce Pepsi products are all available for just a buck! For tickets and more information, call the Power at 304-344-2287 or visit www.wvpower.com.