Rancho Cucamonga capitalizes on walks; Fresno falls 13-8 in first-ever visit to LoanMart Field
Grizzlies pitching issues season-highs in runs, walks; Grizzlies offense blasts four homers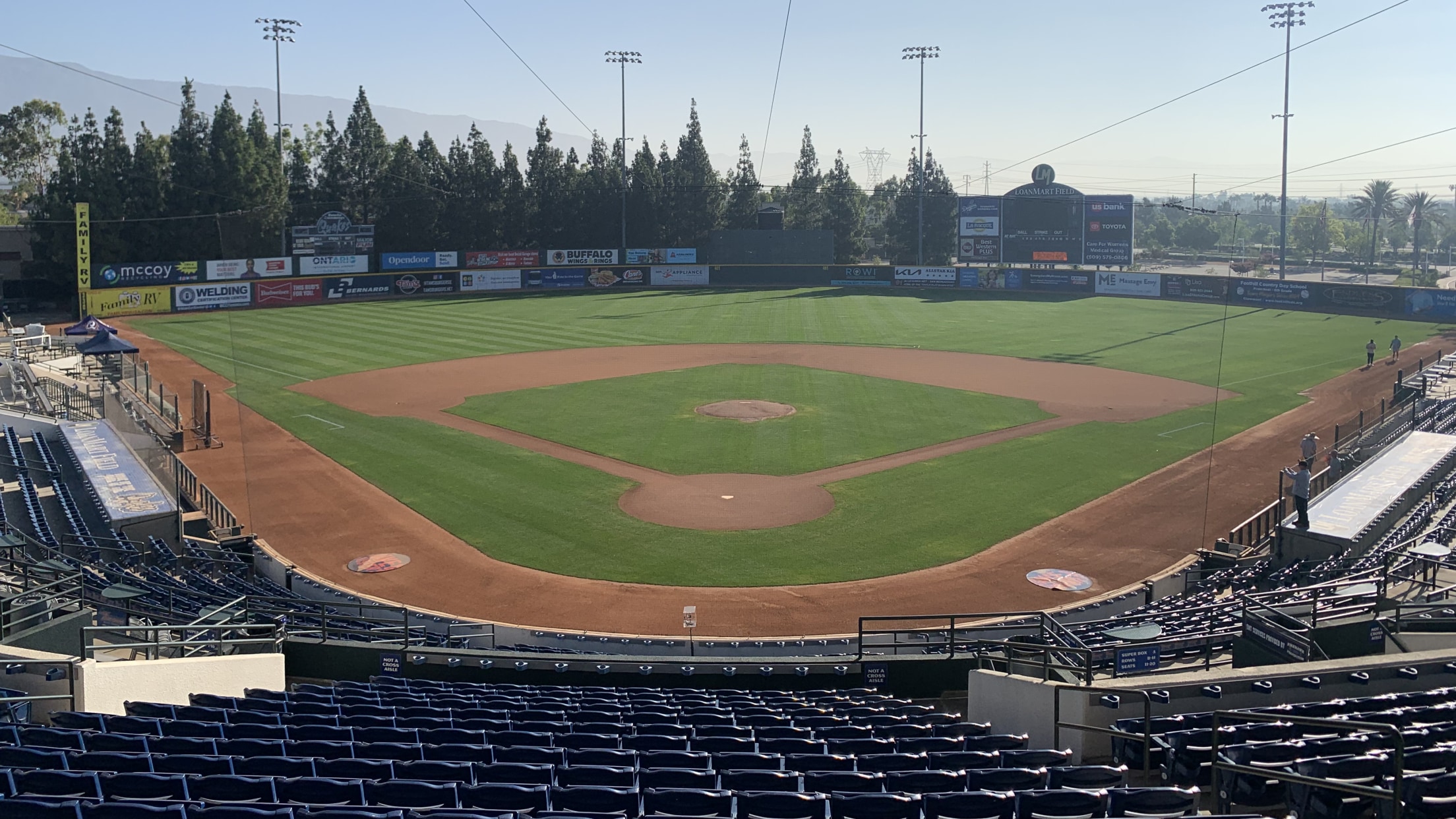 Rancho Cucamonga, CA (Tuesday, July 12) – The Fresno Grizzlies (51-31, 10-6) fell to the Rancho Cucamonga Quakes (43-39, 7-9) 13-8 Tuesday morning in their first-ever visit to LoanMart Field. Fresno saw their five-game winning streak come to an end and dropped to 9-4 against Rancho Cucamonga over the past
Rancho Cucamonga, CA (Tuesday, July 12) – The Fresno Grizzlies (51-31, 10-6) fell to the Rancho Cucamonga Quakes (43-39, 7-9) 13-8 Tuesday morning in their first-ever visit to LoanMart Field. Fresno saw their five-game winning streak come to an end and dropped to 9-4 against Rancho Cucamonga over the past two seasons. The Grizzlies also stumbled to 12-3 in the first game of a series (5-2 on the road), 11-2 on Tuesdays (5-2 away) and 12-6 in day contests (5-4 on the road).
The two best Single-A offensive clubs tallied 21 runs on 25 hits, 18 walks, eight stolen bases and three hit-by-pitches. This culminated in the longest game played by Fresno this year (3 hours, 43 minutes). The Grizzlies lineup supplied eight runs on 14 hits with every starter reaching base once. Five different batters notched multi-hit games with Juan Guerrero leading the charge. The center fielder blasted a homer among his three hits. Guerrero went back-to-back with Yanquiel Fernandez, who clobbered a two-run clout to right field. Yorvis Torrealba also went deep, his first longball in a Grizzlies uniform. Adael Amador rounded out the taters with a solo shot in the eighth. Benny Montgomery and Braxton Fulford each smoked a double among their two hits. Bryant Quijada and Juan Brito had a pair of hits apiece with Brito stealing two bases and racing home twice. Aiverson Rodriguez swiped a pair of bags as well, providing the Grizzlies a season-high in steals (5).
On the other side, Rancho Cucamonga took full advantage of some wild pitching by Fresno. The Quakes recorded 13 runs on 13 walks and 11 hits with the first two statistics finishing as season-highs by the Grizzlies staff. Austin Gauthier highlighted the offense with a game-high four hits and two runs scored. Griffin Lockwood-Powell drove in three runs with two of them coming from a double. Yunior Garcia also roped a double, walked twice and secured two RBI. Gaige Howard and Luis Rodriguez combined to walk seven times and score another five runs.
Fresno righty Jarrod Cande left his start in the first after being hit by a line drive. A season-high six relievers followed Cande and could not find their command. Five of the six arms issued at least two walks with Tanner Propst partaking in a game-high four. Juan Mejia was the only pitcher to toss a clean outing. Ever Moya (1-2) suffered the defeat. Dodgers' 2021 1st-round draft pick Maddux Bruns lasted two innings. Quakes lefty Christian Suarez (3-4) earned the decision after two-plus frames of work. The squads are back in action tomorrow night from LoanMart Field.
Top Performers: Fresno Grizzlies (Colorado Rockies)
• CF Juan Guerrero (3-5, HR, RBI, R)
• RF Yanquiel Fernandez (1-5, HR, 2 RBI, 2 R)
• LF Yorvis Torrealba (1-4, HR, RBI, R, BB)
• SS Adael Amador (1-6, HR, RBI, R)
• 2B Juan Brito (2-3, RBI, 2 R, 2 BB, 2 SB)
Top Performers: Rancho Cucamonga Quakes (Los Angeles Dodgers)
• SS Austin Gauthier (4-6, RBI, 2 R, SB)
• 1B Griffin Lockwood-Powell (1-2, 2B, 3 RBI, HBP)
• 1B/2B Yunior Garcia (1-3, 2B, 2 RBI, R, 2 BB)
• LF Gaige Howard (0-1, 3 R, 4 BB, SB)
• DH Luis Rodriguez (1-2, RBI, 2 R, 3 BB)
On Deck:
Wednesday, July 13 @ Rancho Cucamonga Quakes, Fresno RHP Case Williams (7-2, 4.38) vs. Rancho Cucamonga LHP Benony Robles (3-2, 6.60), 6:30 pm PT
ON THAT FRES-NOTE:
There were two Quakes players ejected by home plate umpire Shin Koishizawa.