Randall Throws Gem, Hops Run Wild in 8-1 Win
Hops Steal Season-High Seven Bases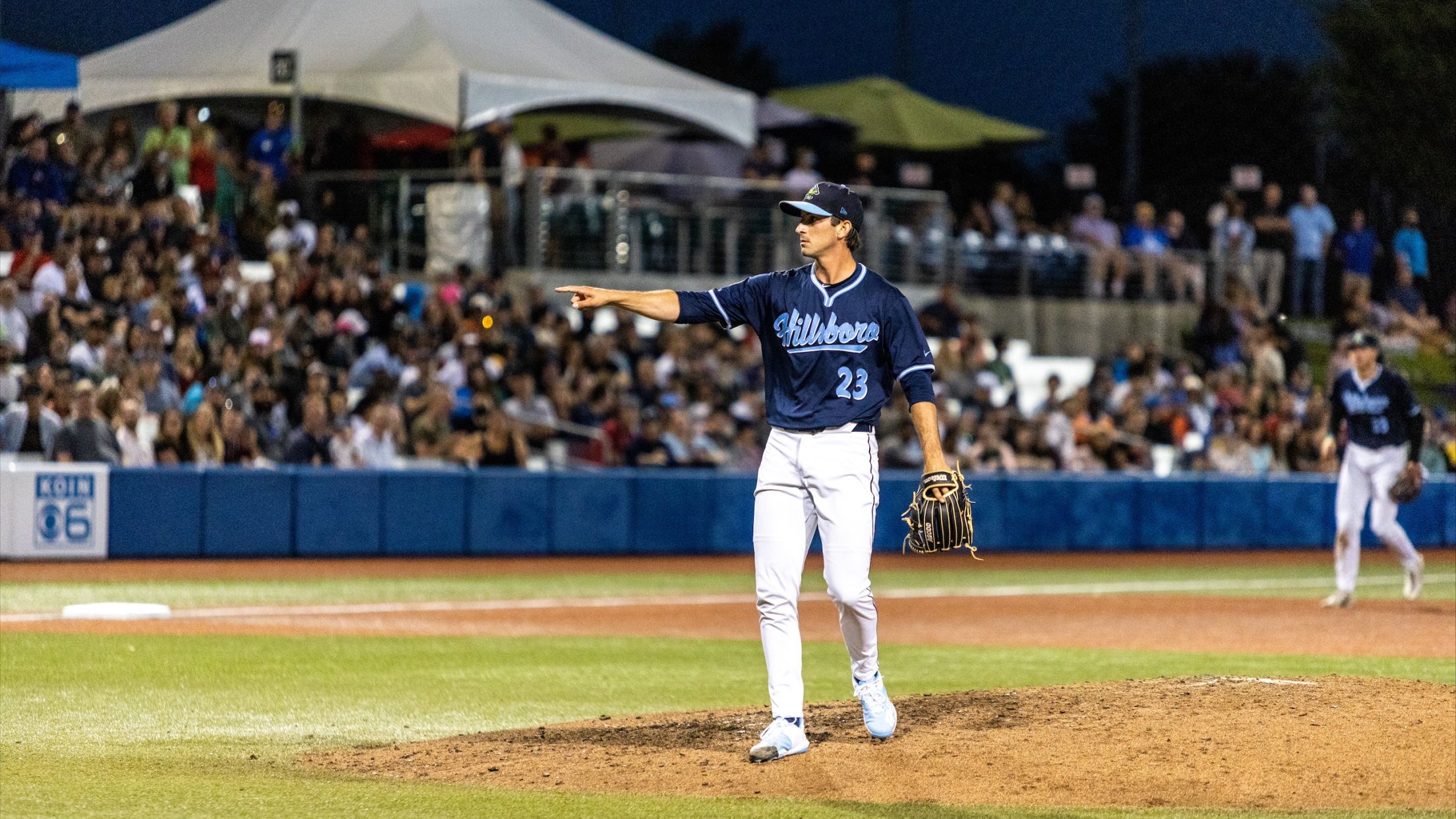 Hillsboro, OR (August 12, 2022) – Scott Randall was brilliant for the Hops on Friday, allowing just one run over 7.2, four-hit innings. Gary Mattis Jr. and A.J. Vukovich each had a pair of doubles and the Hops were seven-for-seven stealing bases, in the 8-1 win. Bladimir Restituyo wasted no
Hillsboro, OR (August 12, 2022) – Scott Randall was brilliant for the Hops on Friday, allowing just one run over 7.2, four-hit innings. Gary Mattis Jr. and A.J. Vukovich each had a pair of doubles and the Hops were seven-for-seven stealing bases, in the 8-1 win.
Bladimir Restituyo wasted no time extending his hit streak to nine games in the first inning with a single, later scoring on Hunter Goodman's 83rd RBI. That was the only run Scott Randall allowed over 7.2 innings.
Andrew Quezada was cruising through the first two innings, but things got tough in the third. Gary Mattis Jr. got the first Hops' hit of the game on a double and Caleb Roberts drove in the first run of the game with a sac fly. Roberts picked up his fourth RBI of the series, with Ryan Bliss extending his hit streak to eight games. Jordan Lawlar continued the scoring with an RBI single later in the frame, his 14th High-A RBI and 48th total.
The fourth inning was led off by A.J. Vukovich, who hit the second Hillsboro double in as many innings. Neyfy Castillo got his 17th RBI on a single back up the middle on the first pitch he saw from Quezada, making it 3-1 Hops.
Quezada pitched five innings, allowing four earned runs and six hits for Spokane. He was a perfect 8-0 coming into the game, but would have his first loss of the season at the hands of the Hops.
Hillsboro added three to the lead in the sixth, as the first three runners reached base. Lawlar walked and stole his second base of the game, De Los Santos had an RBI single, Vukovich had his second double and Wilderd Patino had a stolen base and two-RBI single, extending the lead to 6-1.
Scott Randall gave the Hops one of their best outings of the season from a starter, as he only allowed four hits and one run over 7.2 innings. Randall lowered his ERA to 4.25 and picked up his fourth win.
The scoring continued in the eighth, with Patino driving in his third run of the game and Mattis Jr. hitting his second double of the game, adding on two more for Hillsboro.
Vukovich, Lawlar and Mattis Jr. all reached base three times, with Vukovich also scoring three runs. As a team, the Hops were 7-for-15 with runners in scoring position.
Hillsboro (46-58) and Spokane (54-49) will play game five at Ron Tonkin field on Saturday. The pre-game show will start at 6:50, with first pitch at 7:05 on Rip City Radio 620 and MiLB.tv.