Raptors Ambush Idaho Falls with 10-Run Fifth
Ogden sends 13 men to the plate in the biggest single inning of the season to crush Idaho Falls;Paz and Yarnall lace four hits apiece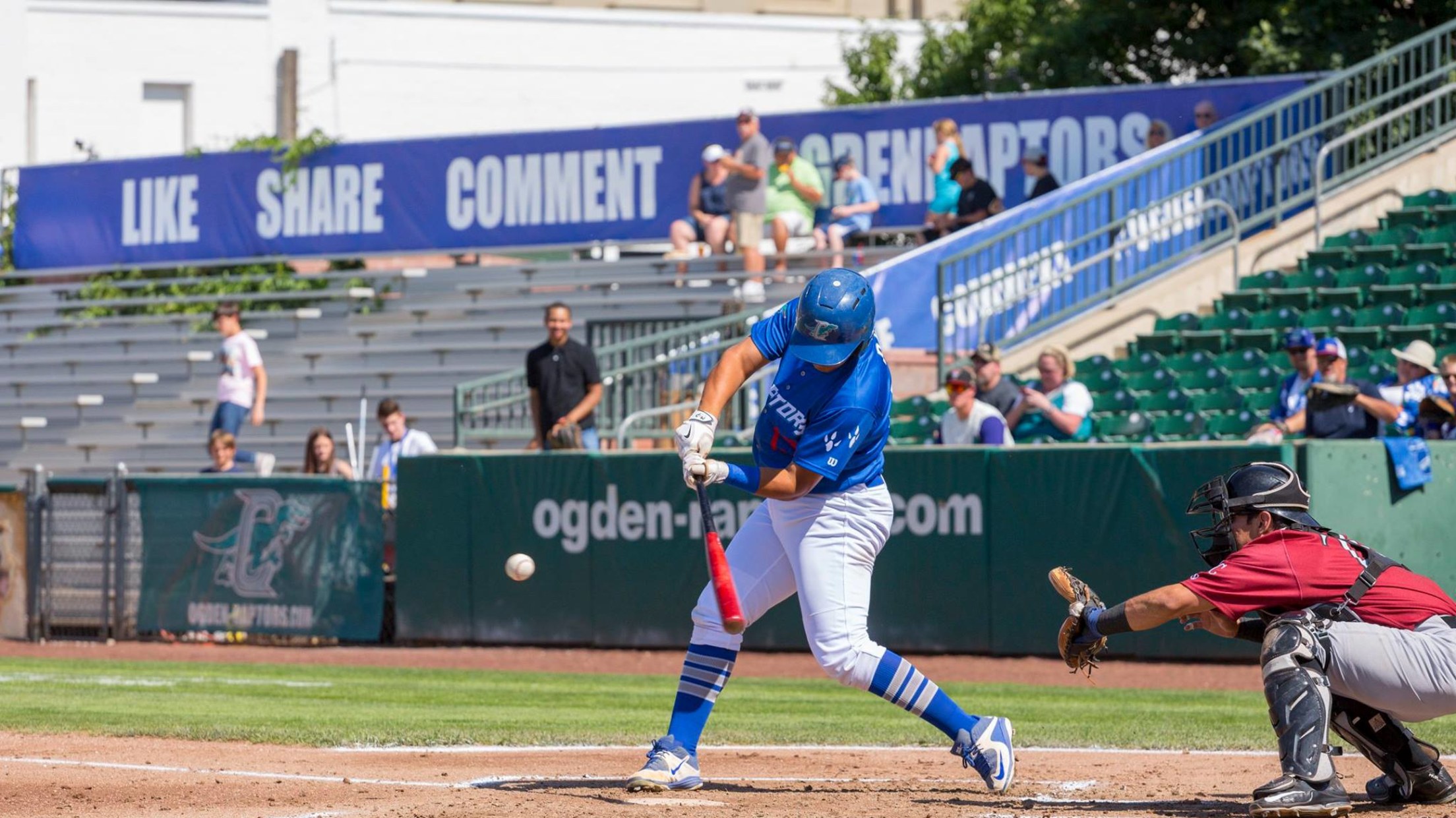 Luis Paz raked on Wednesday night, crushing a home run and a double and driving in four (Kevin Johnson)
When the top of the fifth inning began, the Ogden Raptors were clinging to a one-run lead. By the time it ended, nearly 45 minutes later, they were up by 11.The Raptors used that inning and five more run-scoring frames, along with solid pitching, to outdistance the host Idaho Falls
When the top of the fifth inning began, the Ogden Raptors were clinging to a one-run lead. By the time it ended, nearly 45 minutes later, they were up by 11.
The Raptors used that inning and five more run-scoring frames, along with solid pitching, to outdistance the host Idaho Falls Chukars by the score of 17-3 Wednesday night.
Luis Paz, who already had a home run (his league lead-tying fifth of the season) and a walk, crushed a line drive, measured at 110 miles per hour off the bat, off the right-field fence for a long single to open the fifth. New Raptors Starling Heredia doubled to center, and Nick Yarnall hit his second double of the night to drive in the pair. Romer Cuadrado followed with a walk to knock out the Chukars' starting pitcher. A Rylan Bannon double brought home Yarnall, and after a strikeout, a walk to Brock Carpenter loaded the bases.
Connor Heady hit a ground ball toward second base, and it appeared Idaho Falls would turn an inning-ending double play. But after hitting the bag, the Chukars' second baseman threw wide to first and Heady was safe. Cuadrado scored from third and Bannon motored home from second on the error. Moises Perez, the ninth batter of the inning, singled to right to bring Paz to the plate again, and the Brazilian didn't disappoint. He went the opposite way for a two-run double before taking third on a Heredia single. Yarnall was next, and his line drive single to right slipped under the glove of the Idaho Falls right fielder for a two-base error. Cuadrado brought in Yarnall for the 10th run of the frame on a bouncer up the middle.
That was all the Ogden pitching staff needed, as Osiris Ramirez and three relievers combined to allow just eight hits and one earned run while striking out 11 Chukars.
The Raptors weren't finished scoring after the fifth. In the sixth, Perez doubled home a run and Paz missed a home run by a few feet but earned a sacrifice fly for his fourth RBI. The next inning, Hendrik Clementina laced a double to left-center to plate two runs. Yarnall capped off his five-RBI night on a groundout to the right side with a runner on third and one out in the eighth.
With the win, Ogden re-took sole possession of second place in the Pioneer League South and remained three games behind Orem.
With the four-game set split through two games, the two teams return to Melaleuca Field Thursday night for another 7:15 first pitch.