Raptors Crumble in Ninth
Ogden can't hold lead taken in eighth, fall into first-place tie with Orem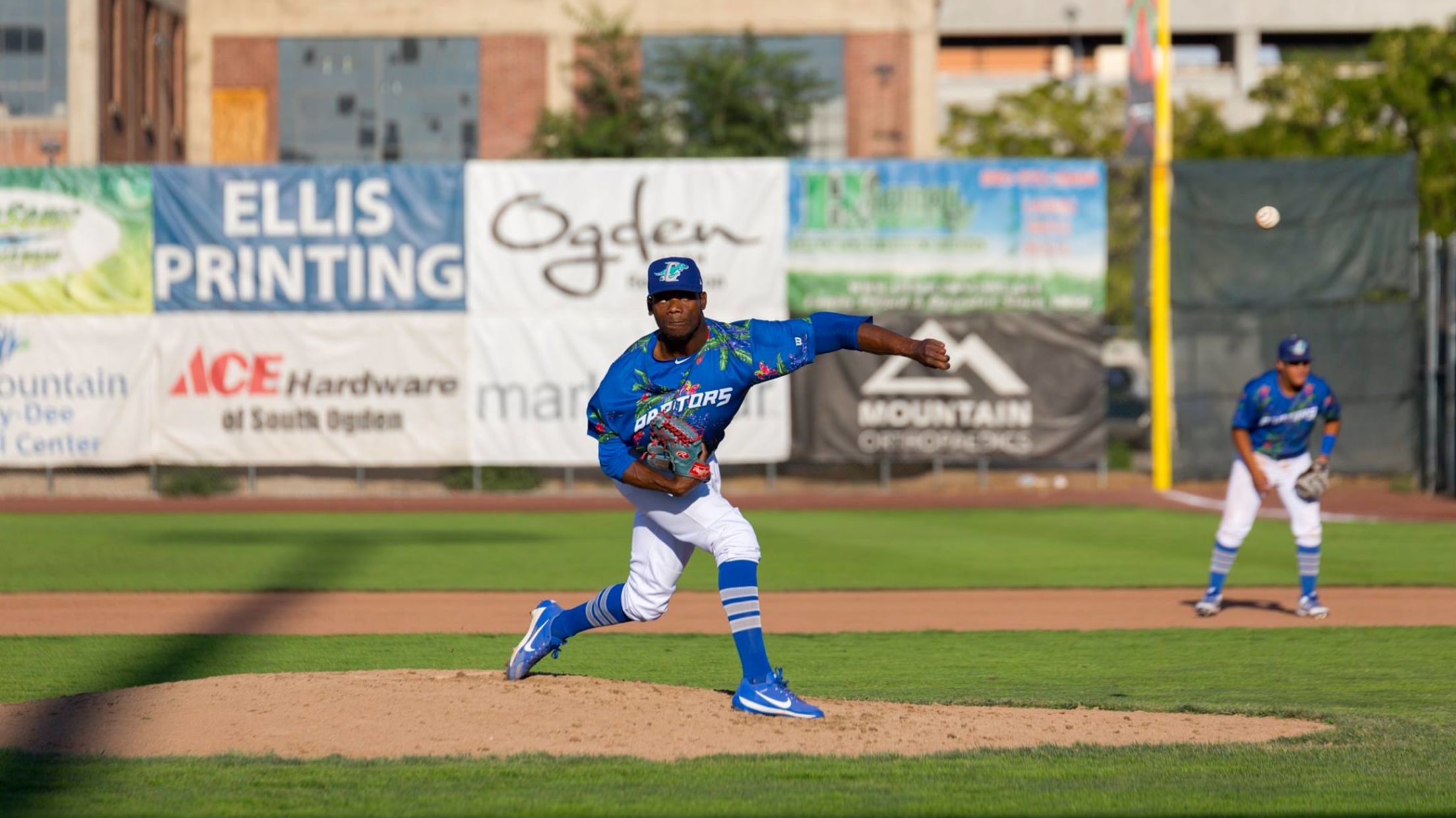 Francis Cespedes was a bright spot on a tough night for Ogden pitching, completing two scoreless frames without a walk (Kevin Johnson)
The Ogden Raptors took a lead into the ninth inning for the first time in three days. That advantage quickly evaporated, as did the Raptors' chances of winning the ballgame. Ogden fell, 10-4, to the Orem Owlz and also dropped into a first-place tie with their adversaries after having sole
The Ogden Raptors took a lead into the ninth inning for the first time in three days. That advantage quickly evaporated, as did the Raptors' chances of winning the ballgame.
Ogden fell, 10-4, to the Orem Owlz and also dropped into a first-place tie with their adversaries after having sole possession of first place in the Pioneer League South division second-half standings for over a week.
Leading, 4-3, into the top of the ninth, the Raptors allowed a leadoff home run to tie the game before a series of five straight batters reached on hits and walks. When the dust settled, Orem had sent 10 men to the plate and scored seven times.
The Raptors were fortuitous to even have a lead going to the final frame. With the hosts trailing by two entering the eighth, Romer Cuadrado reached on an error. Mitchell Hansen doubled to right field to become the potential tying run in scoring position with no one out. Two batters struck out, however, bringing up Carlos Rincon with two down. A wild pitch scored Cuadrado, and Rincon sent a deep drive to center field that Owlz center fielder Torii Hunter Jr., Jr, couldn't come up with. Rincon sprinted toward third and dove in with a triple. The relay throw from the cutoff man skipped into the stands and the umpires granted Rincon home plate on the dead ball.
After finishing 0-for-8 with runners in scoring position Thursday night, Ogden wasn't much better Friday. The only hit out of 12 at-bats in those situations was Rincon's. Ogden loaded the bases on walks with one out in the first but couldn't score. They also had runners at second or third with less than two out in the third and fourth and failed to bring a run across.
Meanwhile, Orem plated the game's first run with consecutive singles and a fielder's choice in the third before a two-run homer in the fourth made it 3-1.
Ogden closed to within two when Connor Heady drew a leadoff walk opening the fifth before scoring on a double play.
A pitching highlight for Ogden was the performance of Francis Cespedes. The Raptors' hard-throwing southpaw pitched two innings of scoreless ball with one hit and two strikeouts, and he didn't issue a walk for the first time since July 15.
The Raptors remain three games ahead of Grand Junction with eight games to play thanks to Idaho Falls' 16-5 drubbing of the Rockies. Ogden's magic number to clinch a playoff spot over Grand Junction is now six. The Raptors and Rockies begin a stretch of five straight games against each other on Sunday, after Ogden hosts Orem at 6:30 Saturday to finish a four-game series.