Raptors Fall By One
Ogden falls out of first place tie after Orem scores four in the first and three in two other frames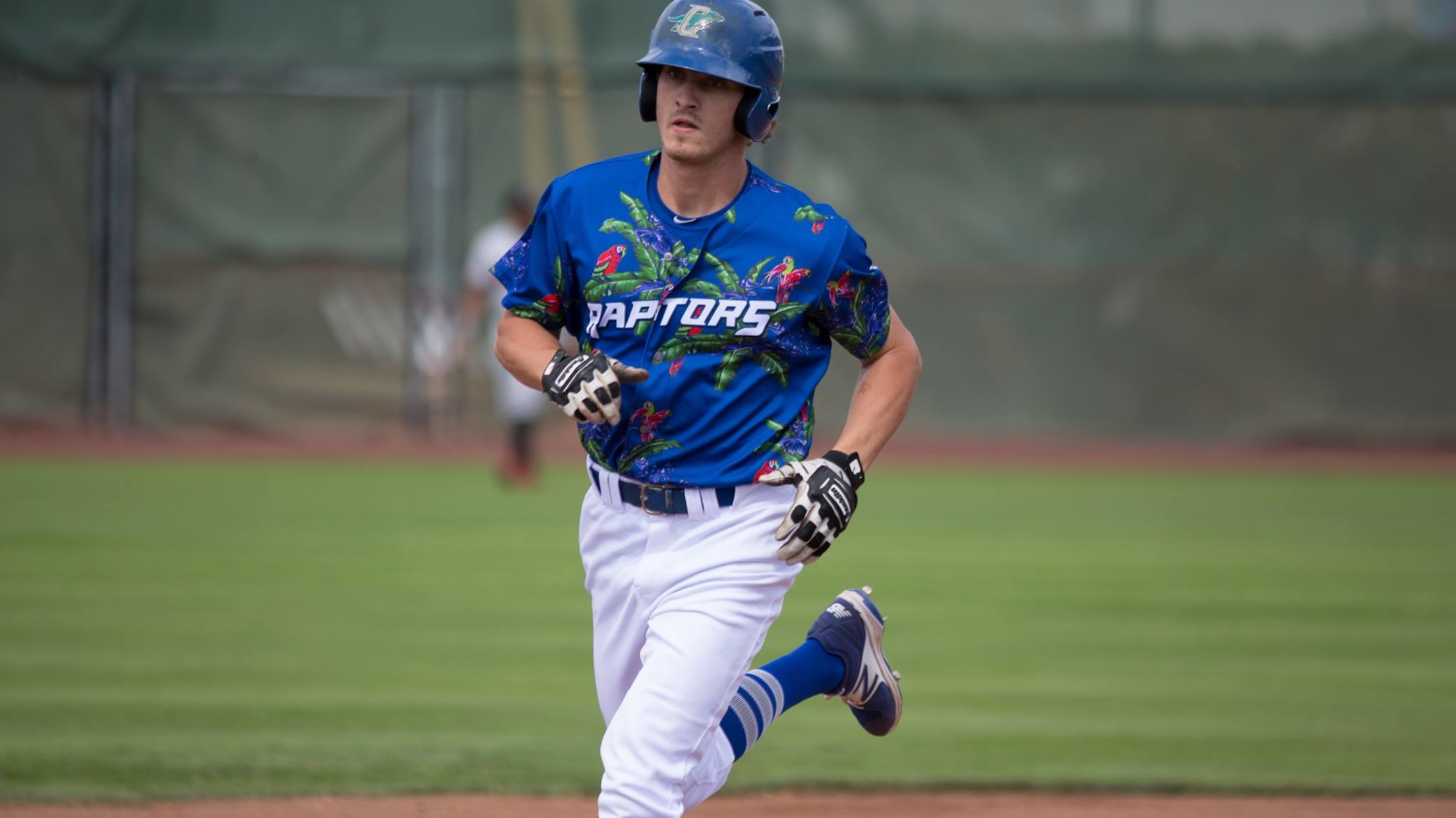 Donovan Casey's three hits, including a home run, weren't enough to keep the Raptors from falling to Orem (Kevin Johnson)
Despite two early home runs and a late five-run rally, the Ogden Raptors fell to the visiting Orem Owlz Monday night, 11-10.The loss put Orem a game ahead of Ogden in the Pioneer League South division second-half standings after the Raptors had pulled into a tie by sweeping two games
Despite two early home runs and a late five-run rally, the Ogden Raptors fell to the visiting Orem Owlz Monday night, 11-10.
The loss put Orem a game ahead of Ogden in the Pioneer League South division second-half standings after the Raptors had pulled into a tie by sweeping two games at Orem Friday and Saturday.
The hosts trailed, 11-5, entering the eighth. Eric Peterson drew a leadoff walk and moved to second on a one-out Donovan Casey single. Mitchell Hansen knocked in Peterson with a base hit, and Romer Cuadrado walked to load the bases. Luis Paz stepped up with his first hit of the game, a ringing double to score Casey and Hansen and make the score 11-8. After a pitching change and strikeout, Ramon Rodriguez, who entered the game in the sixth after Garrett Hope was ejected, singled through the left side as Cuadrado and Paz scored to bring the Raptors within one. Rodriguez was thrown out at second trying to advance on the throw home, however, and the inning ended.
Peterson stroked a one-out single in the ninth but was retired on a double play to end the game.
Orem went on top with a four-run rally in the first inning. A triple, double, walk and sac fly brought up Franklin Torres, who crushed the first pitch he saw from Osiris Ramirez to left field for a two-run homer.
Three more Owlz scored thanks to two Ogden errors in the fifth, a run crossed in the sixth on a double play, and a home run, wild pitch and two-out error in the seven brought across three more.
Hansen electrified the fans with blast to right in the bottom of the first. It was his third home run this season with Ogden, and he hammered it 447 feet. Casey added his sixth round tripper in the third.
After the Raptors loaded the bases with no one out in the fourth, Kevin Lachance lofted a sacrifice fly to left to pull the team within one at the time. Ogden again loaded the bases without an out in the fifth but failed to bring a run across. A Hansen groundout and Cuadrado single both scored runs in the sixth.
The Raptors and Owlz finished their four-straight games between the two sides Tuesday night at 6:30 at Lindquist Field. It's another Taco Tuesday, with tacos available for $1 all night long while they last.