Raptors Get Revenge, Hammer Chukars
After losing finale in Idaho Falls, Ogden comes out swinging in 17-6 thrashing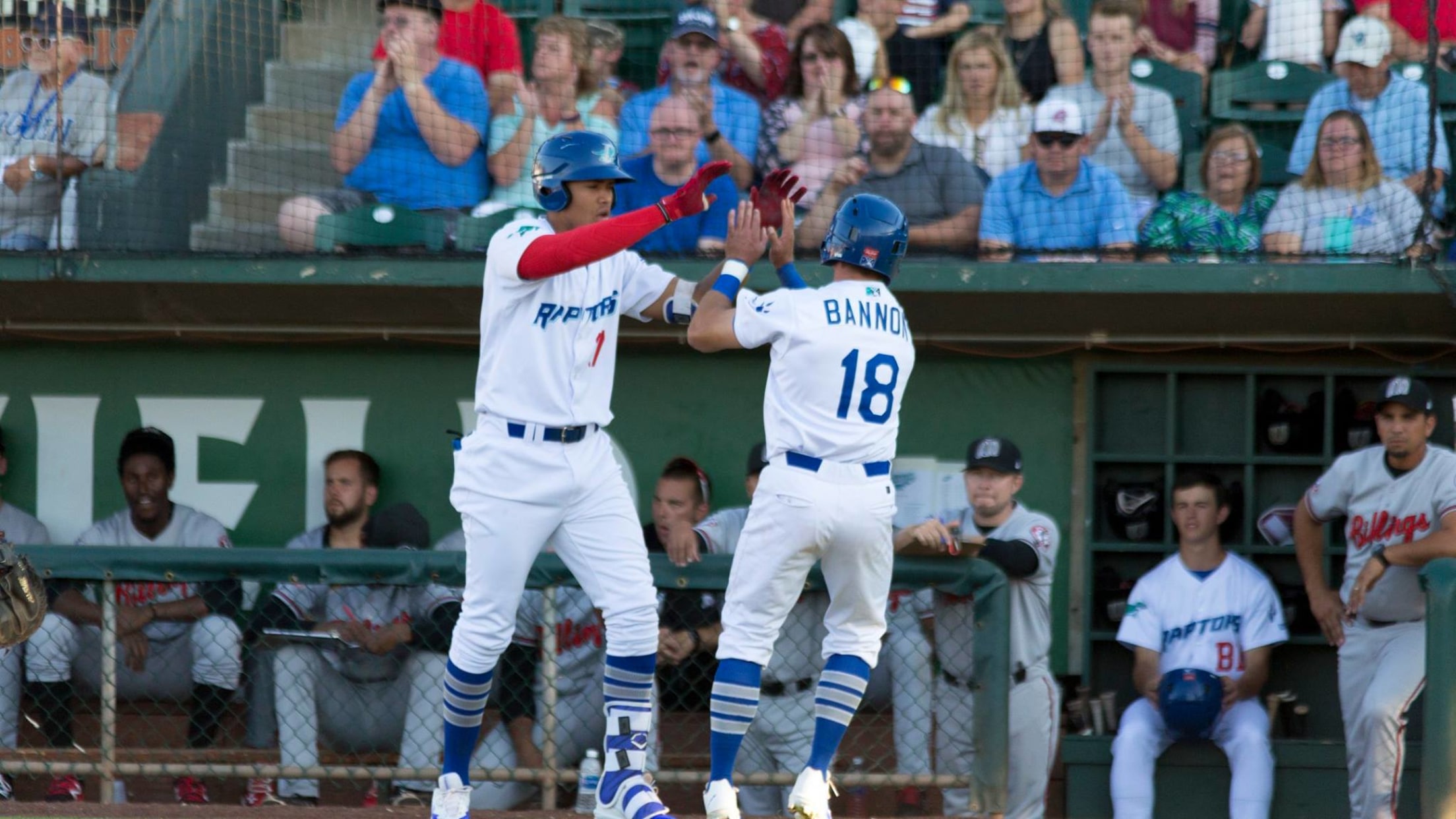 Rylan Bannon, right, and Romer Cuadrado went back-to-back in the eighth inning as Ogden smashed four home runs in the win (Kevin Johnson)
The Ogden Raptors, on the verge of completing a four-game road sweep, lost at Idaho Falls Saturday night. Sunday, they put the memory of that four-run output in the past, scoring multiple runs in four separate innings in a 17-6 victory over the Chukars at Lindquist Field.The Raptors remain alone
The Ogden Raptors, on the verge of completing a four-game road sweep, lost at Idaho Falls Saturday night.
Sunday, they put the memory of that four-run output in the past, scoring multiple runs in four separate innings in a 17-6 victory over the Chukars at Lindquist Field.
The Raptors remain alone in first place in the Pioneer League South division standings with 13 games to play.
Ogden struck first on an error in the bottom of the first off the bat of Romer Cuadrado, as Luis Paz came around from second. A Mitchell Hansen sacrifice fly scored Rylan Bannon, and Gersel Pitre doubled in Cuadrado for a 3-0 lead.
The advantage doubled in the second on a Donovan Casey three-run homer after Ramon Rodriguez and Connor Heady drew walks. With two out and the bases empty in the frame, Cuadrado singled and Hansen doubled in front of Pitre's second two-bagger that drove in two more. Carlos Rincon then notched his first hit in an Ogden jersey to plate Pitre for a 9-0 lead.
In the bottom of the fourth, Rodriguez laced a two-out triple to left-center and both Hansen and Pitre scored.
Edwin Uceta bounced back from a couple of rough outings with six scoreless frames, four hits allowed and a team season-best eight strikeouts for his second victory in the campaign.
Idaho Falls scored all of their runs after he left, with one in the seventh and five in the eighth. Ogden plated five of their own in the bottom of the seventh thanks to three home runs - a two-run blast by Bannon and Cuadrado solo shot in back-to-back fashion, and finally Rincon's soaring drive out of the stadium to left field.
The final Raptors run was driven in by Hansen after Cuadrado's two-out double in the eighth.
Ogden and Idaho Falls play game two of their three-game set Monday night at 6:30. It's the final Mini Monday of the 2017 season, as 500 mini-bobbleheads of former Raptors catcher (now Los Angeles Dodgers closer) Kenley Jansen will be given away.