Raptors Offense Shut Down for First Time in 2017
Idaho Falls throws shutout while scoring late for 7-0 win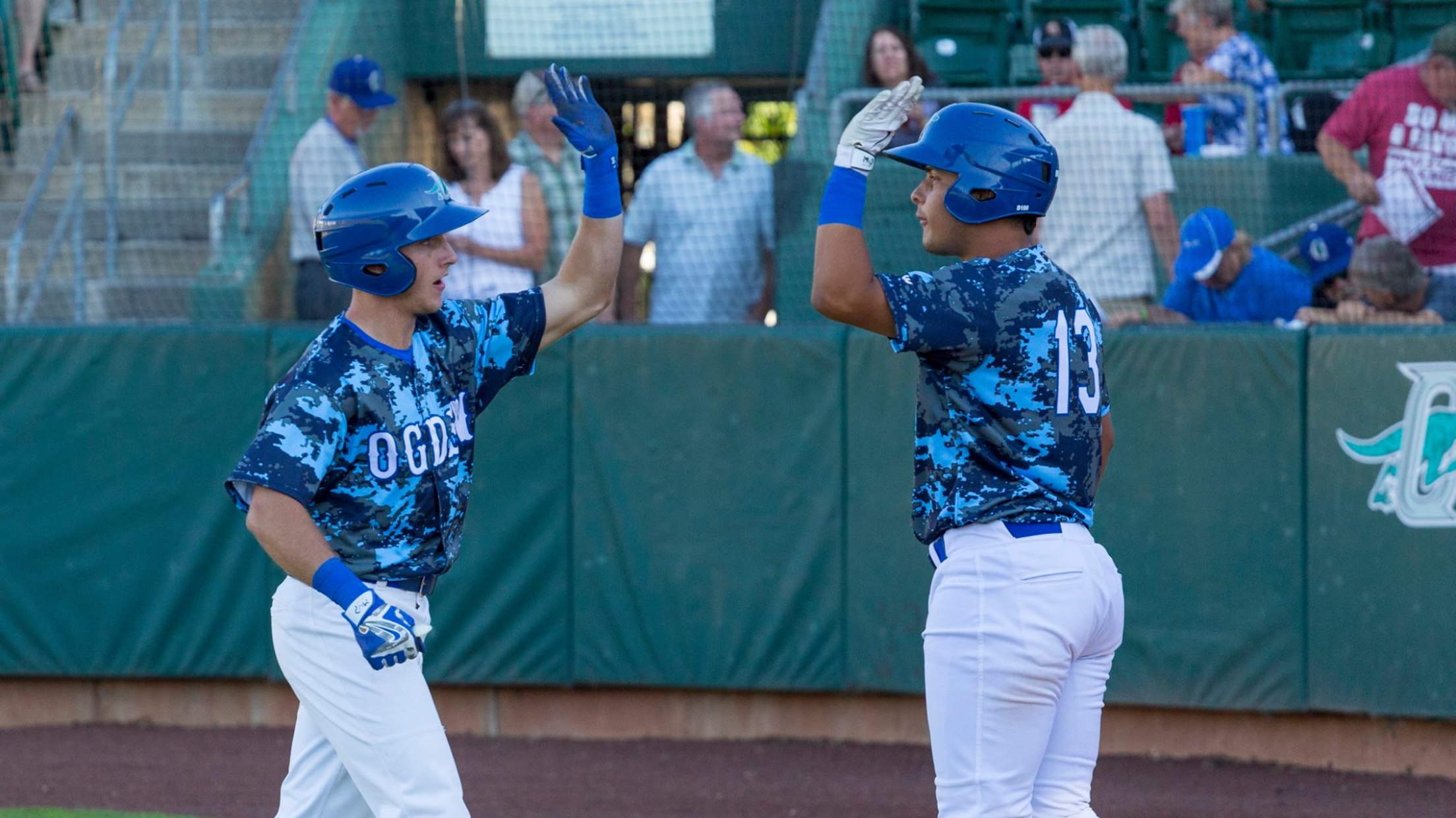 Luis Paz, right, tripled late in Saturday's game (Kevin Johnson)
The first 12 games of the season went by without Ogden and Idaho Falls playing once.In the first game between the two teams of 2017, it appeared to be a pitchers' duel. In the seventh inning, the Chukars decided that storyline was coming to an end, and they cruised the
The first 12 games of the season went by without Ogden and Idaho Falls playing once.
In the first game between the two teams of 2017, it appeared to be a pitchers' duel. In the seventh inning, the Chukars decided that storyline was coming to an end, and they cruised the rest of the way for a 7-0 victory and sole possession of second place in the Pioneer League South.
Adalberto Peña, who was rocked to the tune of nine runs in one inning in his previous start, made a complete 180 Saturday night by allowing just three baserunners over four innings and striking out four.
The Raptors offense couldn't score against the Idaho Falls starter, however, despite runners in scoring position in three of the first four innings.
The Chukars scored in the sixth by stringing together three hits with two out, and in the seventh they scored four on a double, two singles, a walk and a hit batter. Idaho Falls finished their scoring with a two-out, two-run homer in the eighth.
The two teams are back at it Sunday afternoon, a 4:00 start, for game two of the seven straight between them (three in Ogden and four in Idaho Falls).
Sunday is Bank of Utah night 2, where showing a Bank of Utah debit or credit card at the ticket office gets you four free general admission tickets! Wear your favorite casual Hawaiian clothing for Aloha Sundays; the players will be in brand-new Hawaiian jerseys of their own. Also, kids 12 and under get into the park completely FREE for every Sunday home game.
The last game of the homestand, Monday, July 3, is the first Mini-Monday of 2017. Every Monday home game, the Raptors will give away 500 mini bobblehead dolls featuring former Raptors/Ogden baseball ambassadors!