Raptors Overcome Rough Start to Sweep Chukars
Ogden rallies back from two deficits to take sixth of seven against Idaho Falls and drop magic number to 9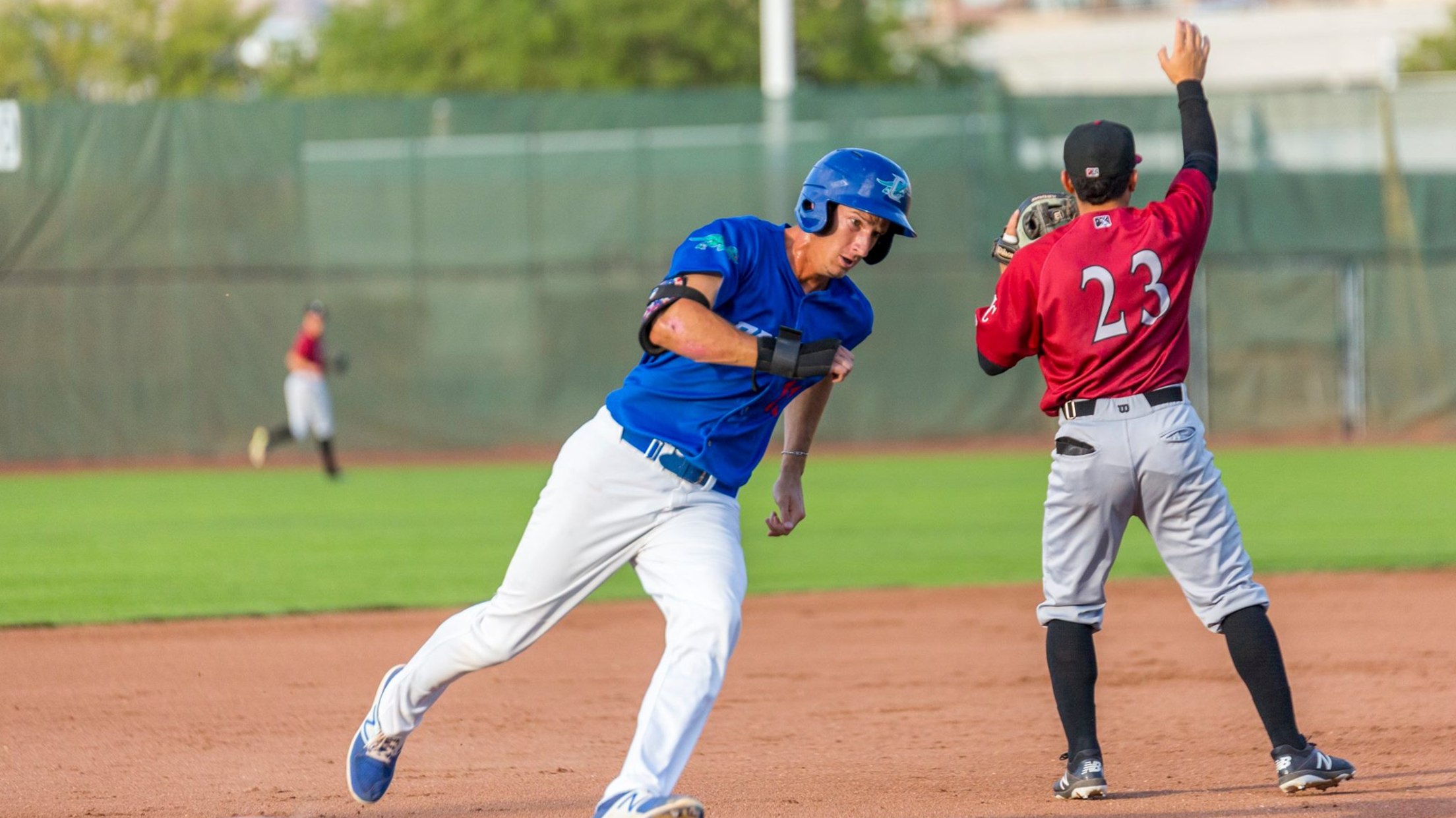 Mitchell Hansen's sixth-inning home run put the Raptors on top for good to finish off a sweep of Idaho Falls (Kevin Johnson)
The Ogden Raptors entered Tuesday night with a chance to sweep the Idaho Falls Chukars after two straight wins. They had fallen short of a four-game road sweep in Idaho, and after the top of the third it appeared a second shot would fall by the wayside.The Chukars jumped on
The Ogden Raptors entered Tuesday night with a chance to sweep the Idaho Falls Chukars after two straight wins. They had fallen short of a four-game road sweep in Idaho, and after the top of the third it appeared a second shot would fall by the wayside.
The Chukars jumped on Raptors right-hander Carlos Felix for a run after the first two batters in the first inning and picked up three more in the third when they loaded the bases with no one out.
Ogden tied the game in the bottom of the fourth. Kevin Lachance hustled for a double on a line drive to the outfield. Donovan Casey and Rylan Bannon walked to load the bases and with two out, Romer Cuadrado came up with a clutch single to right field to bring in the hosts' first two runs. Brayan Morales was next, and his line drive up the middle was knocked down by Idaho Falls' second baseman but trickled into center field. Cuadrado, who had moved to second base after his hit, scored behind Bannon to tie the game.
The tie didn't last long, as Felix was knocked out of the game after two walks and a single loaded the bases opening the fifth. Devin Hemmerich wasn't able to keep the three inherited runners from scoring, and Idaho Falls took a 7-4 lead.
Luis Paz was 0-for-2 when he stepped up to start the home half of the fifth. He didn't miss a 1-1 pitch, launching his 15th home run of the season to right-center to bring Ogden within two. Cuadrado then started a rally with a single to left, and Morales replicated the feat and advanced to second on the throw to third.
Gersel Pitre, who had lined the ball into an out his first time up, was jammed but saw a bloop fall into shallow right-center as both runs scored to tie the game.
In the bottom of the sixth, Mitchell Hansen blasted his 6th home run of the season to give the Raptors a lead for good. Ogden added a run in the seventh when Cuadrado was hit by a pitch, stole second and advanced to third on a throwing error by the catcher, and a Pitre single brought in the run.
Miguel Ureña pitched the last two innings for his team-leading sixth save.
Ogden now has a three-game lead with 11 to play in the second half over both Orem and Grand Junction after the Rockies smashed the Owlz, 18-8.
The Raptors and Owlz begin four straight games against each other Wednesday night. The first two were scheduled to be played in Orem, but because of field conditions at the Home of the Owlz, Lindquist Field will host all four. Ogden will be designated the visiting team in the first two games and be the home squadfor the second pair.