Raptors Piece Together Win Over Idaho Falls
First-inning homer barrage, eight bullpen innings vault Ogden over host Chukars for second-straight night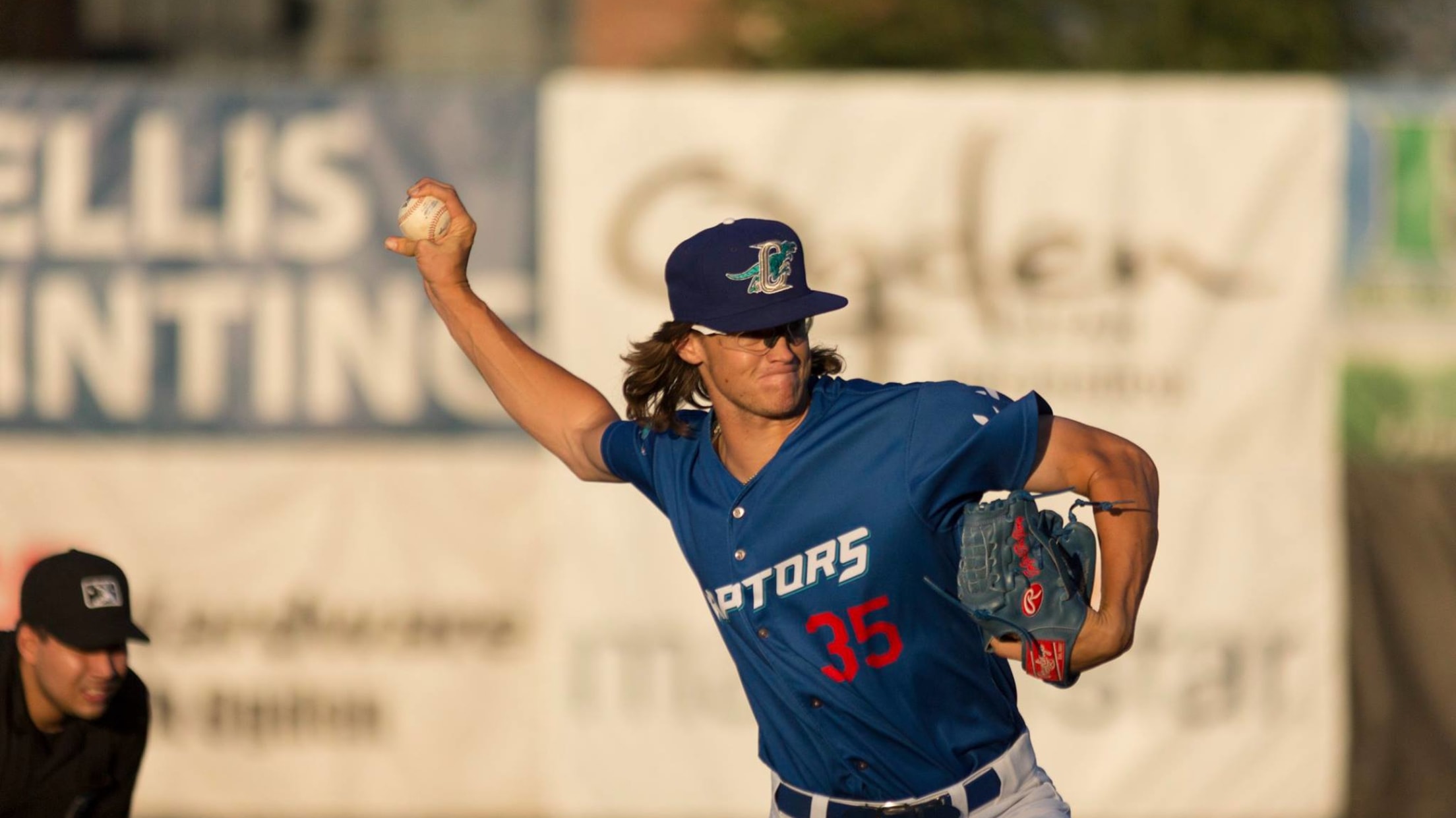 Vinny Santarsiero pitched nearly three innings of scoreless relief for his second win (Kevin Johnson)
First, it was Rylan Bannon, then Mitchell Hansen. Finally, Garrett Hope joined the party.All three Ogden Raptors hitters launched opening-frame home runs to seemingly put the visiting team at Melaleuca Field on track for a blowout win over the Idaho Falls Chukars.The Raptors did end up taking a win by
First, it was Rylan Bannon, then Mitchell Hansen. Finally, Garrett Hope joined the party.
All three Ogden Raptors hitters launched opening-frame home runs to seemingly put the visiting team at Melaleuca Field on track for a blowout win over the Idaho Falls Chukars.
The Raptors did end up taking a win by multiple runs, but not before they had to use six pitchers and saw the Chukars tie the game in the fifth inning.
The 13-6 win kept Ogden atop the Pioneer League South division second-half standings by a game over Grand Junction, who won at Orem for a second consecutive game.
With one out in the first inning in Idaho Falls, Bannon blasted a soaring drive to left-center that carried out of the ballpark for a 1-0 Ogden lead. Hansen made it back-to-back, and Romer Cuadrado missed a third-straight round tripper by just a few feet, settling for a double. Hope brought Cuadrado across, however, with a two-run shot to left to give the Raptors a four-run first.
Idaho Falls came back with three runs in the bottom of the first against Carlos Felix, who was visibly distracted with the pitching mound. After the Raptors got a run back with an Eric Peterson double and Hansen single in the second, Felix started his warmup tosses but couldn't continue.
Colby Nealy was the first in a procession of relievers to take the mound. He turned in his best outing in an Ogden uniform, with just one hit allowed in two scoreless innings. Matt Jones was rusty in his return after three weeks on the shelf, giving up a run while recording two outs in the fourth. Austin Hamilton took over that inning and struck out Idaho Falls no. three hitter Travis Jones with the bases loaded to end the threat.
Consecutive triples off the bats of Hansen and Cuadrado plated a sixth Ogden run in the top of the fifth, but a two-run single in the home half tied the game.
That's when the Raptors bats again came alive. Bannon singled in the sixth to score Peterson, and Hope came up with two away and drove in Donovan Casey and Bannon with a hit to right. Ogden batted around and scored four runs in the seventh inning. Gersel Pitre opened the frame with a double, Samuel Ortiz walked, and Peterson knocked in a run with his second hit of the contest. Back-to-back singles from Bannon and Hansen brought in runs, and with two out and the bases loaded Brayan Morales took a walk in a full count to force in a run.
Vinny Santarsiero earned his second win with two and two-third innings of scoreless relief, and Devin Hemmerich recorded the final four outs without much trouble.
On the batting side, all nine Raptors starters had at least one hit. Hansen fell a double short of the cycle, singling twice, and he and Bannon drove in three while Hope had four RBI. The Raptors' 20 hits in the game tied their season-high, set last Friday at Orem.
The win assures Ogden of at least a series split with Idaho Falls, and they'll go for a win of the four-game set Friday night at 7:15.