Raptors Ride Familiar Formula to Upper Hand
Piling on early plus solid relief late puts Ogden one win from the Raptors' first Pioneer League championship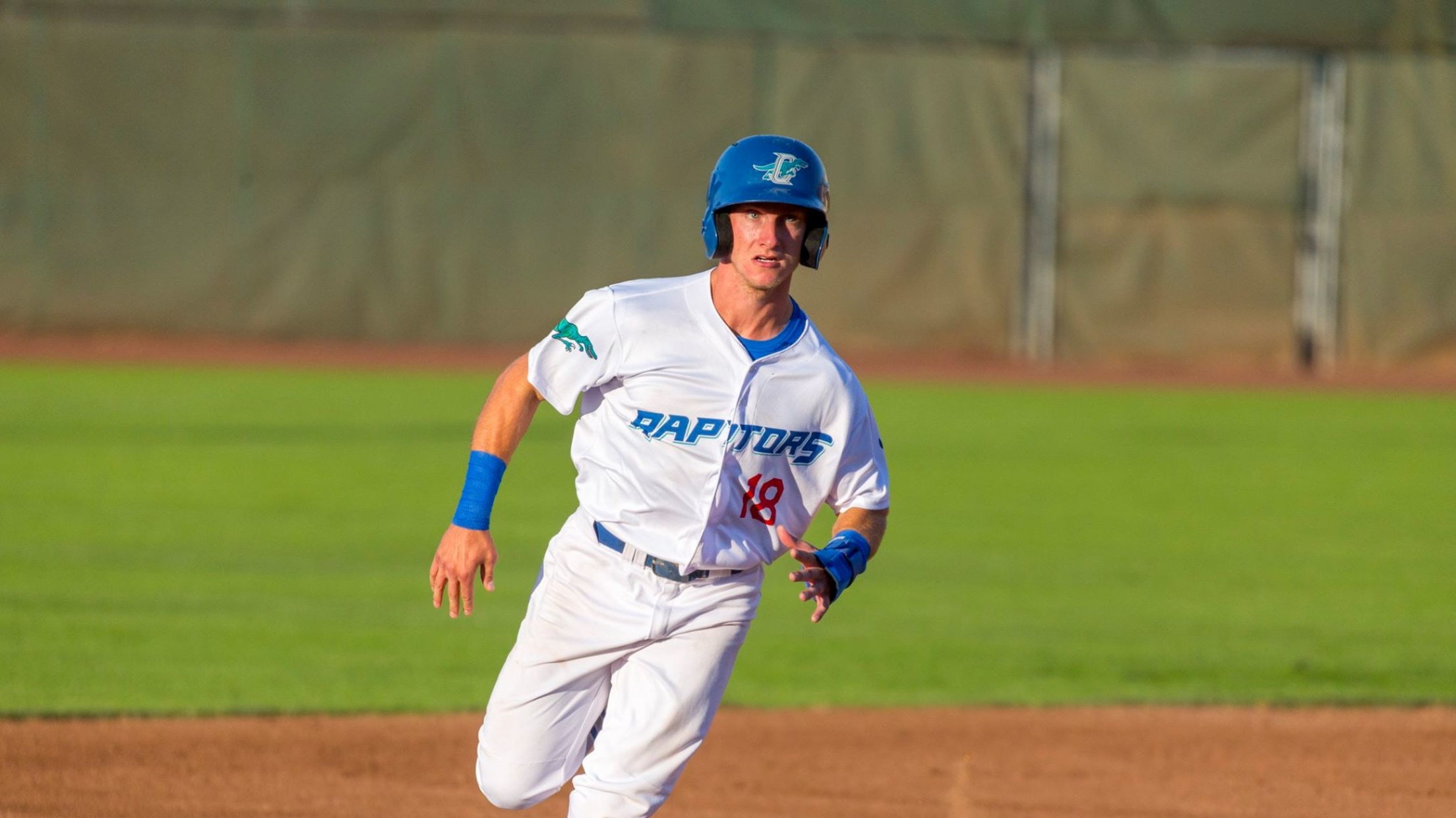 Rylan Bannon jogged around the bases twice Thursday night after launching two three-run homers in Ogden's 7-4 win (Kevin Johnson)
In the first and fifth, it was Rylan Bannon. In between, Luis Paz. Late in the game, a host of relievers.Key players abounded Thursday night as the Ogden Raptors took Game One of the Pioneer League Championship Series over the Great Falls Voyagers, 7-4. The win was the team's 28th
In the first and fifth, it was Rylan Bannon. In between, Luis Paz. Late in the game, a host of relievers.
Key players abounded Thursday night as the Ogden Raptors took Game One of the Pioneer League Championship Series over the Great Falls Voyagers, 7-4. The win was the team's 28th and final at Lindquist Field in 2017 against 12 losses, as Game Two and the if-necessary Game Three will be played Saturday and Sunday in Great Falls.
After Adalberto Peña stranded a leadoff double and two-out walk in the top of the first, Donovan Casey opened the home half with a triple and Paz drew a walk. Bannon then lit into a 2-2 pitch and pulled it high and deep down the left field line. It soared onto the walkway above the left-field wall, just inside the foul pole, to ignite the home crowd with a 3-0 lead.
The Voyagers again left two against Peña in the second before a 1-2-3 third, and in the bottom of the third Paz lined the second pitch he saw over the right field fence for a solo shot and 4-run advantage.
Peña was knocked out of the game when Nate Nolan hit a two-run homer with one out, but Devin Hemmerich entered the finished the frame before a perfect fifth.
The Raptors put two men on to start their half of the fifth, as both Gersel Pitre and Kevin Lachance lined singles in 1-2 counts. Two outs without the runners advancing brought Bannon back to the plate. This time, another drive soared toward left-center before disappearing over the top. His second three-run blast of the contest gave Ogden a commanding 7-1 lead over the Voyagers.
After that, the Raptors' offense quieted down while Great Falls tried to put runners across. Hemmerich allowed the bases loaded in the sixth with no one out but escaped with only one run across. Zach Hartman struck out the side in a perfect seventh before running into trouble and having Miguel Ureña finish off a scoreless eight. The Voyagers started the ninth with two perfectly-hit balls reaching the outfield for singles before Ureña struck out a pair of batters at the top of the lineup. After an RBI single brought the tying run to the plate, Justin Hoyt entered and fooled J.J. Muno on a swinging strike three to end the game.
The Raptors have now won all three playoff games in the same fashion, after taking big leads on the Orem Owlz and watching the stifling bullpen keep the opponents from drawing near.
The Raptors and Voyagers head to Montana Friday ahead of Game Two, which will be played Saturday at 7 pm. An Ogden win clinches the franchise's first Pioneer League title, while a Great Falls victory would force a deciding Game Three Sunday evening at 6.