Raptors Ride Wave of Runs to Victory
Crooked numbers in the first two innings propel Ogden within one game of Pioneer League Championship series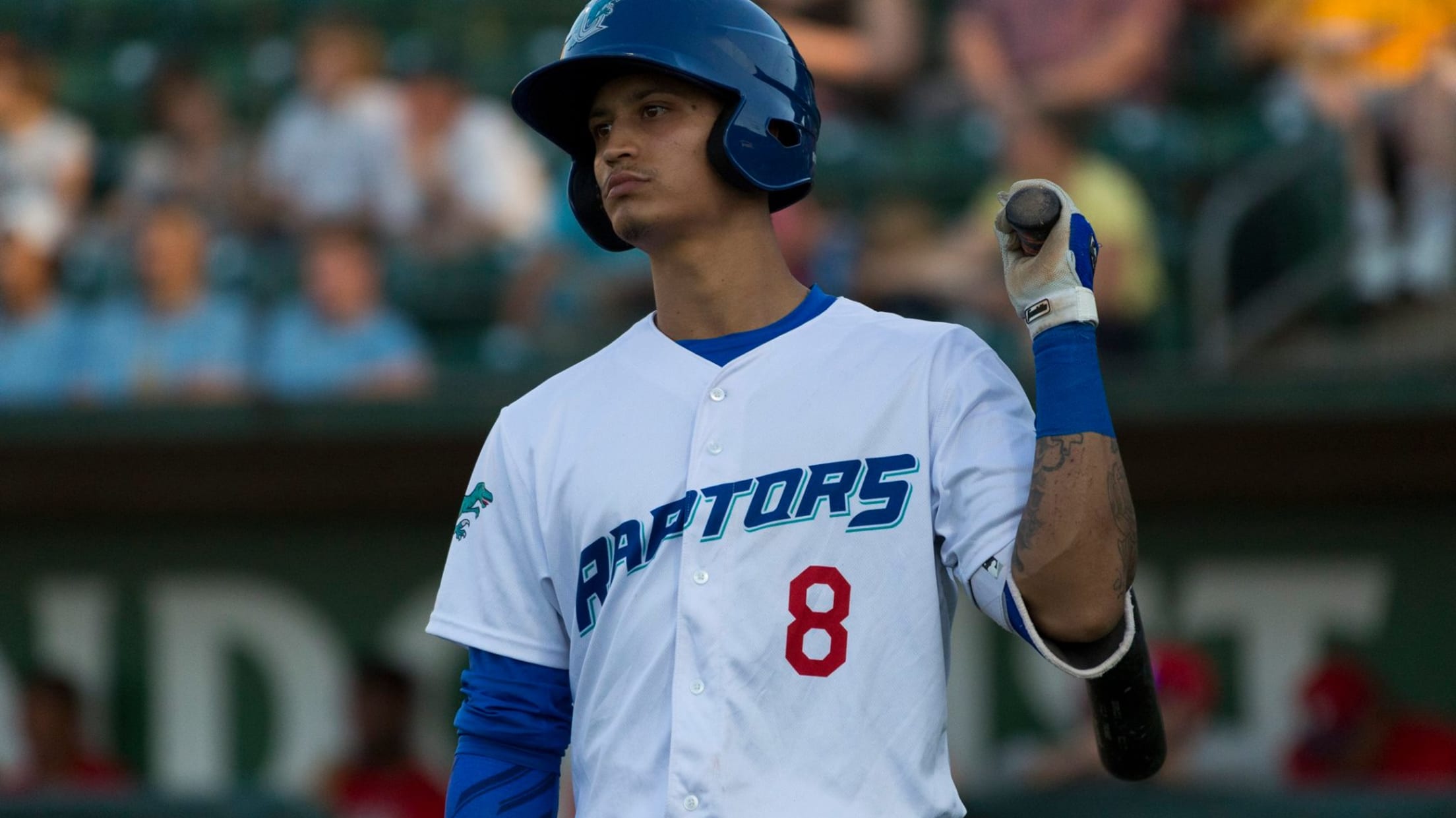 Brayan Morales drove in three runs on two hits Sunday evening as the Raptors beat Orem (Kevin Johnson)
Donovan Casey stroked three hits, Luis Paz and Brayan Morales drove in three apiece and the Ogden Raptors used three runs in the first and four in the second to cruise to a 9-4 win over the Orem Owlz Sunday evening in Game One of the Pioneer League South division
Donovan Casey stroked three hits, Luis Paz and Brayan Morales drove in three apiece and the Ogden Raptors used three runs in the first and four in the second to cruise to a 9-4 win over the Orem Owlz Sunday evening in Game One of the Pioneer League South division playoff series.
Ogden needs one win in Orem either Monday or Tuesday to clinch a berth in the Pioneer League Championship Series for the first time since 2012.
From the start, the Raptors offense was on fire against Orem starter Simon Mathews. Casey singled up the middle to lead off the bottom of the first, and Mitchell Hansen drew a walk. With one out, Romer Cuadrado singled to load the bases, and Paz drew a walk to force in the game's first run. Morales then lined the first pitch he saw down the right field line to plate two on a double.
In the second, Kevin Lachance opened with a hit to left and Casey bounced through the right side. With two out, Cuadrado lined into right-center to score Lachance. Paz jumped on the first pitch he saw and crushed a triple off the center field fence. Two runs scored as the Raptors knocked Mathews out of the game. Morales greeted the new pitcher, Jason Alexander, with a first-pitch single and Paz scored to make it 6-0.
Ogden didn't put the game in cruise control quite yet. In the third, Lachance doubled into the left-field corner and advanced to third on a Casey infield single. Mitchell Hansen then lifted a fly ball to right-center field for a sacrifice fly, scoring Lachance.
Paz rapped his second hit on the night with one out in the fourth, and with two down Gersel Pitre doubled off Raptor Ridge to score the run for a 9-0 advantage.
Raptors starting pitcher Osiris Ramirez, who entered the game with an ERA near 12.00 in four starts against Orem, shut down the Owlz vaunted offense with five scoreless innings. He ran into trouble in the second, fourth and fifth, but made good pitches and got help from his defense - including a line drive double play to end the fifth - to keep the visitors off the board.
Orem did go on the board with one run in the sixth before plating three in the seventh, but Miguel Ureña entered to shut the door in the seventh. He finished the final two frames with only one baserunner allowed.
The Raptors head to Orem Monday for Game Two of the series, scheduled for a 6:35 pm first pitch. A Raptors win Monday or Tuesday guarantees a Thursday home game at Lindquist Field in the first game of the championship series against the North division series winner.