Raptors Smash Record but Fall Short of Win
Ogden's single-season home record falls in first before Orem comes back to win with seven unanswered runs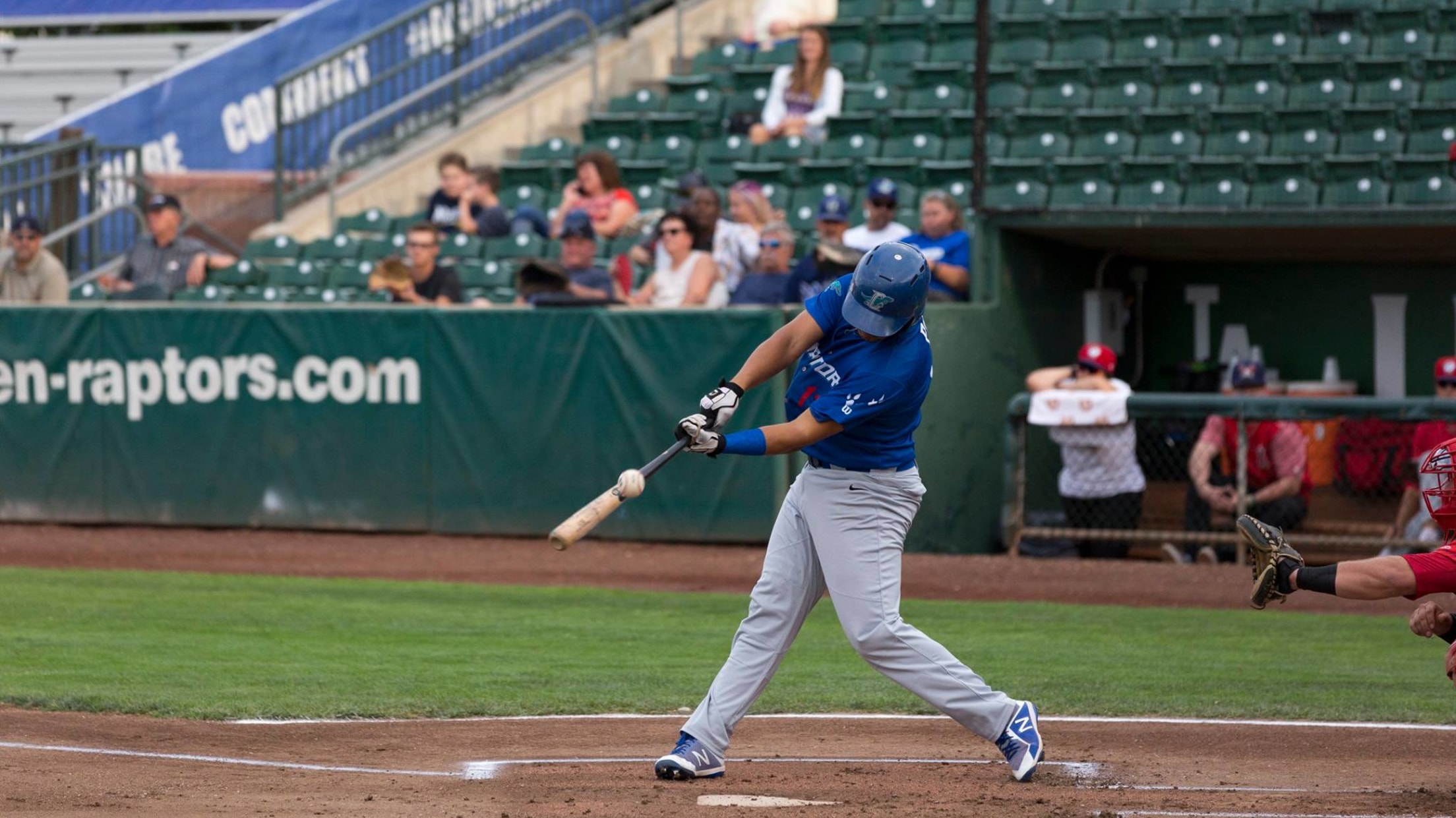 Luis Paz hit his 16th home run of the season in the first to start back-to-back-to-back blasts that broke Ogden's single-season home run record (Kevin Johnson)
The Ogden Raptors, on the verge of both the franchise and Pioneer League single-season home run records, passed the team mark quickly Thursday night.That was the extent of the damage against the Orem Owlz, however, and the Raptors ended up allowing seven unearned runs in an 11-5 loss at Lindquist
The Ogden Raptors, on the verge of both the franchise and Pioneer League single-season home run records, passed the team mark quickly Thursday night.
That was the extent of the damage against the Orem Owlz, however, and the Raptors ended up allowing seven unearned runs in an 11-5 loss at Lindquist Field.
The Raptors, playing host for a second-consecutive Owlz home game after Orem's field was deemed unplayable, came out swinging in the first against Owlz starter Mayky Perez. With one out in the top of the first, Luis Paz blasted his team-leading 16th home run over the right-field fence. Rylan Bannon followed with his ninth, and Mitchell Hansen made it back-to-back on his seventh round tripper. All three were solo shots, and Bannon's was Ogden's 95th of the campaign - breaking the Raptors' franchise mark of 94 set in 2011.
The three home runs were all Ogden hit, bringing their total to 96 - one short of the Billings Mustangs' league-record 97, also set in 2011.
Despite the lead, Raptors starter Osiris Ramirez struggled to record outs. He allowed the Owlz to load the bases in the first but escaped the jam, and with two out and the bases empty in the second he gave up a hit before walking two to load the bases again. This time, Brandon Marsh hit a triple to straightaway center to clear the bases and tie the game.
Orem had two down and no one on in the fifth against Conor Costello before another rally, spurred on by an error. They ended up with four runs, all unearned, to take a 7-3 lead.
Bannon hit a single, his third base knock of the game, to open the fifth. He advanced to third with one out and scored on a Brayan Morales groundout. Ogden picked up another run as Kevin Lachance doubled to open the second and came across on a two-out error.
An unearned run in the seventh and two more (three total) in the eighth put the game away for Orem.
As a saving grace for Ogden, cellar-dwelling Idaho Falls beat Grand Junction for the second day in a row, 11-4, to keep the Raptors' lead over the Rockies at three games. Ogden's magic number to knock Grand Junction out of playoff contention is now 7.
The Raptors host their regularly-scheduled pair of home games against Orem Friday and Saturday, both starting at 6:30. Friday is another Free Tee Friday, with the first 300 fans through the gates receiving a unique Raptors T-shirt!