Raptors Walk Off on 10th-Inning Error
Ogden, which had held off Idaho Falls' comeback the previous night, allows Chukars to tie before two-out rally in extras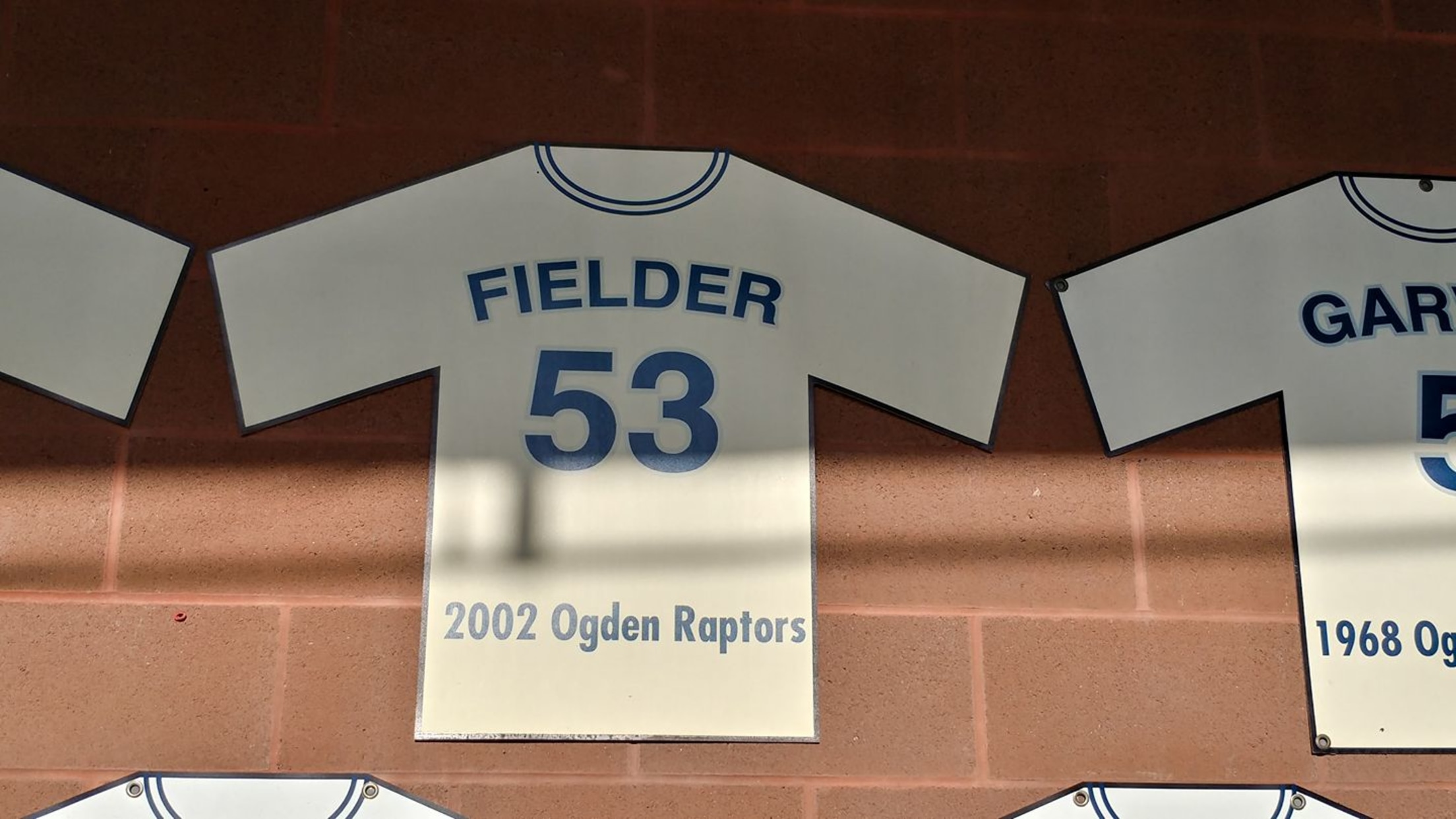 Prince Fielder mini-bobbleheads were given out before Monday night's game
The Ogden Raptors held on by one Sunday evening as the Idaho Falls Chukars staged a ninth-inning rally.On Monday, the Chukars again stormed back, this time tying the game in the ninth. But Ogden, facing an 11th inning with two out and the bases empty in the 10th, received a
The Ogden Raptors held on by one Sunday evening as the Idaho Falls Chukars staged a ninth-inning rally.
On Monday, the Chukars again stormed back, this time tying the game in the ninth. But Ogden, facing an 11th inning with two out and the bases empty in the 10th, received a line drive off the bricks in left field and an infield hit plus throwing error to win the game, 7-6.
It was the first time the Raptors went to extra innings in 2017.
Rylan Bannon, with a pair of home runs on his record entering the game, laced a shot off the wall in left field with two out. He and the crowd thought it was a walk-off home run, but the heavy, warm air kept it from going out. Kevin LaChance then hit a high, shallow bouncer on the infield. Idaho Falls shortstop Offerman Collado grabbed the ball and fired to first after LaChance had passed the bag. The throw was wide and skipped by the first baseman, allowing Bannon to cross the plate as the crowd erupted.
The Raptors had a chance for a subdued, nine-inning win. They entered the final frame of regulation with a 6-3 lead. Two walks, two hits and a wild pitch allowed the Chukars to tie it up, however.
Idaho Falls went on top first with a solo home run in the first, but Moises Perez opened the home half of the first with a triple. He came home on a Tyler Adkison infield single, and Romer Cuadrado's triple (missing a home run by a matter of inches) brought in the second run. Gersel Pitre, in his return to Ogden after spending much of the 2016 season with the Raptors, knocked in his first run of the night with a sacrifice fly for a 3-1 lead.
Pitre's double in the third made it a 4-2 lead, and his third run batted in was a two-out line drive to center field to cap a two-run seventh inning.
Ogden relievers Matt Jones, Francis Cespedes and Conor Costello combined on four-plus scoreless innings in the middle of the game.
With the win, the Raptors clinched the series win in the three-game set and overtook Idaho Falls for sole possession of second place in the Pioneer League South division behind the Orem Owlz. Idaho Falls and Ogden will continue their seven-game stretch between the two teams by heading to Idaho for a four-game set at Melaleuca Field.