Rattlers Walkoff Cougars in Game One
Wisconsin rallies from 3-0 down to beat Kane County 4-3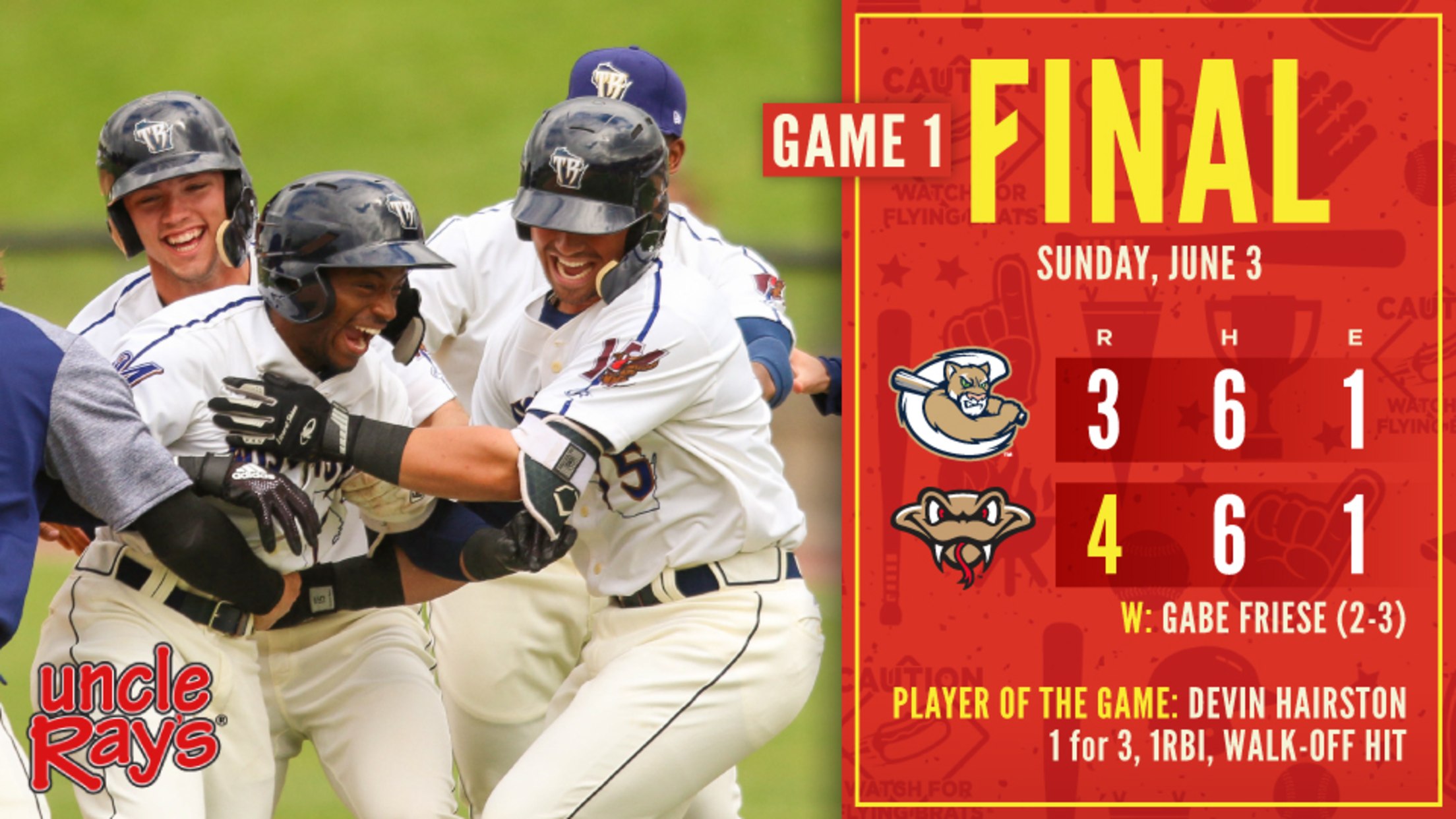 GRAND CHUTE, WI - Devin Hairston completed the Wisconsin Timber Rattlers 4-3 comeback victory over the Kane County Cougars in game one of Sunday's doubleheader at Neuroscience Group Field at Fox Cities Stadium. Hairston's walk-off single gave the Rattlers a reason to celebrate after being down 3-0 heading into the
GRAND CHUTE, WI - Devin Hairston completed the Wisconsin Timber Rattlers 4-3 comeback victory over the Kane County Cougars in game one of Sunday's doubleheader at Neuroscience Group Field at Fox Cities Stadium. Hairston's walk-off single gave the Rattlers a reason to celebrate after being down 3-0 heading into the sixth inning.
Kane County (28-26) scored twice in the top of the fourth inning on four straight hits to take a 2-0 lead. Yoel Yanqui bunted against the shift to start the inning with a single. Renae Martinez followed with a double to right-center to send Yanqui home with the first run of the game. Ernie De La Trinidad was next and his single to left put runners at the corners. Yan Sanchez had the final hit of the inning and drove in Martinez.
The Cougars added to their lead with an unearned run in the top of the fifth inning. Gabriel Maciel singled and wound up on third base after a miscue in the outfield. Maciel scored on a wild pitch by Wisconsin starting pitcher Christian Taugner.
Taugner walked none and struck out three over six innings, but was in danger of taking his fifth loss of the season.

The Rattlers (25-31) finally got to Cougars starting pitcher Mack Lemieux in the bottom of the sixth inning. Joantgel Segovia singled - his second hit of the game - with one out. Payton Henry was next and he hit a tape-measure home run to right that left the stadium to cut the deficit to one.

In the seventh, the Timber Rattlers had to stage their comeback against Cougars close Matt Brill, who had faced the Rattlers four times prior to Sunday without allowing a run. The Rattlers were up to the challenge.

Nick Roscetti started the inning by reaching base on an error. Gabriel García, who struck out against Brill to end Friday's game with the bases loaded and the Rattlers down by a run, followed with a single. Tristen Lutz would walk to load the bases with no outs.

Gilbert Lara tied the game with a sacrifice fly to center that was deep enough to score Roscetti and send García to third base. Hairston was next and he launched a drive to the warning track in left-center, well over the outfielders who were playing shallow. García trotted home with the winning run before joining his teammates in mobbing Hairston between first and second base.