Reading rips back-to-back-to-back homers
Phillies prospects Alfaro, Cozens, Hoskins all go deep in fifth inning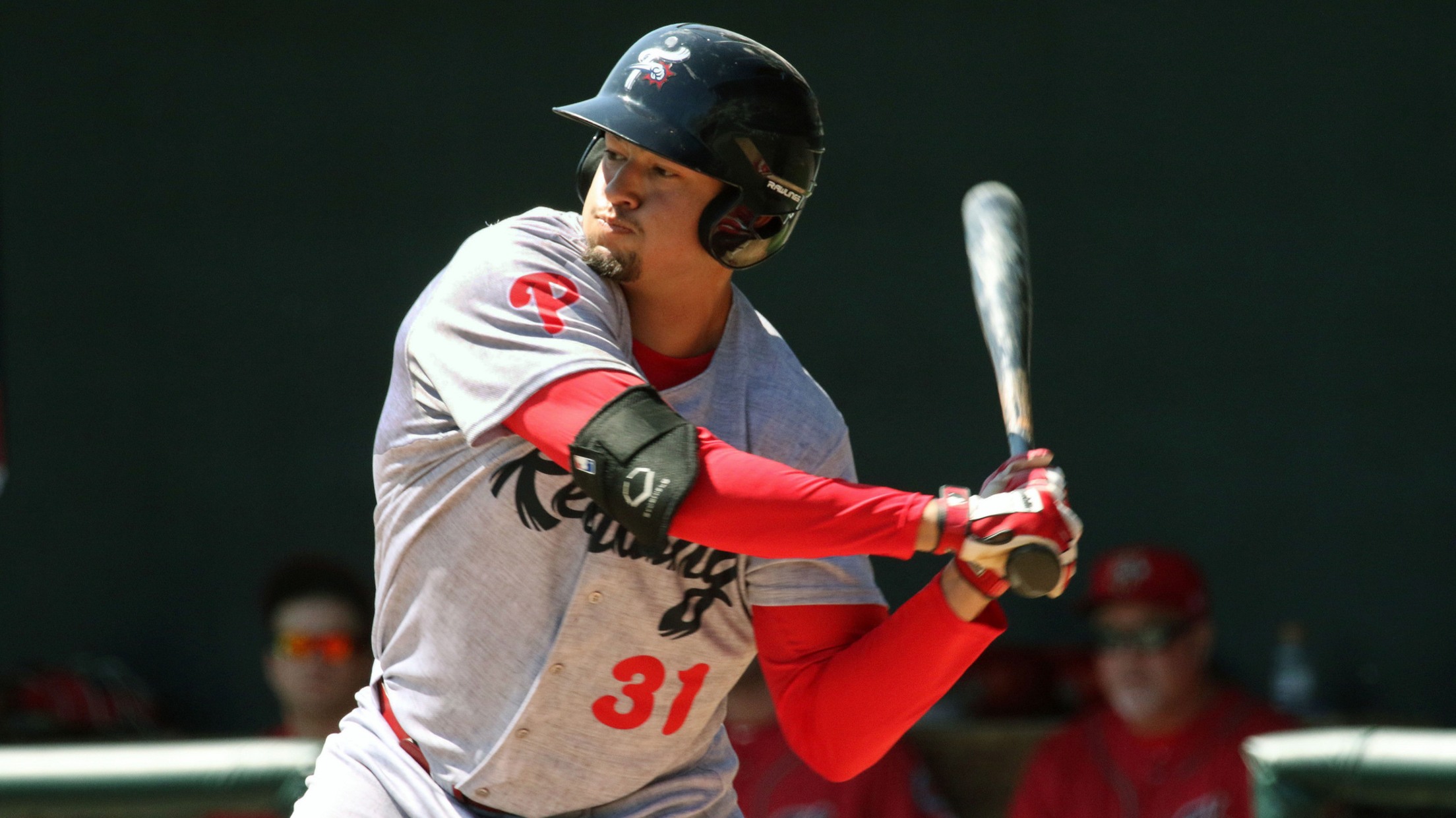 Dylan Cozens is one home run off the career high he set with Class A Lakewood in 2014. (Carl Kline/MiLB.com)
The Double-A Reading Fightin Phils sport one of the best offenses in Minor League Baseball, and their dynamic qualities were on full display Tuesday. Philadelphia's No. 6 prospect Jorge Alfaro, No. 22 Dylan Cozens and No. 19 Rhys Hoskins blasted back-to-back-to-back home runs in a seven-run fifth inning to power
The Double-A Reading Fightin Phils sport one of the best offenses in Minor League Baseball, and their dynamic qualities were on full display Tuesday.
Philadelphia's No. 6 prospect Jorge Alfaro, No. 22 Dylan Cozens and No. 19 Rhys Hoskins blasted back-to-back-to-back home runs in a seven-run fifth inning to power their team to an 11-1 win over Akron. The heart of Reading's order has been so productive this season that the trio simply brushed off the feat in the dugout.
"Just smiles and laughs," Cozens said of their reaction.
With one out against Akron starter Anderson Polanco, Osmel Aguila walked, Jesmuel Valentin singled and Harold Martinez drove both in with a double to left. Another walk and a fielder's choice led to Polanco's departure and left runners on first and third for Alfaro with two outs.
After taking a ball low from reliever Robby Aviles, Alfaro lined a 1-0 fastball over the wall in left-center field to put the Fightin Phils ahead, 5-1. Cozens followed by taking a 1-2 offering over the 400-foot mark in straightaway center for his 16th homer of the season.
"Just got an elevated fastball that I could handle," said the 6-foot-6, 235-pound slugger. "Just trying to get a base hit, not trying to do too much with it and happened to hit it out of the park."
After watching the first pitch bounce in the dirt, Hoskins stayed with a pitch on the outer half and drove it the opposite way over the right-field fence. His 13 home runs this season rank second in the Eastern League, behind only Cozens.
With the top two power hitters on the circuit, the Fightin Phils became the first team in the Minors to reach 70 home runs this season. Their 40-19 record is tops in the Eastern League, with Cozens relishing the opportunity to hit cleanup between Alfaro and Hoskins.
"It makes it a lot of fun," he said. "I feel bad for the pitchers honestly -- they probably look at our team and say, 'Man, we have to face these guys again.' It's fun going out there and putting up a lot of runs and winning ballgames."
While Alfaro and Hoskins have seasons with at least 17 home runs on their resumes, Cozens isn't there yet. His 16 long balls tied his career high for Class A Lakewood in 2014, even without him making significant changes to increase his power production. Cozens has also upped his walk rate this season, drawing 27 free passes in 252 plate appearances after walking 118 times in his first four Minor League seasons.
"Just getting better -- part of my development," said the 22-year-old. "Trying to just gain experience and become a complete hitter. I used to be in swing mode all day, and I've kind of learned to just zone on the pitch I want to hit. That's helped a lot."
Alfaro contributed a sacrifice fly and Hoskins added an RBI single in the sixth.
Phillies' No. 18 prospect Nick Pivetta (6-4) allowed one run on three hits and three walks over five innings. He struck out five.
Top Indians prospect Bradley Zimmer drove in the RubberDucks' lone run with a two-out single in the third inning. Polanco (1-5) was tagged for four earned runs on three hits and three walks over 4 2/3 innings.
Chris Tripodi is a producer for MiLB.com. Follow him on Twitter @christripodi.