Standing-room only crowd watches Fisher Cats split doubleheader
Mountain Men win game one, Chicken Tenders lose game two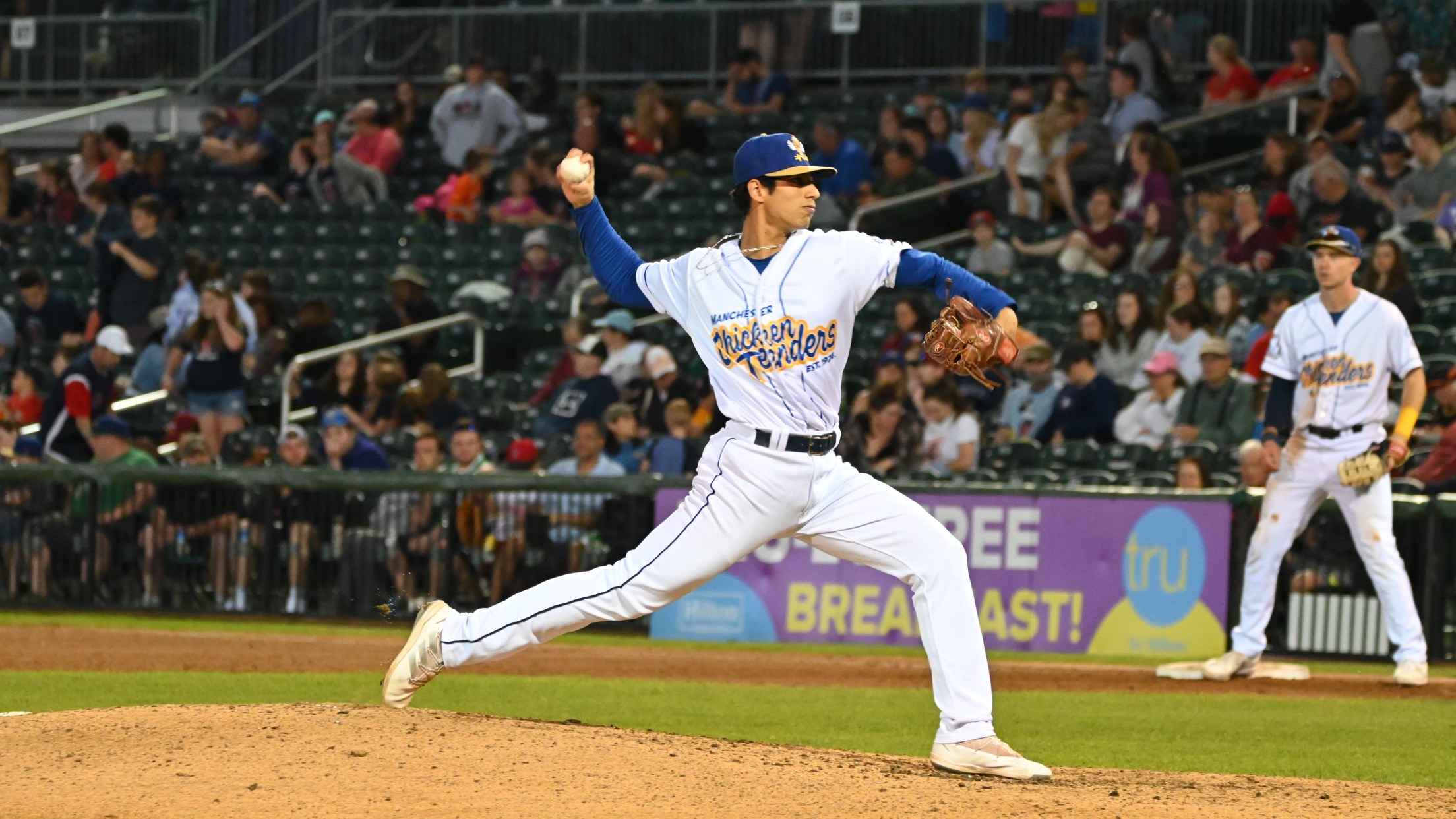 (Photo courtesy of Cindy Lavigne)
Manchester, N.H. – On a beautiful Saturday night at Delta Dental Stadium, a standing-room only crowd of 7,283 watched the New Hampshire Fisher Cats (23-26) split a doubleheader against the Portland Sea Dogs (23-27). New Hampshire rebranded as the Granite State Mountain Men in game one and as the long-awaited
Manchester, N.H. – On a beautiful Saturday night at Delta Dental Stadium, a standing-room only crowd of 7,283 watched the New Hampshire Fisher Cats (23-26) split a doubleheader against the Portland Sea Dogs (23-27). New Hampshire rebranded as the Granite State Mountain Men in game one and as the long-awaited Manchester Chicken Tenders in game two.
Game one – New Hampshire 4, Portland 0
New Hampshire had three shutout wins in their first nine games of the season and didn't have another until Saturday night. Paxton Schultz (W, 4-4) turned in his first shutout start of the season, throwing 5.1 scoreless innings. He allowed two hits, walked two batters and struck out four. Schultz has now earned wins in three of his last four starts.
Sean Rackoski finished out the final 1.2 innings and earned his first save of the season. He gave up one hit and tied a season high with three strikeouts.
At the plate, New Hampshire's Spencer Horwitz drilled a 2-RBI double in the first inning. Horwitz delivered the walk-off single on Thursday in an epic 8-7 win over the Sea Dogs. Horwitz is 2-for-5 with a three RBIs and three walks over his last two starts.
LJ Talley homered for the first time this week, belting a 1-1 pitch over the right field wall to put New Hampshire up, 4-0. The homer was Talley's first at home this year.
Portland had three hits in the game, their fewest in a game this series.
New Hampshire dawned their Granite State Mountain Men jerseys in the win, an ode to the team name that almost was. When the team moved to Manchester in 2004, the Fisher Cats won the fan voting, receiving 24.5% of the votes for the team's new name. The Mountain Men finished third with 21.5% of the vote. New Hampshire rocked white jerseys with blue hats showing the beloved "Old Man of the Mountain" in the alternates.
Game two – Portland 2, New Hampshire 0
The Fisher Cats wore another set of alternate jerseys in game two, this time as the Manchester Chicken Tenders. The idea that has been in the works since before the 2020 season and came to fruition on Saturday night in front of the season-high crowd.
The Puritan Backroom in Manchester invented the chicken tender in 1974, and the jerseys featured a chicken tender logo with the font reading, "Manchester Chicken Tenders EST. 1974." Puritan catered 10,000 chicken tenders that were sold at concession stands. Fans could buy the special jerseys, as well three different hats (the original chicken tender, the buffalo chicken tender, and the Puritan-staple coconut chicken tender).
On the field, Adam Kloffenstein (L, 1-2) worked out of numerous jams and finished with 4.0 innings in which he allowed two earned runs. He walked two and struck out a season-high seven.
Portland put at least two baserunners on in every inning against Kloffenstein, scoring two runs. The Sea Dogs left 11 runners on base in the seven-inning game, including the bases loaded in the fourth.
Gabriel Ponce was lights out in relief, throwing 3.0 scoreless innings with two hits. He walked one batter and struck out three. Ponce has not allowed an earned run in his last 11.0 innings of work across five appearances. His ERA at Double-A is 2.66.
At the plate, New Hampshire struggled to get much going. They had two hits in the game, one from Tanner Morris and one from Luis De Los Santos. Morris now has an active 17-game on-base streak.
Portland reliever Dylan Spacke (W, 1-2) impressed with a career-high 4.1 innings out of the pen. He allowed one hit and walked two while striking out three. Brendan Nail earned the save for Portland and preserved the 2-0 Sea Dogs win.
New Hampshire's season-long five game winning streak has come to an end, and Portland snapped their seven-game losing streak. The Fisher Cats are 5-2 versus Portland this year.
New Hampshire concludes their homestand on Sunday, June 5 versus the Portland Sea Dogs (Boston Red Sox) with first pitch at 1:35. Tomorrow is military appreciation day at Delta Dental, and there will be a flyover before first pitch. Tickets can be found at NHFisherCats.com, via email at [email protected], over the phone at (603) 641-2005, or in-person at the Fisher Cats box office at 1 Line Drive in Manchester.