'Aggressive' Groome leads Pitchers of the Week
No. 2 Red Sox prospect honored after fanning career-high eight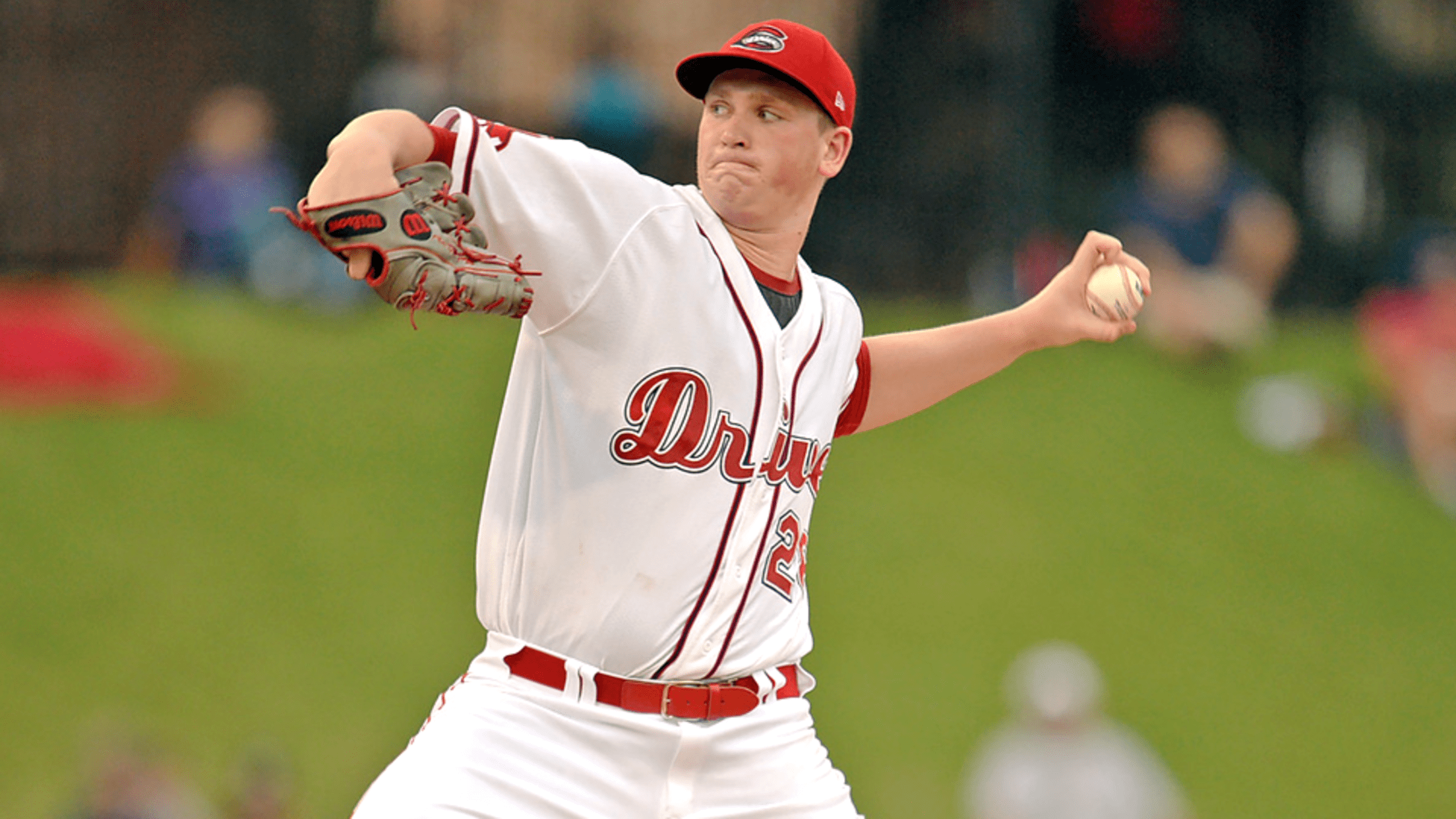 Jay Groome has 14 strikeouts and four walks over his last two Sally League starts, spanning 11 innings. (Gwinn Davis/Greenville Drive)
Jay Groome's first full season in the Minors may not be what he and the Red Sox expected, but last week, both saw what the left-hander is capable of. Groome allowed one hit and struck out a career-high eight batters over six dominant innings in a 1-0 win for Class
Jay Groome's first full season in the Minors may not be what he and the Red Sox expected, but last week, both saw what the left-hander is capable of.
Groome allowed one hit and struck out a career-high eight batters over six dominant innings in a 1-0 win for Class A Greenville last Wednesday, snagging South Atlantic League Pitcher of the Week honors for his efforts.
The recognition should be a confidence-booster for the 2016 first-round pick, who sports a 7.90 ERA in seven starts with the Drive.
"I just have to throw with confidence, and that's what I did today," Groome told MiLB.com after the start. "That was my plan -- just try and work ahead and try and get outs when I need them."
• View the Player of the Week winners »
The 18-year-old from New Jersey credited his changeup as being the difference last Wednesday. It's a developing pitch for the 6-foot-6 southpaw, and one he forced himself to use more in his latest start.
"This is probably the best my changeup has ever been in my life," said Groome, ranked No. 2 in the Red Sox system and No. 48 overall by MLB.com. "It's still a work-in-progress, but the only way it can get better is if I keep throwing it, and that's what I did today a lot more than I usually do in every start."
Groome began the season with Greenville and had a forgettable debut, allowing nine runs and recording just four outs on April 10. He spent the next two months on the disabled list before returning with Class A Short Season Lowell, where he was sharp in 11 innings. He struck out 14 and walked five in three starts for the Spinners.
Boston moved him back to Greenville on July 4, and the results have been mixed. He's allowed three earned runs or fewer in four of his six starts since Independence Day, although he coughed up five runs in consecutive games against Hickory and Charleston on July 22 and 28.
There's been some bright spots, too. His final outing for Lowell, on June 29, was five hitless innings. He struck out seven and allowed one hit in his Greenville return on July 4. Drive pitching coach Walter Miranda said the young lefty is most effective when he's aggressive and using all his pitches.
"His demeanor was different tonight," Miranda said. "He was very aggressive in the strike zone. He did a good job pitching inside. He had a good feel for his secondary pitches. He had the whole package working today, plus the location."
Below is the complete list of Minor League Pitchers of the Week for July 31-Aug. 6:
| League | Player | Team | MLB | Stats |
| --- | --- | --- | --- | --- |
| International | Ryan Yarbrough | Durham | TB | 2-0, 0.00 ERA, 2 G, 2 GS, 13 2/3 IP, 4 H, 0 R, 0 ER, 2 BB, 8 K |
| Pacific Coast | Bryan Rodriguez | El Paso | SD | 1-0, 0.00 ERA, 1 G, 1 GS, 1 SHO, 9 IP, 5 H, 0 R, 0 ER, 0 BB, 3 K |
| Eastern | Corey Oswalt | Binghamton | NYM | 1-0, 0.00 ERA, 1 G, 1 GS, 1 SHO, 7 IP, 2 H, 0 R, 0 ER, 0 BB, 6 K |
| Southern | Joel Payamps | Jackson | ARI | 1-0, 0.00 ERA, 1 G, 1 GS, 1 SHO, 7 IP, 1 H, 0 R, 0 ER, 2 BB, 6 K |
| Texas | Casey Meisner | Midland | OAK | 2-0, 0.00 ERA, 2 G, 2 GS, 13 IP, 6 H, 0 R, 0 ER, 1 HBP, 1 BB, 9 K |
| California | Dylan Rheault | San Jose | SF | 0-0, 0.00 ERA, 4 G, 0 GS, 3 1/3 IP, 4 SV, 0 H, 0 R, 0 ER, 1 BB, 1 K |
| Carolina | Alec Hansen | Winston-Salem | CWS | 1-0, 0.00 ERA, 1 G, 1 GS, 6 IP, 2 H, 0 R, 0 ER, 2 BB, 12 K |
| Florida State | Ranger Suarez | Clearwater | PHI | 1-0, 0.00 ERA, 1 G, 1 GS, 6 IP, 1 H, 0 R, 0 ER, 1 HBP, 0 BB, 2 K |
| Midwest | Clark Beeker | Cedar Rapids | MIN | 0-0, 0.00 ERA, 1 G, 1 GS, 8 2/3 IP, 4 H, 0 R, 0 ER, 0 BB, 7 K |
| South Atlantic | Jay Groome | Greenville | BOS | 1-0, 0.00 ERA, 1 G, 1 GS, 6 IP, 1 H, 0 R, 0 ER, 1 BB, 8 K |
| New York-Penn | Denyi Reyes | Lowell | BOS | 2-0, 0.00 ERA, 2 G, 1 GS, 11 IP, 9 H, 0 R, 0 ER, 0 BB, 11 K |
| Northwest | Kevin McCanna | Hillsboro | ARI | 1-0, 0.00 ERA, 1 G, 0 GS, 5 1/3 IP, 0 H, 0 R, 0 ER, 2 BB, 9 K |
| Appalachian | Riley O'Brien | Princeton | TB | 0-0, 0.00 ERA, 1 G, 1 GS, 5 IP, 1 H, 0 R, 0 ER, 2 BB, 7 K |
| Pioneer | Edwin Uceta | Ogden | LAD | 0-0, 0.00 ERA, 1 G, 1 GS, 6 IP, 0 H, 0 R, 0 ER, 0 BB, 5 K |