Barfield powers way to Player of the Week
Veteran outfielder continued Double-A tear with six-homer stretch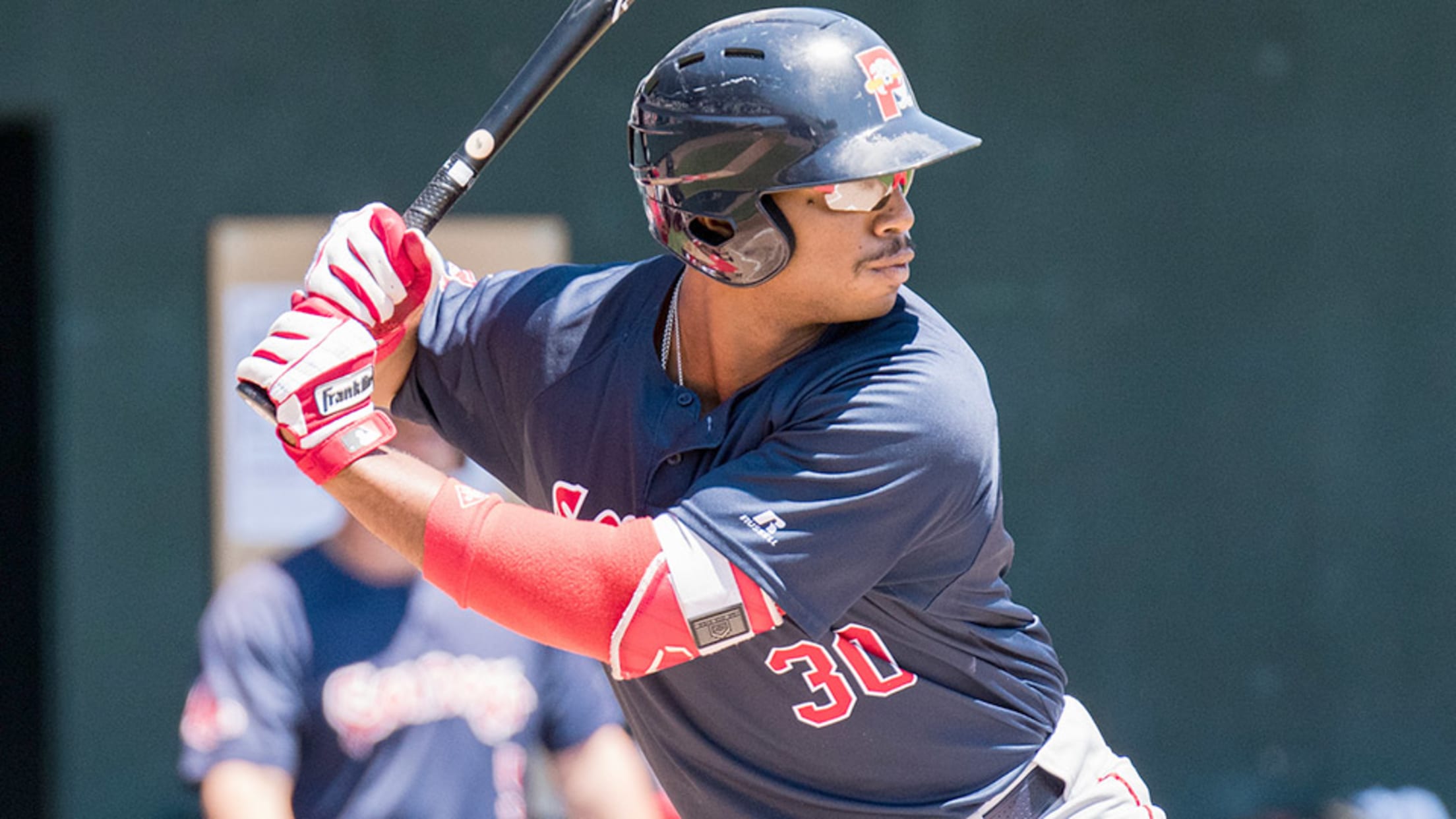 Jeremy Barfield has a career-high 18 home runs in 61 games this season for Double-A Portland. (Terrance Williams)
Jeremy Barfield has done a lot in Minor League Baseball. He's been part of the A's, Rockies and Red Sox organizations. He's played in the Northwest, Midwest, California, Texas, Eastern and Pacific Coast Leagues. He's had 2,971 at-bats as a hitter and even thrown 41 2/3 innings. Yet Monday brought a
Jeremy Barfield has done a lot in Minor League Baseball. He's been part of the A's, Rockies and Red Sox organizations. He's played in the Northwest, Midwest, California, Texas, Eastern and Pacific Coast Leagues. He's had 2,971 at-bats as a hitter and even thrown 41 2/3 innings.
Yet Monday brought a career first.
The 29-year-old outfielder was named Eastern League Offensive Player of the Week after going 12-for-27 (.444) with six homers, a double, 15 RBIs and nine runs scored in seven games for Double-A Portland. No Minor Leaguer had more home runs, RBIs or total bases (31) than Barfield from July 24-30.
"Man, it's pretty cool," Barfield said. "I've been playing this game for a while now, and I've never gotten a Player of the Week award before, so right now this is a pretty cool feeling."
• View the Pitcher of the Week winners »
Barfield, who is riding a 10-game hitting streak, went deep in four straight contests from July 23-26 and enjoyed a two-homer performance Saturday in the second game of a doubleheader at Harrisburg before connecting again Sunday.
As great as this run has been, it's not completely out of the blue for Barfield. Since making his Portland debut on May 26, his 18 home runs over 61 games are tied for the most among all Minor Leaguers. His 32 extra-base hits rank second in all of Double-A, while his .967 OPS sits third.
"It's a crazy game," Barfield said. "I'm seeing the ball as well now as I have the last few years ever since I got my eyes fixed [with LASIK surgery]. These are just the chances I'm getting with certain pitches, and I'm taking advantage more than I have before. That's how the game is sometimes."
It's been a long and winding road for the right-handed-hitting slugger.
Drafted by Oakland in the eighth round in 2008, Barfield spent five seasons in the A's system, topping out as a hitter at Triple-A Sacramento in 2013. In 2014, Oakland moved him to the mound to take advantage of his strong arm, and he tossed 36 2/3 innings between Class A Advanced Stockton and Double-A Midland. That role didn't stick, however, and the following season saw him back as a full-time hitter with stints in the Mexican League, the Rockies organization (Double-A and Triple-A) and the independent Atlantic League. He spent all of 2016 back in indy ball with Sugar Land and won the Atlantic League Player of the Year award after hitting .306/.382/.533 with 27 homers in 135 games.
Barfield was with the Skeeters this spring when the Red Sox came calling to offer a starting role in their Double-A outfield. He jumped at the chance.
"The guys have joked with me that I'm on my sixth life," he said. "In baseball, you don't get nine lives. You get seven. I'm on six. It's been very refreshing to be back in affiliated baseball. I want to be in the big leagues, and everyone has their own route of getting there, I know that. But I've really enjoyed it here. I'm not trying to look ahead of me, look at different levels, anything like that. I'm just trying to make the most of my playing time."
Barfield, who turned 29 on July 12, finds himself as one of the elder statesman in the Portland clubhouse. He's seen top Red Sox prospect Rafael Devers hit his way to Triple-A Pawtucket and then the Majors. He's seen breakout prospect Michael Chavis hold his own after his promotion from Class A Advanced Salem to the Sea Dogs. He's also played next to 28-year-old corner infielder Mike Olt, with whom he shared the field at the 2012 Texas League All-Star Game.
Barfield said he often reminds his younger teammates to have fun as they go, something he took to heart in indy ball. But with his bat speaking loudly these days, anyone could forgive him for thinking about more than just his personal enjoyment or being a veteran presence these days.
"Man, we're talking right now -- that's all I can hope for," he said of receiving the Player of the Week award. "It's nice to have recognition because there's a lot of work and pain and struggle that goes into getting here. I just want to give myself a chance of fighting to be in the big leagues. I'm not playing to be a Double-A superstar or an organizational guy. I just want to be at the highest level, and I know I can be now because of my maturation as a player."
Below is the complete list of Minor League Offensive Players of the Week for July 24-30:

Offensive players of the Week
Sam Dykstra is a reporter for MiLB.com. Follow and interact with him on Twitter, @SamDykstraMiLB.