Red Sox Prospect Primer: Top heavy
Devers, Groome lead next wave of talent in system thinned by trades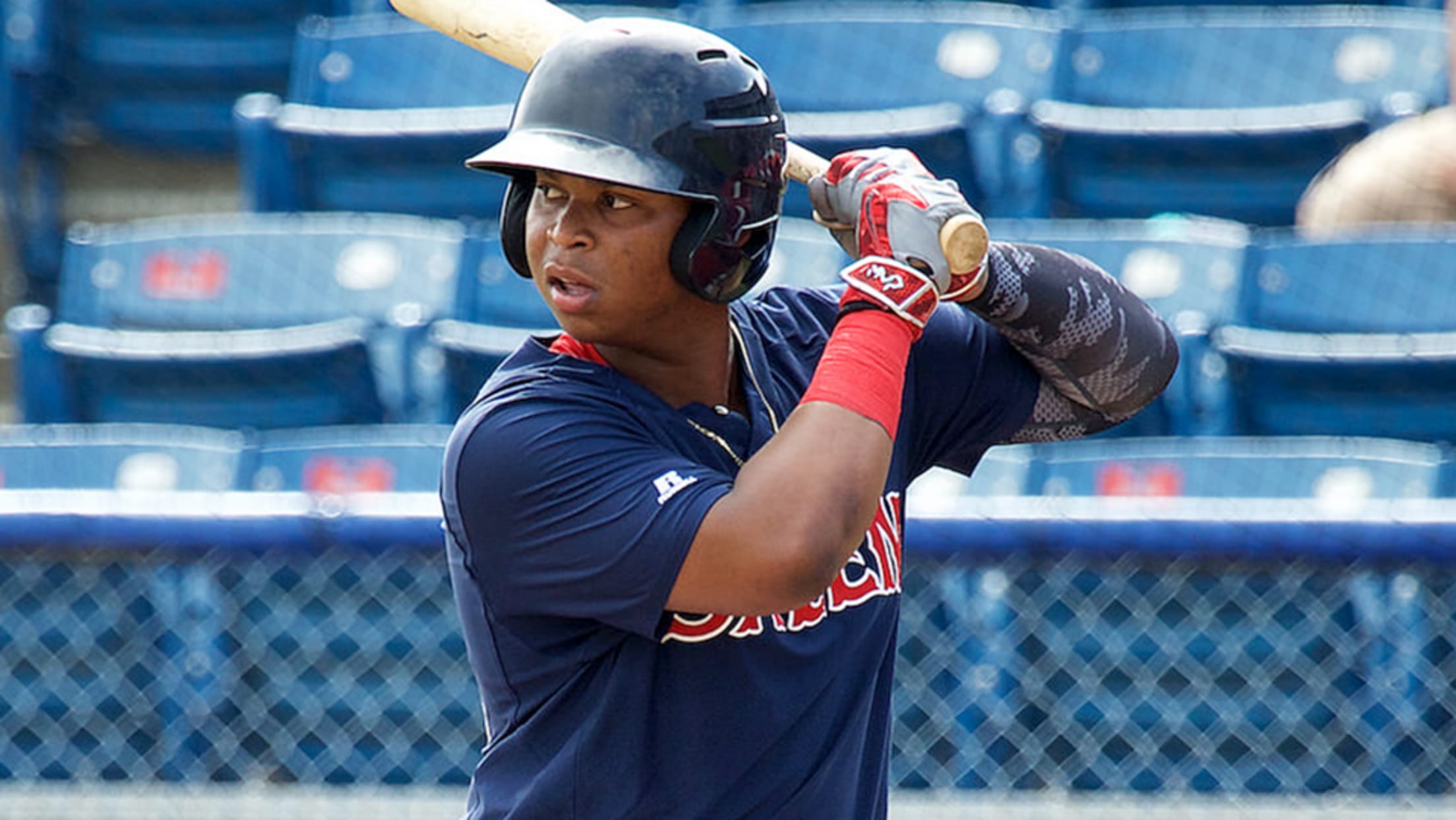 Rafael Devers has been a Red Sox Organization All-Star in each of his three Minor League seasons. (Chris Robertson)
Some players are on the verge of stardom, others are entering a crucial phase of their development and still others are getting their first tastes of full-season ball. With the 2017 season approaching, MiLB.com takes a look at the most intriguing prospects from each MLB organization.Major League-ready: Andrew Benintendi, OFAfter
Some players are on the verge of stardom, others are entering a crucial phase of their development and still others are getting their first tastes of full-season ball. With the 2017 season approaching, MiLB.com takes a look at the most intriguing prospects from each MLB organization.
Major League-ready: Andrew Benintendi, OF
After an offseason highlighted by the departures of Yoán Moncada and Michael Kopech to the White Sox in the trade for Chris Sale, the Red Sox farm system is about to lose another big-time prospect -- but for a very different reason.
Benintendi, who enters the 2017 season as MLB.com's top overall prospect, only needs 25 more at-bats in the Major Leagues to lose his prospect eligibility. Barring a late spring injury, the 22-year-old outfielder is slated as Boston's Opening Day left fielder, joining right fielder/American League MVP runner-up Mookie Betts and center fielder/2016 All-Star Jackie Bradley Jr. in one of the game's most exciting young outfields.
Benintendi had little trouble fitting in as a rookie in 2016 despite beginning the season at Class A Advanced Salem and making the jump straight from Double-A Portland in early August. The left-handed slugger produced a .295/.359/.476 line with two homers, one triple and 11 doubles in 34 games with the big club and started in all three American League Division Series games, going 3-for-9 with a homer and a double in the postseason.
The seventh overall pick in 2015 should be capable of hitting for a high average right away in his first full Major League campaign, and he's capable of surprising the uninitiated with his power, despite his 5-foot-10 frame. With above-average speed, Benintendi has a history of playing well in center field but is manning left while Bradley, a Gold Glove finalist in 2016, holds down the fort in center. His ability to impact all sides of the game at the highest level is what pushed the University of Arkansas product into the top spot of most rankings this offseason, and if he picks up where he left off, it's not difficult to picture a 2017 season in which he finishes as the American League Rookie of the Year.
Shining star: Rafael Devers, 3B
Upon Benintendi's prospect graduation, Devers will slide into the top spot of the Red Sox prospect ranks -- and for good reason. MLB.com's No. 17 overall prospect is slated to begin 2017 at Double-A Portland at just 20 years. Only three position players -- Amed Rosario, Richard Ureña and Wendell Rijo -- received more than 100 plate appearances during their age-20 seasons in the Eastern League in 2016, but none of them began the season at the Double-A level.
What's more, the 20-year-old, left-handed-hitting third baseman enters 2017 with plenty of wind at his back after he hit .326/.367/.539 with seven homers, six triples and 24 doubles in 65 games for Salem over the second half of last season. Only Scott Heineman (40), who played his home games in the offensive haven of High Desert, had more extra-base hits at the Class A Advanced level than Devers' 37 over that span.
"I think picking up where he left off at the end of last year, he's really brought that momentum into Major League camp, continuing to improve defensively," said Red Sox vice president of player development Ben Crockett. "He did a great job of that in 2016. Going into 2017, he's going to be focusing on continuing to refine his approach and repeat his swing. Thus far, he made a nice adjustment last year to do that efficiently. ... That allowed him to better recognize and attack pitches he could drive."
Full-season debutant: Jay Groome, LHP
MLB.com had Groome ranked as the top prospect entering the 2016 Draft, but the left-hander fell to the Red Sox at No. 12 due to signability and character concerns. He eventually signed for $3.65 million and made four appearances between the Gulf Coast and New York-Penn leagues, including the NYPL postseason. In those abbreviated looks and during his senior year at New Jersey's Barnegat High School, the 6-foot-6 southpaw showed a plus fastball for his age and a stellar curve. The velocity hasn't quite been there in early spring stints, not uncommon for a pitcher gearing up from his first professional offseason.
Before even reaching Class A Greenville, Groome already is MLB.com's No. 2 left-handed pitching prospect on the strength of his stuff, and the Sox are confident in those offerings translating this summer.
"Everything we saw last year in a very short stint was that he's very polished," Crockett said. "He comes in with really good stuff. He's got a really good power mix of a fastball, curveball and changeup. I think those first two will really drive his success at the lower levels as he continues to refine his changeup."
When it comes to an innings plan, first-round pitching prospects Trey Ball (2013) and Henry Owens (2011) tossed 100 and 101 2/3 innings, respectively, during their first full campaigns with Greenville and would seem to be good examples for what the Sox will try to do with Groome this summer.
Back and healthy: Sam Travis, 1B
The 2016 season looked like the final ascent for Travis, a second-round pick in 2014 who formed what was known as the Bash Brothers at Indiana University with Cubs slugger Kyle Schwarber. The 23-year-old first baseman was hitting .272/.332/.434 with six homers and 10 doubles in 47 games at Triple-A Pawtucket when a torn ACL in his left knee ended his season on May 29.
Travis, who went 11-for-33 with three homers and three doubles in 16 Grapefruit League games, has returned no worse for wear this spring and is expected to head back to the International League, where he'll sit behind Hanley Ramirez and Mitch Moreland on the organizational depth chart at first base. With the Major League situation set for now, the Sox won't need to rush Travis in the first half of 2017, allowing him to show perhaps a little more power and an improved glove back in the IL.
"I think a combination of getting more reps offensively because he really had a limited amount of time in Pawtucket before getting hurt and then continuing to refine the first-base defense [will be good for him]," Crockett said. "I think that both fine-tuning the nuances of the position and getting more time will help him leap forward."
Breakout prospect: Michael Shawaryn, RHP
As the system thinned this winter -- along with Moncada and Kopech, prospects Mauricio Dubón, Luis Alexander Basabe, Victor Diaz and Josh Pennington found new organizations as well -- it became apparent that Red Sox fans would need to get to know a new batch of youngsters. The club's 2016 Draft picks are good place to start, and of that group, fifth-rounder Shawaryn could be the most widely known by season's end.
The 22-year-old right-hander was a starter in all three of his seasons at Maryland and was dominant as a sophomore, posting a 1.71 ERA, 0.98 WHIP and 10.7 K/9 over 116 innings back in 2015. His numbers weren't quite as good (3.18 ERA, 0.96 WHIP, 8.8 K/9) in 99 frames as a junior, one reason why the 6-foot-2 hurler dropped in the Draft. However, MLB.com gives Shawaryn above-average 55 grades on the 20-80 scouting scale for his fastball, slider, changeup and control while ranking him as Boston's No. 13 prospect.
Pitchers with three above-average offerings and above-average control are rare. Fifth-rounders who fit those criteria are even rarer. So what gives? Well, that comes down to Shawaryn's delivery, which is considered high-effort with an arm angle that looks like a sidearm whip. Because of that, the right-hander faces the concerns that are also associated with No. 71 overall prospect Carson Fulmer -- that his delivery will limit his ability to stick as a starter, thus limiting his potential Major League impact.
The Sox, however, believe Shawaryn's track record speaks for itself.
"I think he's got a really effective fastball that he can move to both sides of the plate," Crockett said. "He's got a nice mix of offspeed pitches that he can throw for strikes and for chase. He's dominated at a pretty high level in college for multiple years. Yeah, we're confident. We think Mike can excel as a starter, and we expect him to do that this year."
If Shawaryn -- who is a candidate for either Salem or Greenville -- can look more like the 2015 version of himself than the 2016 version, he could jump quickly up the Red Sox prospect ranks come midseason updates.


Others to keep an eye on: No. 6 prospect Roniel Raudes showed impressive control in 2016, issuing only 1.8 BB/9 over 113 1/3 innings during his first full season at Greenville. The Red Sox will test the 19-year-old right-hander in Salem in 2017. ... No. 8 prospect and 2015 sixth-rounder Travis Lakins threw only 91 innings for Salem in his first full campaign, after an elbow injury ended his season in late July, but he reported to Spring Training without limitations after an offseason of rehab. The 22-year-old righty has a plus fastball that can jump into upper-90s and received 55 grades from MLB.com for his curve and changeup but failed to see those offerings turn into results with a 5.93 ERA in the Carolina League. With health on his side, he's likely to get a second crack at the level to begin 2017. ... Trey Ball has been a disappointment since going seventh overall in 2013 with a career 4.45 ERA in the Minors and no experience above Class A Advanced in his four seasons. Despite the southpaw getting time out of the bullpen in last year's Arizona Fall League, Ball will remain a starter this season, according to Crockett, but he might have a short leash in that role. ... No. 15 prospect Chandler Shepherd and No. 19 prospect Ben Taylor could be in a battle to crack Boston's Opening Day bullpen, depending on the health of the club's Major League staff. Neither is on the 40-man roster, but both could go multiple innings as a right-hander reliever if needed. Shepherd is the more experienced of the pair, having thrown 34 innings with Pawtucket last season.
Sam Dykstra is a reporter for MiLB.com. Follow and interact with him on Twitter, @SamDykstraMiLB.