Redbirds Storm Back to Take 2-1 Series Lead
Memphis Scores Three in Ninth to Complete Comeback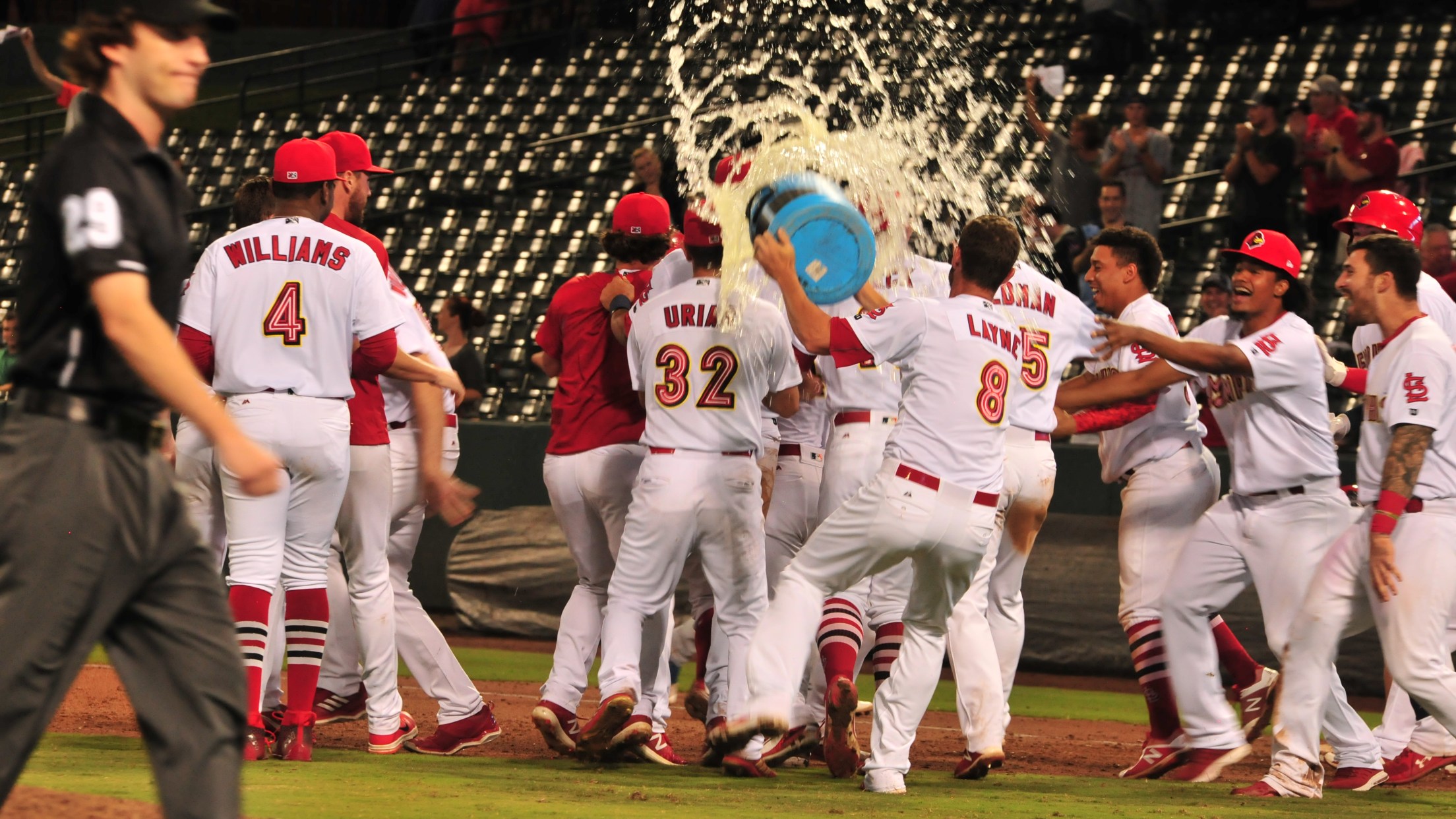 (Memphis Redbirds/Brian Philbrick)
MEMPHIS, Tennessee - The Memphis Redbirds (2-1) scored three runs in the ninth inning to win 5-4 and walk-off on the Oklahoma City Dodgers, Friday night at AutoZone Park. The Redbirds are now one win from moving on to their second-consecutive Pacific Coast League Championship Series. The Redbirds trailed 4-2 entering
MEMPHIS, Tennessee - The Memphis Redbirds (2-1) scored three runs in the ninth inning to win 5-4 and walk-off on the Oklahoma City Dodgers, Friday night at AutoZone Park. The Redbirds are now one win from moving on to their second-consecutive Pacific Coast League Championship Series.
The Redbirds trailed 4-2 entering the ninth inning with the top of the lineup due up at the plate. Infielder Tommy Edman led off the inning with a single and one out later, scored on Rangel Ravelo's single. Alex Mejia and Lane Thomas followed Ravelo's hit with singles of their own. Edmundo Sosa came in to pinch-run for Ravelo, moved to second on Mejia's single and scored on Thomas' hit. Max Schrock came to the plate with men on first and second and drove in Mejia with the game-winning single.
Schrock led the way at the plate for the 'Birds, going 3-for-5. Edman, Ravelo, Mejia, and Thomas all recorded two hits for Memphis, as well. Memphis outhit the Dodgers 13-to-7, and went 5-for-16 with runners in scoring position.
Andrew Morales got the win for the Redbirds, throwing a scoreless ninth inning. Chris Ellis started for Memphis, going five innings and allowing three earned runs on four hits, while striking out seven batters. Génesis Cabrera, Landon Beck, and Tommy Layne combined to throw the middle three innings, allowing just one run on three hits and two walks, while striking out three batters.
Memphis and Oklahoma City will play game four of the series tomorrow at 6:35 p.m. Redbirds playoff tickets are on sale now and can be purchased at www.memphisredbirds.com/playoffs.

[Empty Body]