Wahoos' Mahle flirts with perfection again
Reds No. 10 prospect allows one hit, two walks in seven innings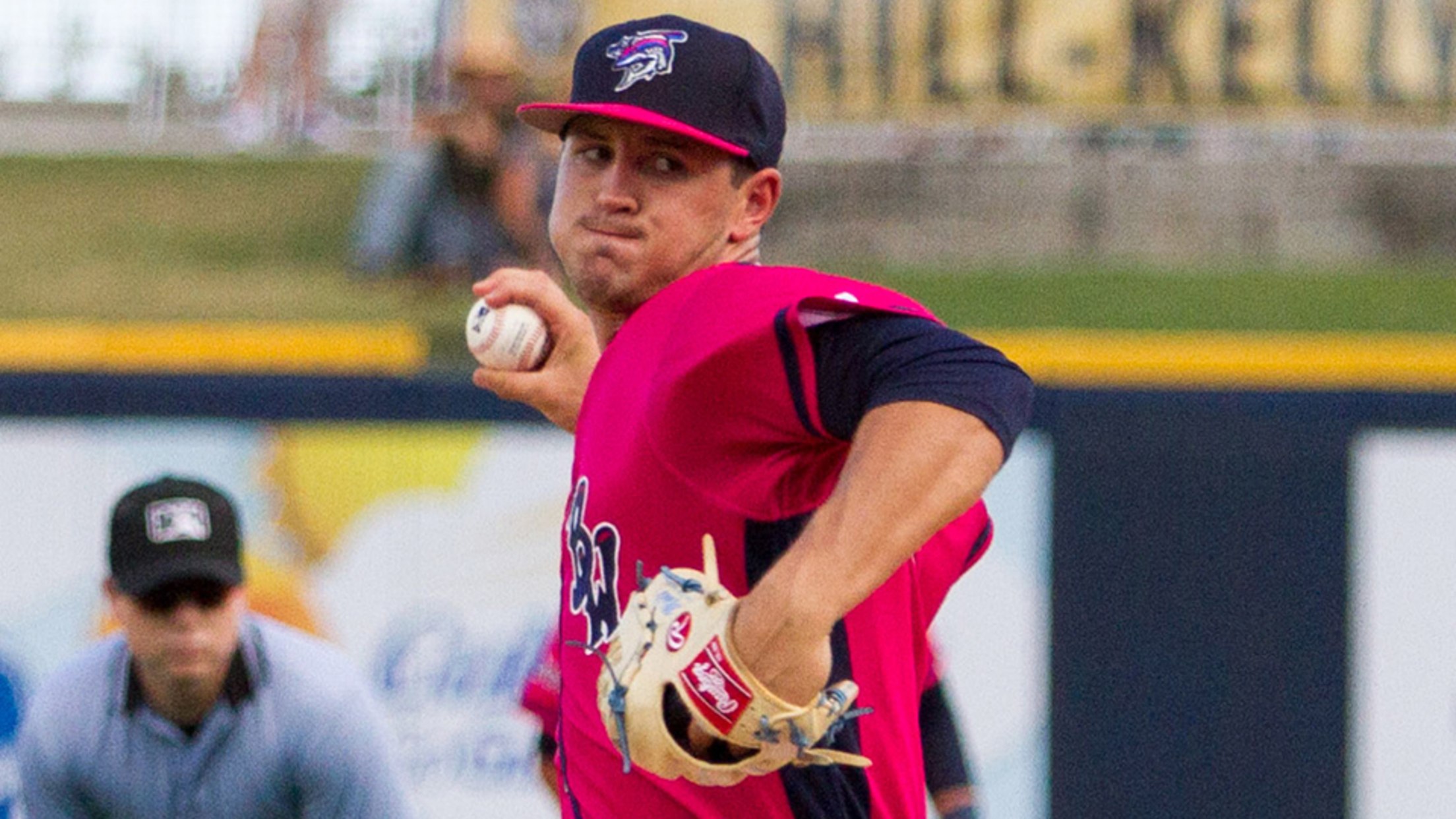 Tyler Mahle posted a 4.92 ERA and a 1.37 WHIP in 14 starts for Pensacola last season. (Barrett McClean/Pensacola Blue Wahoos)
Tyler Mahle knows a thing or two about flirting with history on the mound.After tossing a no-hitter last season and starting his 2017 campaign with 4 1/3 perfect innings, the Reds' No. 10 prospect retired the first 15 batters he faced on Wednesday for Double-A Pensacola. He ended up allowing
Tyler Mahle knows a thing or two about flirting with history on the mound.
After tossing a no-hitter last season and starting his 2017 campaign with 4 1/3 perfect innings, the Reds' No. 10 prospect retired the first 15 batters he faced on Wednesday for Double-A Pensacola. He ended up allowing one hit and two walks while striking out six over seven innings in a 3-0 blanking of Biloxi at MGM Park.
Box score
"It's in the back of your head and everyone else is kind of thinking about it," Mahle said. "But it's such a long game. You've got to get through the lineup three times to do that, and it doesn't happen often. All I can focus on is making pitches and limiting mistakes, which I did tonight. But I'm not going out there trying to throw a perfect game. I'm going out there to have a good start and give my team a chance to win."
The 22-year-old right-hander was perfect until giving up a pair of walks around a single to begin the sixth.
"[Pitching coach] Danny [Darwin] and [catcher Devin Mesoraco] came out and we kind of knew I was speeding up and pulling the ball," Mahle said. "So I just slowed it down and used my full leg kick with the full bases and got back to what we've been doing."
Mahle struck out Brewers No. 9 prospectMauricio Dubón and Johnny Davis before getting No. 28 prospect Michael Reed to ground out to first. He wrapped up his outing with a clean seventh to lower his WHIP to 0.55 through 12 2/3 frames in two starts.
The 2013 seventh-round pick also is seeking a little redemption against Southern League competition after struggling in his first Double-A stint last season. In 14 starts following a promotion from Class A Advanced Daytona in June, Mahle posted a 4.92 ERA over 71 1/3 innings.
"It was kind of hard to really take away anything from last season because when I got here, my stuff was so out of whack," he said. "I don't know if I was tired or what, but I wasn't pitching like myself to end that season.
"So coming into this year, we are going over the scouting reports with these guys before every series and I've just been following that. And the reason it's been working is because I've been locating -- otherwise the scouting reports have no purpose. Just as long as I can locate and put the ball where these guys don't want it, then I should be fine."
Getting his first invitation to the Major League Spring Training also helped Mahle prepare for his fifth professional season, he said.
"It was a great experience being there with those guys," said Mahle, who made three relief appearances in the Cactus League. "You definitely get treated like a big leaguer there in every way. I also think it helped me to start the season earlier because the last few years, both of my Opening Day starts haven't been very good. I think starting earlier kind of helped me get my rhythm to begin the year, so I got these two good starts under my belt. Personally, I'm going to peg that on going to big league Spring Training because of that early start."
Reds No. 22 prospect Austin Brice took over for Mahle in the eighth and walked one before No. 18 prospect Jimmy Herget struck out the side on 11 pitches in the ninth for his third save of the season.
Alex Blandino, Cincinnati's 25th-ranked prospect, provided the offense for the Blue Wahoos with a three-run double in the fourth as part of a 3-for-4 night.
Michael Peng is a contributor to MiLB.com. Follow him on Twitter @MichaelXPeng.