Bats' Stephenson fans career-high 13
Red-hot Reds righty allows one hit, turns in six shutout innings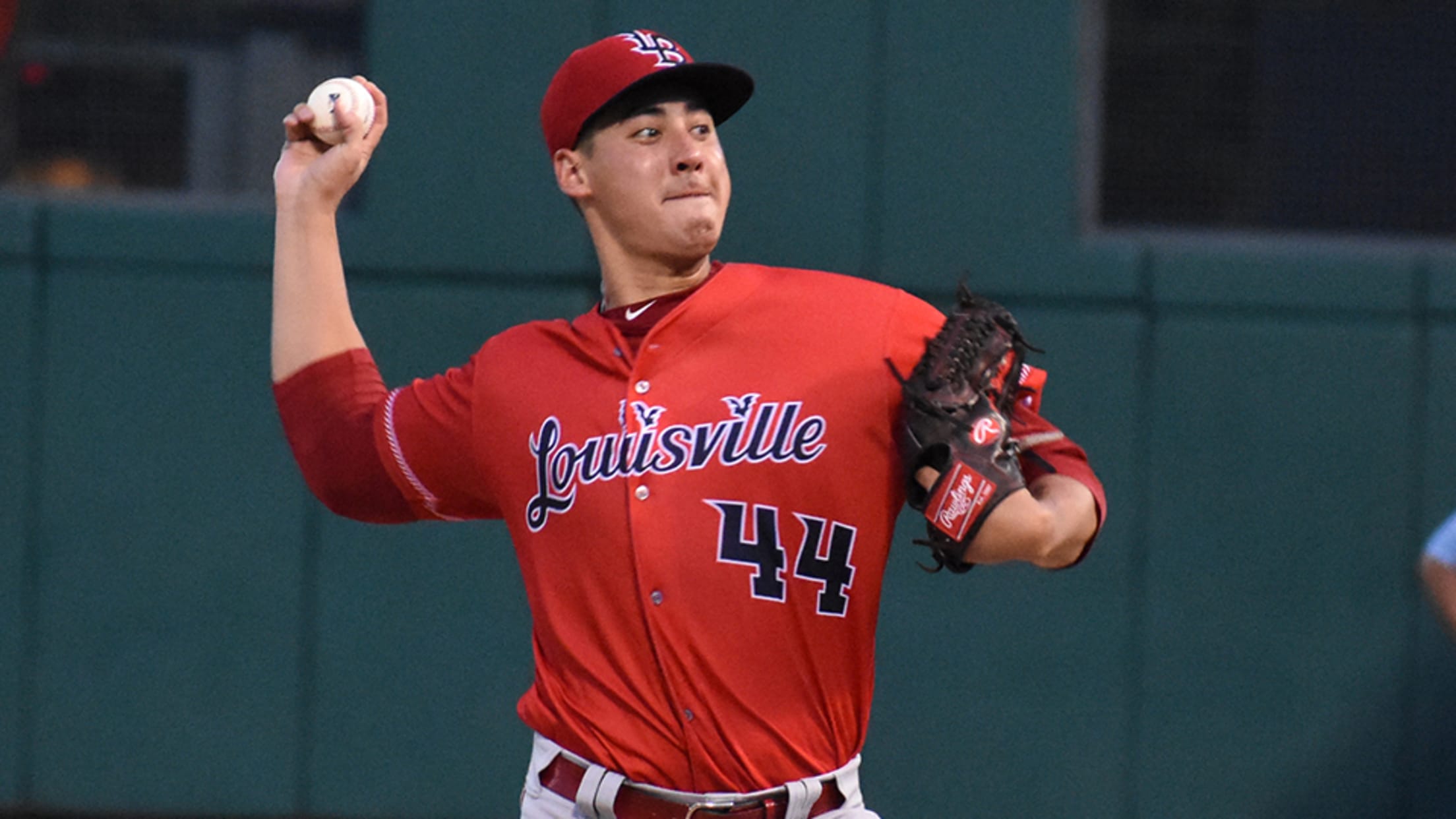 Robert Stephenson has a 2.87 ERA through 20 starts in the Minor Leagues this season. (Cathryn Wood/Columbus Clippers)
Consistently dominant in the International League this year, Robert Stephenson kicked things up a notch on Friday.The Reds right-hander delivered one of his strongest professional outings, recording a career-high 13 strikeouts and allowing one hit and three walks over six innings in Triple-A Louisville's 4-0 shutout of Columbus at Huntington
Consistently dominant in the International League this year, Robert Stephenson kicked things up a notch on Friday.
The Reds right-hander delivered one of his strongest professional outings, recording a career-high 13 strikeouts and allowing one hit and three walks over six innings in Triple-A Louisville's 4-0 shutout of Columbus at Huntington Park.
Gameday box score
Stephenson (11-6) has turned in five straight starts of at least six innings, surrendering four runs in that span. Last time out, he permitted two runs on one hit and five walks in seven frames against Rochester on Sunday.
On Friday, the 2011 first-round pick was even tougher -- and more aggressive in the strike zone.
"He's been solid for the last month and a half, slowly putting everything together," Bats pitching coach Jeff Fassero told MiLB.com after Stephenson struck out 12 on July 5.
He retired his first nine hitters Friday, including punching out the side -- all swinging -- in the third. He walked No. 14 Indians prospect Oscar Mercado to lead off the fourth and Yandy Díaz followed with a ground single up the middle, but Eric Haase bounced into a double play and Stephenson fanned Brandon Barnes to strand Mercado at third.
"His stuff is good enough," Fassero said on July 5. "If you look at his numbers, he doesn't give up a lot of hits to begin with. He gets in trouble with walks."
After a clean fifth, the Northern California native walked Mike Papi and Diaz in the sixth but got through the frame with three more strikeouts. He threw 88 pitches, including 57 strikes.
"It's just been a combination of everything, kind of the trust that he can do it," his pitching coach said after the 12-strikeout gem against Indianapolis. "Over the last five, six starts, he's shown that he can do it. He pretty much dominated the best-hitting team in our league tonight. He mixed his pitches really well. His slider was very sharp. He just kept them off balance -- never gave them a chance."
Friday was the first time a member of the Bats had struck out 13 since Tony Cingrani had 14 in 2013.
Stephenson has 48 strikeouts over 28 1/3 innings in five starts against Columbus this season.
Domingo Tapia and Kyle Crockett combined for a pair of perfect innings. Jimmy Herget shrugged off a hit and a walk in the ninth, wrapping up the Bats' sixth shutout with a whiff of seventh-ranked Cleveland prospect Bobby Bradley.
C.J. McElroy led off the first inning with a homer for the Bats and Gabriel Guerrero followed with a two-run shot two batters later.
Rehabbing Josh Tomlin (0-1) allowed three runs on six hits over two innings, striking out one for the Clippers.
Marisa Ingemi is a contributor to MiLB.com. Follow her on Twitter @Marisa_Ingemi.