Refocused Holmes shines for RockHounds
Athletics No. 3 prospect rebounds with six innings of one-run ball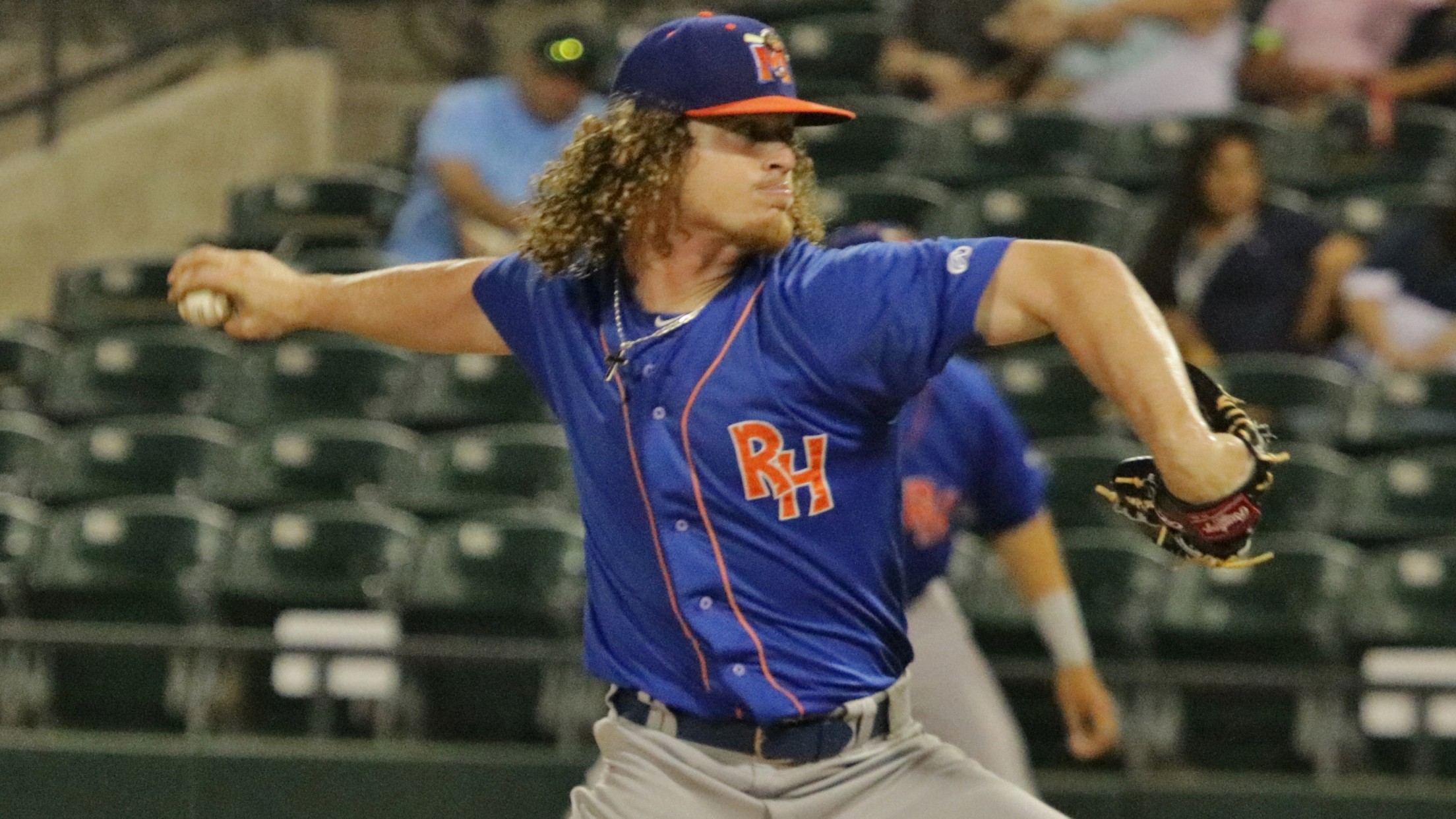 Double-A Midland's Grant Holmes has struck out six batters four times this season. (Tammy Tucker/MiLB.com)
After experiencing a rough patch for much of this month, Grant Holmes appears to be back on track for Double-A Midland.The Athletics' No. 3 prospect allowed a run on two hits over six innings in the RockHounds' 8-1 victory over the Arkansas Travelers on Thursday at Dickey-Stephens Park. Holmes (3-4)
After experiencing a rough patch for much of this month, Grant Holmes appears to be back on track for Double-A Midland.
The Athletics' No. 3 prospect allowed a run on two hits over six innings in the RockHounds' 8-1 victory over the Arkansas Travelers on Thursday at Dickey-Stephens Park. Holmes (3-4) collected six strikeouts and walked three to earn his first win since May 3 and his first on the road since April 16.
The six strikeouts matched a season high for MLB.com's 76th-ranked prospect, marking the fourth time he's done so in 2017.
Gameday box score
"When I got people [to two strikes], I was either going to go curveball in the dirt or fastball up, and you try and set them up for a decent pitch if that didn't get him out that time," Holmes said. "You just try and set him up for a good put-away pitch."
Thursday's start was an improvement over the right-hander's previous three outings in which he was tagged for 11 runs, 19 hits and eight walks in 14 innings.
"It felt great, I put my foot in a good direction," Holmes said. "Hopefully I can use this one and it will help me in the other ones."
In 11 appearances, including seven starts, this season, the 2014 first-round pick sports a 5.27 ERA with 47 strikeouts and 22 walks over 42 2/3 innings.
Holmes faced early trouble when Chuck Taylor led off with a single, and two outs later, Seth Mejias-Brean singled to put runners on the corners. The 21-year-old got out of the inning by inducing Dario Pizzano into a groundout.
He issued walks to Marcus Littlewood in the second and Jeff Kobernus in the third before retiring the side in order in the fourth.
Without giving up a hit, Holmes got into another jam in the fifth. With one out and the RockHounds leading, 8-0, he plunked Joey Wong and walked Taylor before a wild pitch advanced the runners.
Kobernus hit a grounder to first baseman Viosergy Rosa that allowed Wong to score. Holmes got Kyle Waldrop to ground out to end the inning before striking out the side -- all swinging -- in the sixth to finish his longest outing of the year. He threw 54 of 99 pitches for strikes.
"I kind of turned toward more of my sinker, rather than my four-seamer," said Holmes, who came to Oakland as part of last year's trade deadline deal that sent Josh Reddick and Rich Hill to the Dodgers. "I'm just trying to get guys to roll over and make early contact. I'm trying to get some early outs, so I believe my sinker and my curveball were working good."
Tyler Marincov launched his seventh homer, tripled and drove in five for Midland.
Brett Ash (3-3) surrendered eight runs on seven hits with five walks in 3 1/3 innings for Arkansas.
Gerard Gilberto is a contributor to MiLB.com. Follow and interact with him on Twitter, @GerardGilberto4.