Catching Up With 2021 Rocket City Ace Reid Detmers
Former Trash Pandas' Opening Night Pitcher Begins Season in Angels' rotation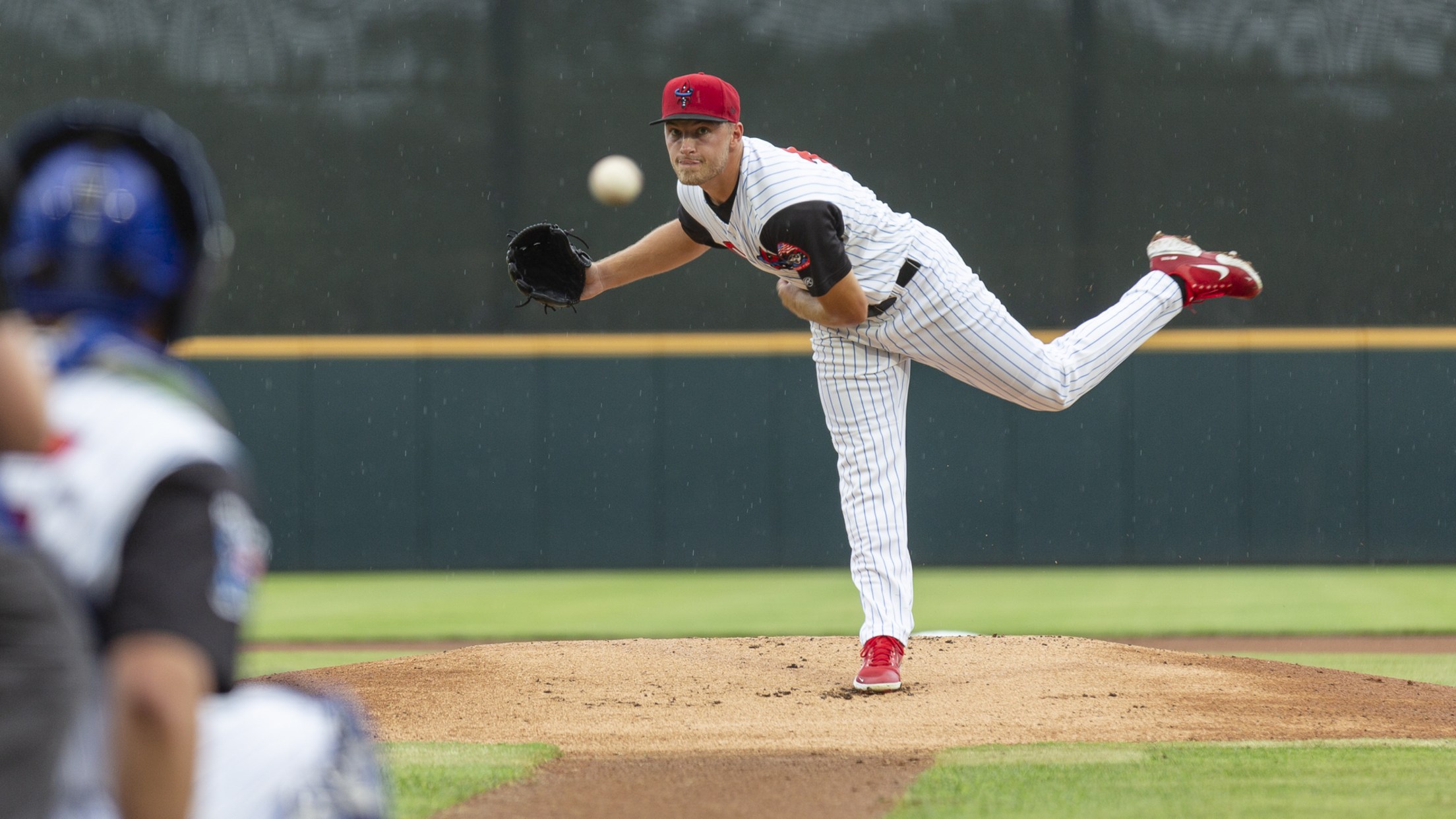 Reid Detmers led Rocket City with 97 strikeouts in 2021. (Javier Sanchez/Rocket City Trash Pandas)
Reid Detmers opened the 2021 season as the Opening Night starter for the first game in Rocket City Trash Pandas history on May 5. He ended it by starting for the Los Angeles Angels in the final game of the regular season in front of over 44,000 fans at Seattle's
Reid Detmers opened the 2021 season as the Opening Night starter for the first game in Rocket City Trash Pandas history on May 5. He ended it by starting for the Los Angeles Angels in the final game of the regular season in front of over 44,000 fans at Seattle's T-Mobile Park on October 3.
In the 151 days between starts, Detmers made a name for himself as a prospect with a bright big league future and left his mark on the Rocket City franchise, etching the first strikeout in team history, starting the opening game at Toyota Field, and leading the team with 97 strikeouts. But on August 1, he became the first former Trash Pandas player to reach the big leagues, a crowning achievement for the Angels' first-round pick in the 2020 draft.
Before the regular season started, we caught up with Detmers to remember a few highlights from the exciting 2021 season, and another that will be coming to Toyota Field, even though Detmers himself will be in Los Angeles.
Q: How much does the Trash Pandas organization mean to you?
A: It's special. Last year was the first year and I was the opening day pitcher, so that was pretty cool. Remembering I was the first pitcher to pitch in that stadium was special, especially with the fan base there. The atmosphere, it's one of the loudest stadiums I've been at that level, everyone needs to experience that. It just felt like home. It was hard to describe, but it was a thrilling couple of months, and I'll always remember it.
Q: What exactly happened when you got the call that the Angels were promoting you from Triple-A?
A: I was with Salt Lake, and we were at the team hotel in Albuquerque. I was supposed to start the next day. I got a phone call at one in the morning from our manager, Lou Marson. He told me I might be getting called up tomorrow, but he wasn't 100 percent sure. Then he told me I was scratched from my start. At that point, my heart was racing, I called my parents. I didn't go to sleep until 4 a.m. The next day I got to the field and I was warming up and Lou called me into his office and told me I got the call and my flight was leaving in two hours. I went back to the hotel, packed my stuff, got to the airport, and left for Anaheim.
Q: What was your welcome to Major League Baseball moment?
A: I would say it was my debut (on August 1 against Oakland). I don't remember a whole lot of it but I remember Matt Olson hitting a home run and a couple guys got on base and they were running all over the place. My head was spinning, I didn't know what to do. I was in my own zone. It was crazy.
Q: What moments from last season stand out the most to you?
A: I would say getting that call that I was going to the big leagues then my first big league win (on August 15 vs. Houston). Those are things I dreamed about my whole life. When you're a little kid playing baseball, you want to be one of those guys one day. Getting that call and that win are two moments that will stick with me for the rest of my life.
Q: Reid Detmers bobblehead night at Toyota Field is coming up on April 28. What do you think of the bobblehead?
A: This is the first bobblehead anyone's ever made of me. It looks pretty good. It's pretty cool to get a bobblehead of yourself. When I was a kid, I collected bobbleheads of all kinds of other players, getting them at games at the stadiums. I never really imagined I'd have my own bobblehead so it's very exciting for me to see it.
In 🔟 days, we're giving away a bobblehead of Reid Detmers, who wore #⃣🔟 with the Trash Pandas!

First 2,000 fans 18+ will get one, courtesy of @Trustmark_Bank!

🎟 https://t.co/WkQzYvOoqr pic.twitter.com/gI4TDrT09j

— Rocket City Trash Pandas (@trashpandas) April 19, 2022