Vargas, Borenstein come up Aces in Vegas
D-backs duo combines for eight hits, two homers, eight RBIs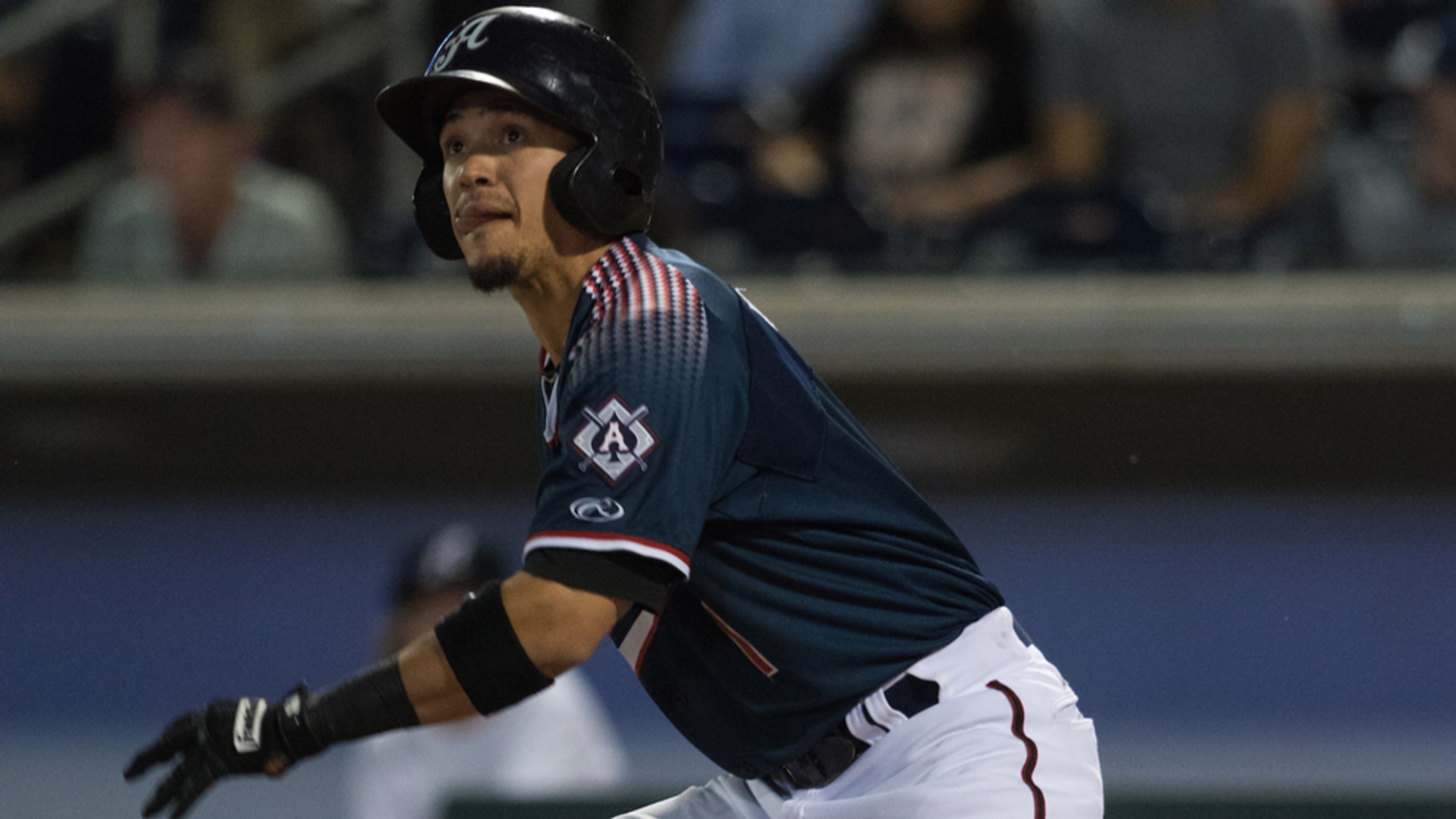 Ildemaro Vargas has recorded a quartet of four-hit games this season. (David Calvert/Reno Aces)
For Triple-A Reno, Ildemaro Vargas isn't just a leadoff hitter. He's a spark plug."He's our energy guy, really. He likes to play and he plays hard," Aces manager Greg Gross said. "We went through a stretch here, when he was on the disabled list], when we struggled a little bit
For Triple-A Reno, Ildemaro Vargas isn't just a leadoff hitter. He's a spark plug.
"He's our energy guy, really. He likes to play and he plays hard," Aces manager Greg Gross said. "We went through a stretch here, when he was [on the disabled list], when we struggled a little bit because he sort of sets the tone. When he's getting on, we're productive and we score a lot of runs because it's contagious. He was missed."
In his third game back from a hand injury, it was clear why.
The D-backs 22nd-ranked prospect went 4-for-6 with two homers, a stolen base and three runs scored Wednesday in Reno's 11-2 romp over Las Vegas at Cashman Field. Hitting four spots below Vargas, Zach Borenstein also belted two homers and tripled, going 4-for-5 with six RBIs and four runs scored.
Gameday box score
In putting up his third career two-homer, six-RBI performance, the 27-year-old outfielder fell a double shy of his third career cycle.
"I think guys were thinking about it, especially home run and triple first two times up. But he had a very good night. Six RBIs -- it's hard not to say the guy had a good night," Gross said. "He's capable of doing that. He has the tools and the ability to hit the ball, and he can hit the ball out anywhere. He has a tendency to overswing and to expand the zone. That's been his nemesis as far as consistency goes."
Borenstein's big showing followed an 0-for-11 funk.
"He'll do that. For whatever reason, he gets in modes where his swing is long and the [pitch] recognition isn't there and it's hard," said Gross, a veteran of 17 Major League seasons. "Then you sit him a day or two, and he usually comes right back."
Vargas' contagious hitting may have helped. On the DL with a hand injury from July 23-Aug. 7, the 26-year-old second baseman had three hits in his return on Monday and two more on Tuesday. In his first at-bat Wednesday, he saw eight pitches from Jonathan Albaladejo and planted the final one over the wall in right-center field.
"He's done a good job with that spot. He'll take pitches and he's tough to strike out," the Aces manager said. "Probably the only thing he sometimes has a tendency to do, with two strikes, he doesn't walk too much. He'll expand a little bit, especially up, and foul off and foul off pitches, but at times he puts it in play where he might end up with a walk if he had taken them. But his on-base percentage is still pretty good and you don't want him up there not thinking of swinging. Over the course of the year, he has gotten better at that."
In 92 Pacific Coast League games, Vargas is batting .310/.351/.458 with 40 extra-base hits. He's also made it into two big league games and rehabbed for two games earlier this month in the Rookie-level Arizona League.
"He went down [to his native Venezuela] over the winter and got a little stronger, and he faced some really good competition in Winter Ball," Gross said. "He gained a lot of confidence through that and he came into March and had a good Spring Training with the big league club, opened up some eyes as far as that staff is concerned. He just got hot from the start of the season and he's been real consistent since then."
After singling in the second and the sixth, the switch-hitter went yard to right in the eighth. It marked the first time in 10 Minor League seasons that he's homered twice in a game.
"He's a little stronger, has a little more pop than what people think he has," Gross said. "Of course, in certain ballparks balls carry better, and Las Vegas is one of those, but he hit both of those balls really hard. When he hits it that hard, it's usually more on a line than in the air, but he caught them just right. They were legit."
• Get tickets to an Aces game »
After struggling in his Triple-A debut, third-ranked D-backs prospect Taylor Clarke (1-1) allowed two runs on six hits and a walk while striking out seven over seven innings to pick up the win.
"Part of it was, I think, a little bit nerves. His first start, he was maybe overthrowing a little because he left the ball up a lot," Gross said. "The opposition took advantage of him not being able to locate, and it was exactly the opposite tonight. We spotted him a four-run lead in the first and he took over from there. He pounded the strike zone, kept the ball down and mixed pitches. He was a totally different pitcher. He was more of what they said we could expect, a pitcher who throws strikes, works quick and keeps the defense in the game. And that's what he did."
Second-ranked Mets prospectDominic Smith was 2-for-4 with an RBI and a run scored for the 51s.
Josh Jackson is a contributor to MiLB.com. Follow and interact with him on Twitter, @JoshJacksonMiLB.