Flying Squirrels turn first triple play since '13
Shortstop Moreno begins fielding feat as Giants affiliate splits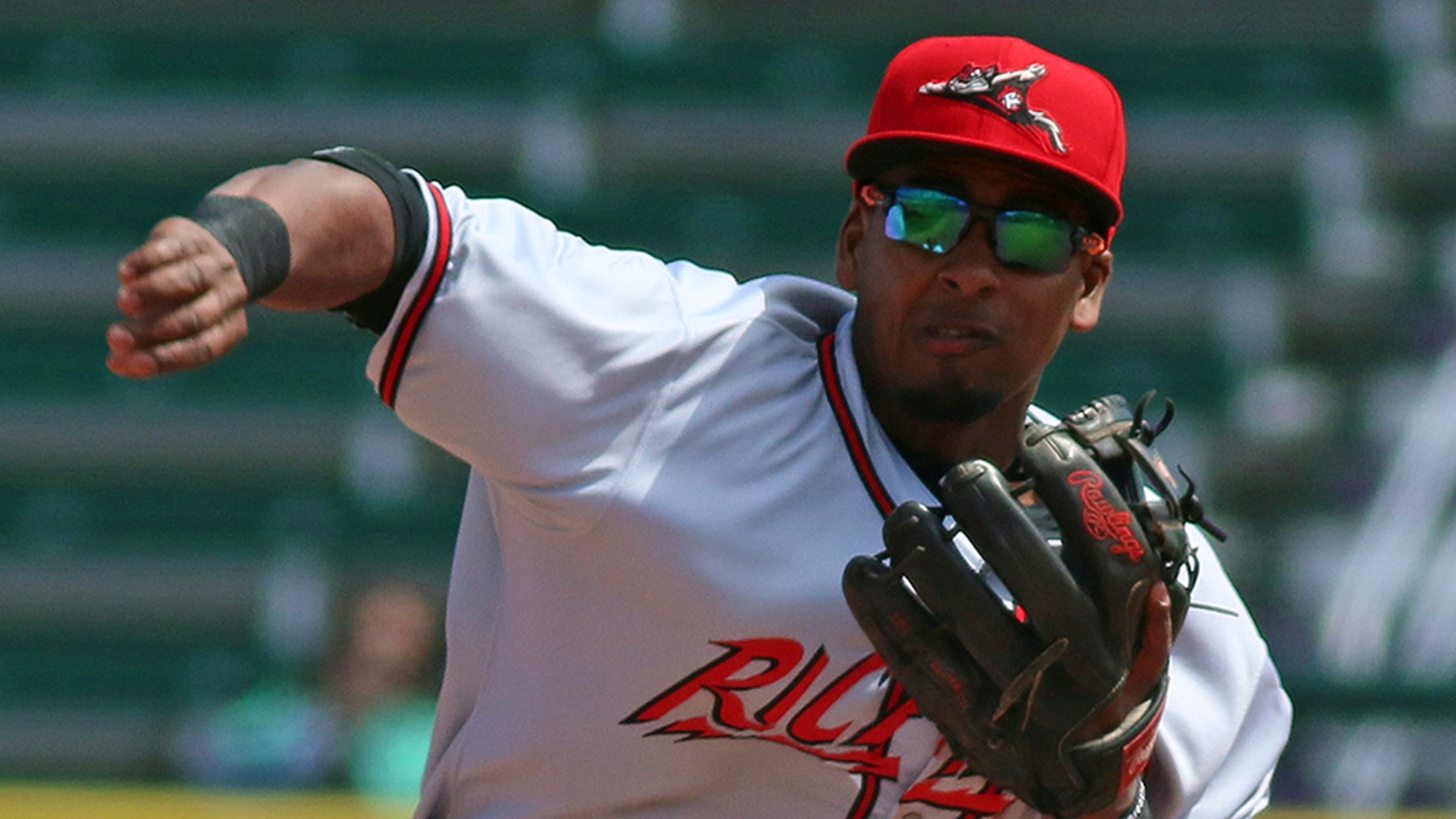 Richmond's Rando Moreno got the first two outs of the 2017 Minor League season's third triple play. (Andy Grosh/MiLB.com)
Rando Moreno didn't need much help -- or time -- to stop a Hartford rally on Thursday.The Richmond shortstop started a triple play in the top of the second inning at Dunkin' Donuts Park in the Flying Squirrels' 2-1 win over Hartford in the nightcap of a doubleheader. It was
Rando Moreno didn't need much help -- or time -- to stop a Hartford rally on Thursday.
The Richmond shortstop started a triple play in the top of the second inning at Dunkin' Donuts Park in the Flying Squirrels' 2-1 win over Hartford in the nightcap of a doubleheader. It was the third triple play turned this season in the Minors and the first for Richmond since Joe Panik helped turn one on May 23, 2013.
Richmond, the Giants' Double-A affiliate, took a 1-0 lead in the first on Hunter Cole's RBI single to left, but the Yard Goats threatened an inning later when Rockies prospects Dillon Thomas and Josh Fuentes began the second with consecutive singles off starter Matt Gage.
Jan Vázquez, however, hit a soft liner to Moreno at short, and the infielder took a few steps to his left to step on second before throwing over to first to complete the triple play.
Panik's milestone four years ago was oddly similar -- he caught a line drive off the bat of Trenton's Tyler Austin with runners on first and second, stepped on second and threw to first to end the game.
Box Scores: Game 1: Hartford 2, Richmond 1 Game 2: Richmond 2, Hartford 1
Cole added his third homer in the fourth and Gage (2-4) allowed one run on six hits over six frames for Richmond. Hartford's Yency Almonte (2-2) was charged with two runs and four hits over five innings.
In the opener, Anthony Phillips' solo homer in the fifth snapped a 1-1 tie and lifted Hartford to a 2-1 win.
Thaddius Lowry, former Olympic speed skater Eddy Alvarez and Keon Barnum combined on the season's first triple play on April 26 for Double-A Birmingham. Triple-A Colorado Springs did one of its own on May 24 with Gabriel Noriega, Iván De Jesús Jr. and René Garcíaaccomplishing the milestone against New Orleans.
There were nine triple plays turned in the Minors in 2016.