Keller steers Pirates' latest ship toward bigs
No. 18 overall prospect caps second full season with Double-A title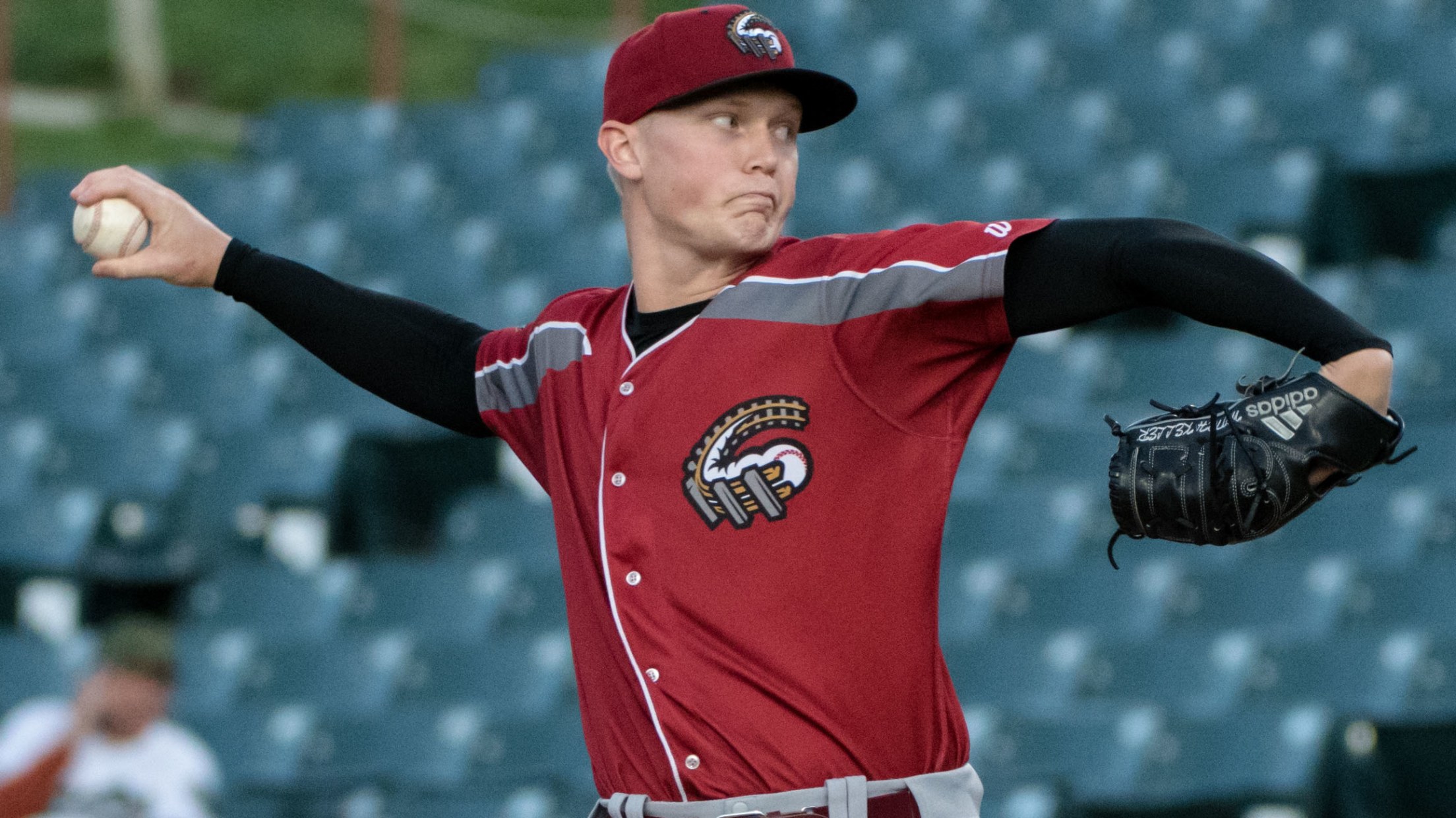 Mitch Keller tossed a one-hit shutout for Altoona in the opener of the Eastern League semifinals. (Terrance Williams/MiLB.com)
This offseason, MiLB.com is taking a look at the most outstanding campaigns by players in each system across Minor League Baseball and honoring the players -- regardless of age or prospect status -- who had the best seasons in their organization.The Pirates' 2016 season was defined by the parade of
This offseason, MiLB.com is taking a look at the most outstanding campaigns by players in each system across Minor League Baseball and honoring the players -- regardless of age or prospect status -- who had the best seasons in their organization.
The Pirates' 2016 season was defined by the parade of prospects to the big leagues. With players such as Josh Bell, Trevor Williams, Chad Kuhl, Adam Frazier and others settling into roles in Pittsburgh, this season was more about the next group of young talents poised to take that leap.
To get a glimpse of what that crew may look like, look no further than Double-A Altoona. The Curve stormed to the Eastern League title, sweeping the 92-win Trenton Thunder in the best-of-5 Finals. It marked the second crown in as many years for the group, many of whom had contributed to a Florida State League title run with Class A Advanced Bradenton the season before.
Elsewhere in the system, six of the Pirates' eight domestic affiliates finished with winning records, while individual performances from the likes of Mitch Keller and Steven Brault on the mound and Cole Tucker and Jordan Luplow in the field turned heads. In Pittsburgh, the youth movement is bound to go on.

Pirates Organization All-Stars
Catcher -- Jacob Stallings, Indianapolis (62 games), Pittsburgh (five games):
Stallings returned to Triple-A for the second straight season and dramatically improved at the plate. After batting .214 in 80 games there a year ago, the 27-year-old compiled a .301/.358/.431 slash line with 16 doubles, four home runs and 38 RBIs this season. Over a five-game cameo in the big leagues, he hit .357 with a .938 OPS.
First baseman -- Edwin Espinal, Altoona (95 games), Indianapolis (35 games): Espinal followed up his career offensive season in 2016 with an even better one. The native of the Dominican Republic hit .294 across both levels, led the organization with 86 RBIs and finished tied for second with 15 homers. The 23-year-old became even more consistent after making the jump to Indianapolis, where he batted .323 from late July until the end of the season. Espinal elected free agency in November.
Second baseman -- Pablo Reyes, Altoona (115 games): Reyes excelled across the board with the Curve, leading the team in hits (115), runs (62), walks (51) and stolen bases (21) while finishing second in doubles (21) and third in RBIs (50). Add in 10 long balls, and the 24-year-old was among the most complete offensive performers in the system. Though he hit just .211 during the Eastern League playoffs, he filled in well at shortstop when starter Cole Tucker was felled by a fractured left hand in Game 2 of the semifinals.
"Offensively, we always tell him he can be the best player in each game," Curve manager Michael Ryan told MiLB.com in September. "He's the best player on the field whenever he wants."
Third baseman -- Ke'Bryan Hayes, Bradenton (108 games): Hayes' third year in the Minors yielded more improvement at the plate for the 2015 first-round pick. Appearing in over 100 games for the first time as a pro, the 20-year-old hit .278 with two homers, seven triples, 16 doubles, 66 runs scored and 43 RBIs. He also finished second in the organization with 27 steals in 32 attempts and won a Gold Glove after committing just eight errors in 307 chances in the field.
Shortstop -- Cole Tucker, Bradenton (68 games), Altoona (42 games): Everything came together for Tucker after injuries limited him to 73 and 80 games the previous two years. Turned loose over a full season, the 2014 first-round pick batted .275 with a career-high six homers, 11 triples, 19 doubles and 50 RBIs. However, Tucker's biggest step came on the basepaths. After stealing a mere six bases in 2016, the 21-year-old led all Pirates Minor Leaguers with 47 thefts. He attributed the uptick to a more aggressive baserunning style.
"Speed is a tool I have -- I know that," Tucker told MiLB.com in June. "But I guess I was a little gunshy last year. I've tried to forget about that and be more aggressive this year, and now that I've seen that I can go, it keeps pushing me. The problem is now everyone in the park knows I can go, so I have to be a little bit smarter in picking my chances. It's tougher for sure, but it's something I can handle because I'll need to at Double-A, Triple-A and Pittsburgh. Yadier Molina won't just let me take second base when I see him."
Outfielders
Jordan Luplow, Altoona (73 games), Indianapolis (44 games), Pittsburgh (27 games): One of a handful of Pirates to debut in "The Show" this season, Luplow outshone nearly ever other player in the system. Taken in the third round of the 2014 Draft out of Fresno State University, the 24-year-old earned Pittsburgh's Minor League Player of the Year honors after putting together a .302/.381/.527 slash line with a system-high 23 dingers in 117 Minor League games. Luplow's breakout season surpassed even his own expectations.
"It's pretty cool," he told MLB.com in accepting his Player of the Year award. "I just have to thank all my family, teammates and coaches that have helped me along the way. I was just trying to make the 40-man roster at the end of the year before the Rule 5 [Draft]. Then this happened."
Christopher Bostick, Indianapolis (126 games), Pittsburgh (20 games): The Pirates acquired Bostick from the Nationals last September for catching prospect Taylor Gushue and cash. The 24-year-old made a strong first impression on his new club by finishing fourth in the International League batting chase with a career-best .294 average, 56 points behind Columbus' Yandy Díaz for the top spot. Bostick led the Pittsburgh's system with 33 doubles while posting seven homers, 57 RBIs and eight steals.
Edison Lantigua, Bristol (48 games): Followers of Rookie-level Bristol didn't have much to cheer about this season. The club finished 17-49, worst among all Pittsburgh affiliates by a significant margin. However, Lantigua provided a bright spot. Signed as an international free agent in 2013, the 20-year-old from the Dominican Republic led the team in hits (54), runs (28), doubles (14), total bases (84) and walks (30) while finishing second in average (.307), home runs (4) and steals (8).
Utility -- Albert Baur, West Virginia (106 games): Baur finished near the top of the organization in several offensive categories. He ranked second in doubles (31) and RBIs (65) and finished third in hits (117). He raised his slash line to .298/.367/.439 in the South Atlantic League after spending his first two Minor League campaigns in the Class A Short Season New York-Penn League.
Right-handed starter -- Mitch Keller, West Virginia (two games, two starts), Bradenton (15 games, 15 starts), Altoona (six games, six starts): While top Pirates prospect Austin Meadows struggled with injuries and inconsistency, Keller stepped up as the system's shining star. MLB.com's No. 18 overall prospect went 8-5 with a 3.03 ERA, 32 walks and 116 strikeouts over 116 innings across three levels. He turned even more heads with his performance in the Eastern League playoffs, when he went 2-0 with a 1.10 ERA in two starts, including a gem in the title-clinching win. According to Keller, the emergence of his changeup played a key role in conquering Double-A hitting.
"It was a really big point for me, trying on new grips and just being able to use it in the Florida State League and then when I got up to Double-A, it was a really big pitch for me up there," he told MiLB.com while pitching in the Arizona Fall League last month. "The guys up there kind of knew what I was about and were just sitting on fastballs, so I needed something to get them off it, and it really helped."

Left-handed starter -- Steven Brault, Indianapolis (21 games, 20 starts), Pittsburgh (11 games, four starts): Brault has piled up the accolades this offseason after putting together a stellar season in the Minors. The 25-year-old finished 10-5 with an International League-best 1.94 ERA, 44 walks and 109 strikeouts in 120 1/3 innings with Indianapolis. For his efforts, Brault was named the Pirates' Minor League Pitcher of the Year, an International League All-Star and the circuit's Most Valuable Pitcher.
"We had an awesome team, and I couldn't have done it without them," the California native told MLB.com in accepting his award from the Pirates in September. "It was just a great place to play, great place to pitch, and I loved it."
Reliever -- Tate Scioneaux, Altoona (47 games): Whenever the Curve needed him, Scioneaux seemed ready to answer the call. The right-hander tallied 83 innings out of the bullpen, more than any Altoona reliever had pitched in 12 seasons. Scioneaux posted a 2.44 ERA while walking 15 and fanning 67, converting 14 of 17 save opportunities. When the Curve unveiled their team awards, he earned Fireman of the Year honors.