Rocket City Trash Pandas Name Josh Caray Play-by-Play Announcer
Partnership with Cumulus Media Announced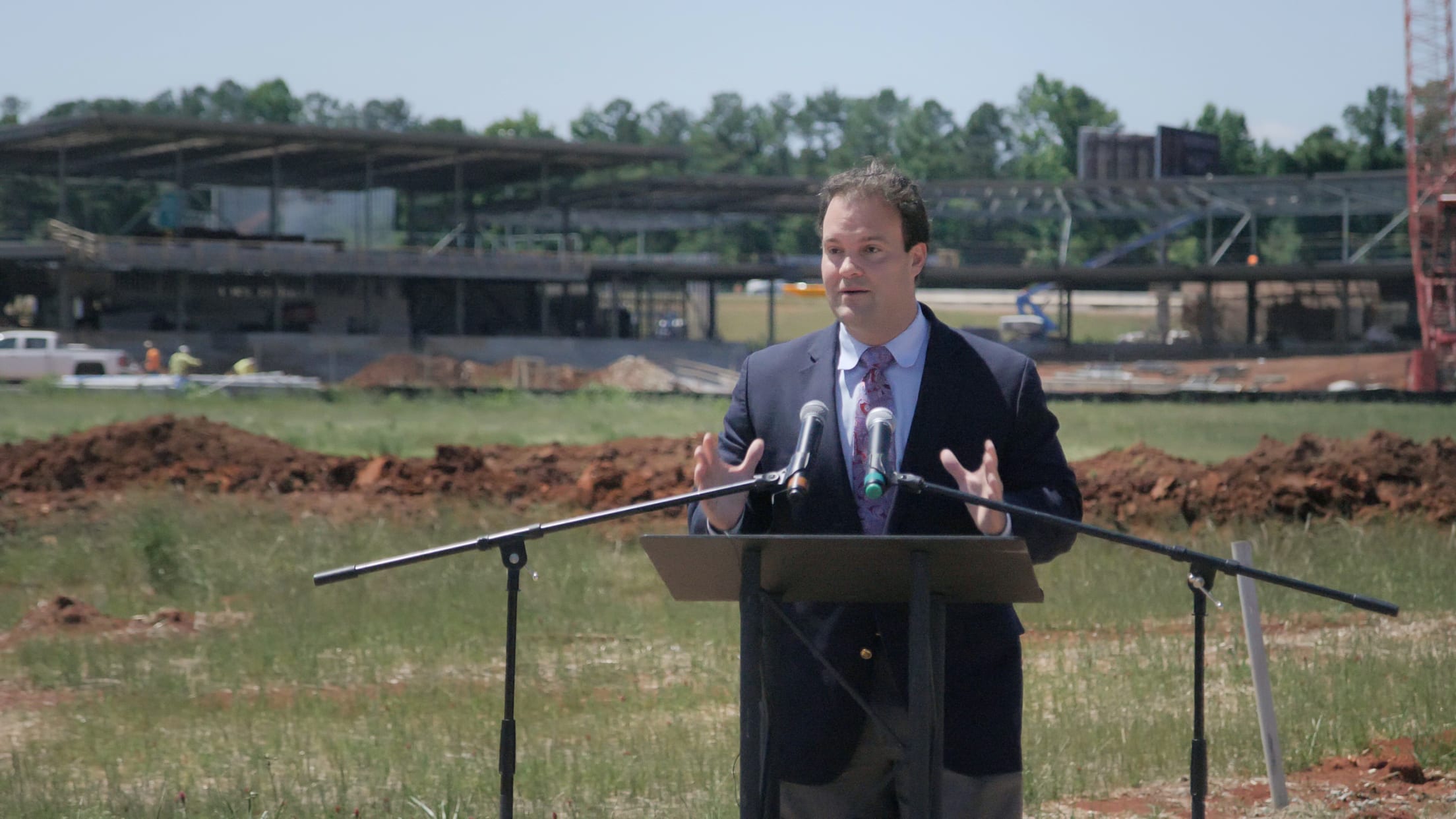 The Rocket City Trash Pandas and Cumulus Media have announced an expansive three-year partnership, which will bring live radio broadcasts of the team's 140 home and away games to fans throughout the Tennessee Valley on SportsRadio 730 (AM) and 103.9 (FM) The UMP, as well as promotional partnerships between the
The Rocket City Trash Pandas and Cumulus Media have announced an expansive three-year partnership, which will bring live radio broadcasts of the team's 140 home and away games to fans throughout the Tennessee Valley on SportsRadio 730 (AM) and 103.9 (FM) The UMP, as well as promotional partnerships between the Trash Pandas and all 10 Cumulus stations in North and Central Alabama. Calling Trash Pandas' action will be Josh Caray, a third-generation play-by-play announcer, with a rich Hall of Fame family legacy in baseball broadcasting.
"This is a special day for our organization," said Ralph Nelson, Trash Pandas CEO & Managing Partner. To have Josh Caray as our voice is yet another huge win for the amazing Trash Pandas fan base - they're going to be blown away by his big-league style. Regarding our larger partnership… there are so many great stations in this region, and we intend to continue working with all of them. We chose Cumulus because of its extensive reach across a variety of market segments. Cumulus offered us an unprecedented opportunity to share the Trash Pandas experience with the most fans possible."
Josh Caray is the son of the late Skip Caray, the long-time lead radio voice of the Atlanta Braves. Josh is also the grandson of Harry Caray, the legendary Hall of Fame broadcaster, who was a staple in Major League radio and TV booths for 50 years. Josh Caray most recently served as the football and men's basketball radio play-by-play broadcaster at Stony Brook University on Long Island. He also called baseball games for Yale University and the Hudson Valley Renegades of the New York-Penn League. Josh will broadcast Renegades games in 2019 before officially joining the Trash Pandas' staff in the fall.
"Baseball play-by-play is obviously in my blood," said Caray, of his new position with the Trash Pandas. "But calling games for a new franchise of this caliber is every announcer's dream. Everywhere I go in Minor League Baseball, people are talking about the Trash Pandas and the excitement that our new team is generating throughout the country. To all the fans in Madison, Huntsville and beyond - you can be sure you'll get my very best, every inning of every game."
"Josh is just so very talented," added Nelson. "It's not an overstatement to say his addition is as big as any announcement that we'll make. As we promised our fans, we continue to build a Major League-style operation, and we are honored and proud to have Josh on our team."
Cumulus Media operates 10 radio stations in North and Central Alabama, including The UMP, Huntsville's News Talk 770AM/92.5FM WVNN, 104.3 WZYP, 94.1 WHRP and 93.3 Nash Icon. This new deal lets fans across the region tune in to every Trash Pandas game on SportsRadio The UMP, and to hear news and information about Trash Pandas activities and events on other favorite Cumulus stations.
Mojo, of WZYP's The Mojo Radio Show, has also been named day-of-game Master of Ceremonies at the new ballpark in Madison. In that role, he'll engage fans one-on-one throughout games, emcee between-inning promotions, contests, and more. Mojo's morning show producer, Ricky Fernandez, will oversee in-stadium music, video and sound effects, and Antonio MacBeath of News Talk WVNN's The Dale Jackson Show will be the Madison Stadium Public Address Announcer.
"We are thrilled with this partnership," said John Lewis, Vice President & Market Manager at Cumulus Media. "The Trash Pandas are already a world-class baseball franchise, and we have the resources to help them fully engage their extensive fan base. We're also excited about the cross-promotional opportunities, so Trash Pandas fans can discover what so many already know - that Cumulus offers top-notch programming with great personalities, across a variety of platforms."
About Rocket City Trash Pandas
The Rocket City Trash Pandas is a MiLB team in the Southern League, located in Madison, Alabama. Owned by BallCorps, LLC, the Trash Pandas will begin play in Spring of 2020. The team's stadium is currently under construction and located in the heart of Town Madison - North Alabama's premier commercial-residential development. The Trash Pandas have broken major branding and merchandising records for a new MiLB franchise, setting a new standard for excellence in Minor League professional sports. The Trash Pandas have also attracted unprecedented interest and fan engagement across the United States, as well as globally. To learn more about the Trash Pandas, visit trashpandasbaseball.com.
About Cumulus Media
CUMULUS MEDIA (NASDAQ: CMLS) combines high-quality local programming with iconic, nationally syndicated media, sports and entertainment brands to deliver premium content choices to the more than 250 million people reached each month through its 434 owned-and-operated stations broadcasting in 87 U.S. media markets. The Cumulus Radio Station Group and Westwood One are the exclusive radio broadcast partners to some of the largest brands in sports, entertainment, news, and talk, including the NFL, the NCAA, the Masters, the Olympics, the GRAMMYs, the Academy of Country Music Awards, the American Music Awards, the Billboard Music Awards, and more.