'Rocket' Ron recalls 27-K Appy League game
If you hit him in May '52, maybe your name belongs in books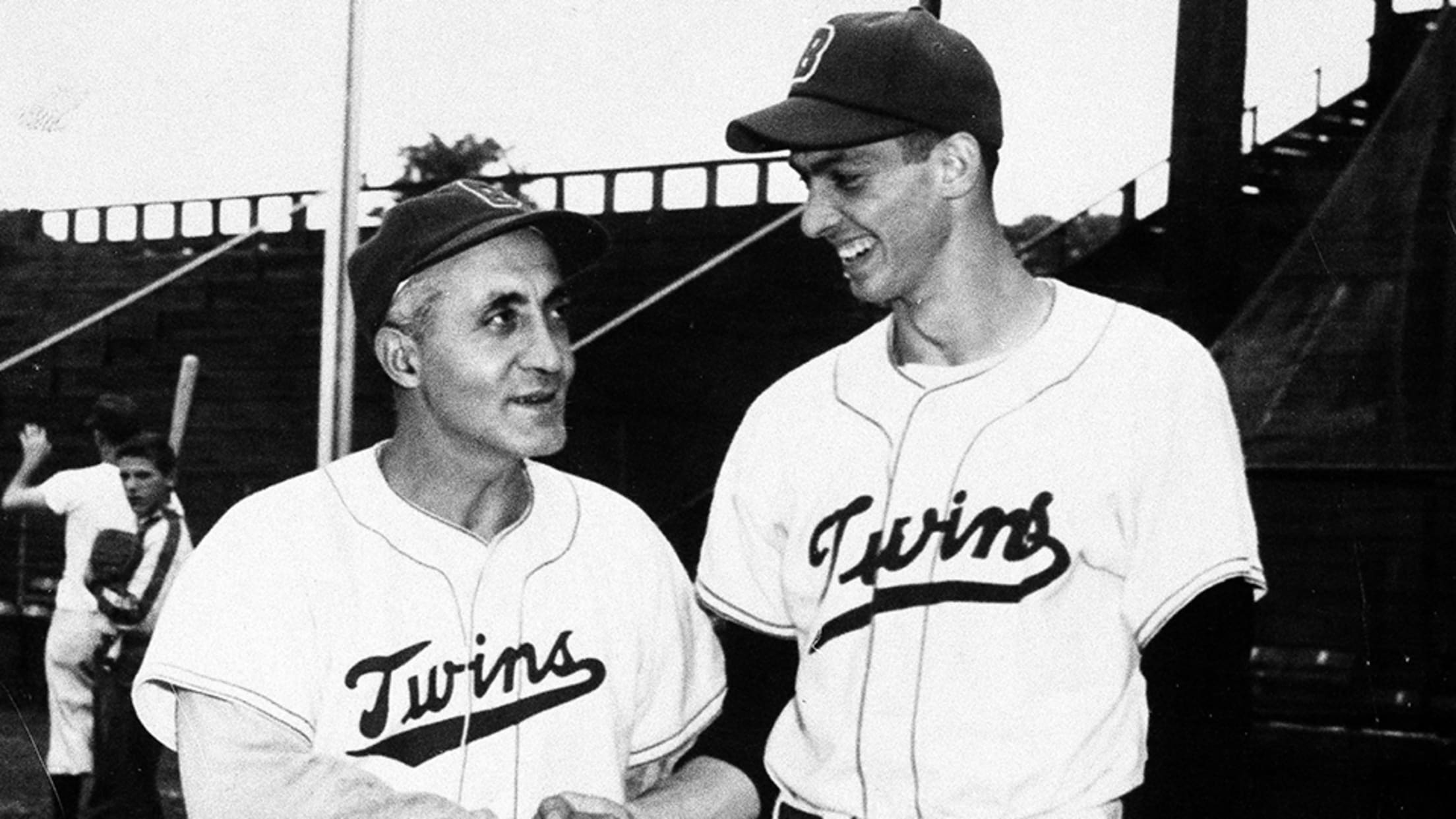 Ron Necciai receives congratulations from his manager, George Detore, after striking out 27 in an Appy League no-hitter. (AP)
Good thing there wasn't a "K" Corner at Shaw Stadium in Bristol, Virginia, in 1952. It would have led to a paper shortage in the tiny town every time Ron Necciai took the mound.The slim right-hander, all of 19 at the time, was the original "Rocket," the original "Express" or
Good thing there wasn't a "K" Corner at Shaw Stadium in Bristol, Virginia, in 1952. It would have led to a paper shortage in the tiny town every time Ron Necciai took the mound.
The slim right-hander, all of 19 at the time, was the original "Rocket," the original "Express" or the original "Franchise." Take your pick. Any of the monikers that would later be attached to modern-day flamethrowers could have applied to Necciai (pronounced NET-shy), who made the strikeout an art form in the Blue Ridge Mountains that spring.
Necciai appeared in six games for Bristol, making four starts. The Appalachian League had never seen his kind before. No one really had, nor have we been privy to such an explosive effort since. Necciai was 4-0 in those six games, striking out 109 batters in 43 innings while allowing only 10 hits and producing an ERA of 0.42.
The highlight came on May 13 against Welsh when he struck out 27 batters in one nine-inning game. Though one batter was retired on a grounder, catcher Harry Dunlop dropped a called third strike in the ninth inning, forcing Necciai to record four strikeouts. Necciai struck out 24 batters eight days later against Kingsport, including five in one inning, before earning a promotion to Burlington of the Carolina League.
"At the time, I didn't know what I had done," Necciai said of his history-making effort. "I didn't realize it and didn't know until after the game was over, in the clubhouse, when the manager said, 'You struck out 27 batters.' I just looked at him and said, 'So what? They've been playing this game for 100 years, and I'm sure someone else has done it before me.' But no one did.
"I didn't realize it was a no-hitter, either. It wasn't like 27 guys walked up there and struck out. They had a few walks, I hit a guy and we had a few errors. Otherwise, the game doesn't stand out in any way."
Necciai was clearly too dominant to be pitching in the Appy League and was only there on a medical rehab assignment. He broke camp with Pittsburgh that spring, but when the club was heading east from San Bernardino, California, Necciai began spitting up blood. He had severe bleeding ulcers and was forced to sit until they calmed.
When Necciai was ready to pitch again, Pirates general manager Branch Rickey opted to send him to Class D Bristol. The youngster agreed when he learned that Bristol's skipper was George Detore, who had managed him the year before and who he respected.
In fact, it was Detore who turned Necciai into a pitcher in 1951. Necciai was a first baseman who wasn't hitting very well and was on the verge of being released before Detore told him during Spring Training that he was headed to the mound. Necciai didn't protest and proceeded to put together a very short but very brilliant career as a pitcher.
"Ron had an outstanding fastball," said Dunlop, the former Florida Marlins bench coach who caught each of Necciai's games in Bristol. "He had a straight overhand delivery. We didn't have any radar guns, but he was in the upper 90s. Of all the pitchers I've seen in 50 years in the game, he threw harder than any of them.
"Some fastballs are heavy, and you feel like the pitcher is throwing an eight-pound shot. Ron's fastball was light and it had rise on it. His curveball was almost equivalent to a split-finger nowadays. It had an old-style drop, with variations to one side or the other depending on the amount of finger pressure."
Yet the Pirates farmhand, whom Rickey supposedly once included with Dizzy Dean and Christy Mathewson as the three best pitching prospects he had ever seen, faded into the shadows not long after his effort with Bristol. He was nearly as dominant at Burlington, striking out 172 in 126 innings and would have led the league with a 1.57 ERA but was two innings shy of qualifying.
Necciai made his Major League debut that summer, as well, going 1-6 with a 7.08 ERA for an awful Pittsburgh club. He struck out 31 in 54 2/3 innings but never made it back to the big leagues, or just about any other league, after '52.
Like most young men of the era, Necciai went into the service the following January. He didn't stay there long, though, as the ulcers continued and resulted in a medical discharge. Necciai went back to the Pirates, but he'd lost a great deal of weight because of the ailment. He tried to do too much too soon, pushing too hard on the mound in an effort to return quickly. He tore his rotator cuff one day while working out at Forbes Field.
"The club sent me everywhere they could to find out what the problem was," Necciai said. "They didn't have a Dr. James Andrews in those days. I went to Johns Hopkins and saw a Dr. Bennett, and he figured out what the problem was. But he was pretty plain in telling me there wasn't anything he could do, that they couldn't fix the problem.
"It was difficult to accept, then. I never had a sore arm, so I figured it would get better. But when you get one that lasts a lifetime, it's an occupational hazard, I guess. There's no sense getting upset. The doctor told me to go home, buy a gas station and get on with my life."
Necciai didn't get on with his life immediately. He rested for much of '53, appearing in two games for Burlington. He went to Spring Training with the Pirates in 1954 but was again unable to pitch. Necciai's last attempt to pitch came in 1955, when he went to Spring Training with Hollywood of the Pacific Coast League. Though he appeared in several games, he knew the end was at hand.
"They shoot you up with cortisone pretty good and you're able to throw for a half hour, but then you can't wipe your tail for a few weeks," said Necciai, who finally got the rotator cuff repaired four years ago. "I figured I had to do something. I wasn't going to hang around and keep trying that for the rest of my life. I had a great time, though. Baseball was fabulous to me."
Rickey tried to get Necciai to stay involved with the game on the Minor League level, but he declined. He went on to have a long career in the hunting and fishing supply business. It's not as glamorous as baseball, but the record-setting hurler still gets the occasional phone call from a reporter wanting to talk about that day in May more than half a century ago.
"One of the funny things about that game was that, after it happened, I got a call from a guy who had struck out 25 in a game a few years before that, and that was the old record," Necciai said. "Clarence 'Hooks' Iott struck out 25 in Kansas or Oklahoma and he was actually in Spring Training one year with the Pirates."
It's Rocket Ron, though, who folks remember as the man who set the Appalachian League ablaze for that marvelous month in the spring of '52.
Kevin Czerwinski is a reporter for MiLB.com.