Rogers rolls Tortugas to 11-7 triumph over Cardinals
Spring, Texas resident ties career-high with three hits, drives in three to snap slide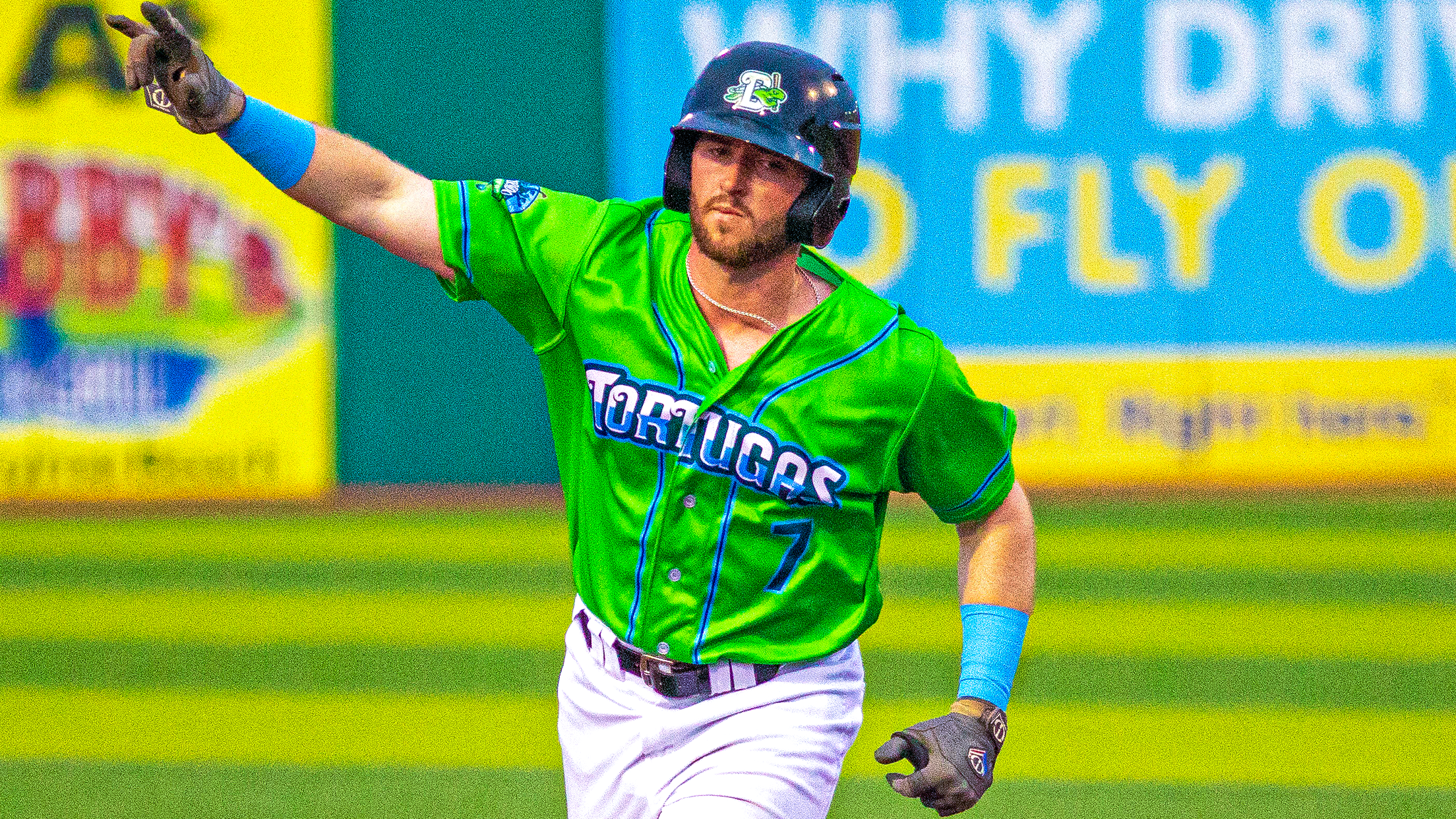 RF Jack Rogers tied a career-best with three hits and drove in three runs, as the Daytona Tortugas snapped the Palm Beach Cardinals' seven-game winning streak with an 11-7 victory on Saturday night at Roger Dean Chevrolet Stadium. (Aldrin Capulong)
JUPITER, Fla. — RF Jack Rogers tied a career-high with three hits and drove in another three runs, while the Daytona Tortugas racked up a season-best-matching 15 hits in an 11-7 victory over the Palm Beach Cardinals on Saturday night at Roger Dean Chevrolet Stadium. After falling behind in the
JUPITER, Fla. — RF Jack Rogers tied a career-high with three hits and drove in another three runs, while the Daytona Tortugas racked up a season-best-matching 15 hits in an 11-7 victory over the Palm Beach Cardinals on Saturday night at Roger Dean Chevrolet Stadium.
After falling behind in the first on a C Jimmy Crooks (3-4, 2 R, 3B, HR, 4 RBI) solo home run to right — the second of his career — Daytona (20-37, 49-73) for one of their biggest innings of the season.
C Logan Tanner (2-4, R, 2 RBI, BB, SO) inconspicuously started the inning with a walk before taking second on a passed ball. After moving to third on a looping single by SS Edwin Arroyo (1-5, R, SO), LF-CF Justin Boyd (2-4, 2 R, RBI, BB) uncorked a knock through the middle — scoring Tanner and sending Arroyo to third — tying the game at one.
On the very next pitch, 1B Yassel Pino (2-3, R, RBI, BB) carried a sacrifice fly out to center field, giving the Tortugas a 2-1 advantage. Following a ground out that advanced Boyd to second, the Oregon State University alum came in on DH Wilfred Astudillo's (1-3, R, RBI) single to center.
Now up a pair, 3-1, 3B Austin Callahan (1-5, R, RBI, 2 SO) kept the attack rolling with a base hit through the right side of the infield. LF Blake Dunn (2-3, 2 R, RBI, BB) pounded the second offering of his at-bat back into center for another RBI hit, stretching Daytona's cushion to 4-1.
Rogers produced his first run batted in of the game, chasing Palm Beach's starter LHP Alex Cornwell (1.2 IP, 7 H, 7 R, 7 ER, BB) with a run-scoring double to left-center. With men at second and third, in his second plate appearance of the frame, Tanner greeted the new arm by dunking a two-run single into shallow right.Daytona sent 11 batters to the plate and scored seven runs on seven hits to snare a 7-1 advantage. However, Palm Beach (34-24, 64-58) brought the game back to even before the fifth frame.
THAT'S HOW YOU RESPOND!

We have sent 9 men to the plate so far in the 2nd and have scored 5 runs on 6 hits, including this RBI double by @I_AM_JACK_7!

Tortugas 5. Cardinals 1. Top 2. pic.twitter.com/RktcfgIRX8

— Daytona Tortugas (@daytonatortugas) September 3, 2022
LOADING MORE RUNS THANKS TO @19LoTan!

His two-run single to right caps our 7-run, 7-hit top half of the second inning!

Tortugas 7. Cardinals 1. Mid 2. pic.twitter.com/hh4UE3EM6k

— Daytona Tortugas (@daytonatortugas) September 3, 2022
The Cardinals clawed three runs back in the bottom of the second courtesy of LF Nathan Church's (2-4, R, RBI, BB, SO) single to right, a fielder's choice grounder off the bat of Crooks, and a wild pitch.
With the Tortugas' edge dwindling to 7-4, the Redbirds tied it in the fourth. Crooks cranked a three-base hit into the right-field corner with men at the corners and one out thanks to a pair of walks and a wild pitch. Both men came in to pull Palm Beach within one, 7-6. 1B Thomas Francisco (1-4, RBI, BB) tallied the game-tying single in the hole between third and short with two retired.
It remained knotted at seven apiece until Daytona delivered one last crooked number on the scoreboard in right-center field.
Three free passes to Boyd, Pino, and PH-DH Yerlin Confidan (0-1, R, BB) loaded the bags with one out for Callahan. Behind in the count 0-2, the Fremont, Neb. native powered a sacrifice fly to deep right, wafting the Tortugas ahead, 8-7.
Dunn was intentionally walked after jumping ahead with a 3-0 count to re-load the bases. With Rogers at the plate, a passed ball enabled each runner to take an extra base and pad Daytona's edge to a deuce, 9-7.The 23-year-old delivered the contest's final blow with men at second and third. Rogers smashed a two-run knock past the diving mitt of the second baseman and into center field, sending the Tortugas to an 11-7 advantage.
Roll with Rogers when you need a big hit!@I_AM_JACK_7's 2-run knock to center caps our 4-tally inning, as we jump back in front!

Tortugas 11. Cardinals 7. Mid 8. pic.twitter.com/SnOKiKXrE8

— Daytona Tortugas (@daytonatortugas) September 4, 2022
Palm Beach picked up a one-out walk in the bottom of the ninth, but could not advance him any further. RHP Luis Mey (1.0 IP, BB, SO) induced a ground ball to short, creating the game-ending 6-3 double play.
Neither starter factored into the decision on Saturday night. Tortugas' RHP Andrew Moore (1.1 IP, 2 H, 4 R, 4 ER, 3 BB, 2 SO) and the Cardinals' Cornwell (1.2 IP, 7 H, 7 R, 7 ER, BB) were each unable to escape the game's second inning.
RHP Trey Braithwaite (2.0 IP, 2 H, BB) tossed two spotless innings of relief for Daytona, earning his second career victory and his first in the Florida State League.
After picking up the win over the 'Tugas on Wednesday, RHP Roy García (2.1 IP, H, 2 R, 2 ER, 2 BB, 2 SO) was saddled with his sixth defeat in his second appearance of the series.
What a wild night it was under the lights at Roger Dean!

It was a see-saw affair that saw more runs than points scored in the Iowa/SD St. 🏈 game, but @I_AM_JACK_7 & the @daytonatortugas snapped the @GoPBCardinals' 7-game win streak.

GAME REWIND 📻👇https://t.co/gsTdyfSLer

— Justin Rocke (@JustinRocke) September 4, 2022
The Tortugas will look to make it back-to-back victories in the series finale on Sunday afternoon. RHP Hunter Parks (3-6, 4.72) is scheduled to take the hill for Daytona. RHP José Davila (1-0, 1.86) projects to make his second start of the series for Palm Beach. Coverage on the Tortugas Radio Network will begin on the MiLB First Pitch app and www.daytonatortugas.com at 11:45 a.m. leading up to the 12 p.m. first pitch from Roger Dean Chevrolet Stadium.
The Tortugas will return to Jackie Robinson Ballpark on Tuesday, September 6, to open up their final homestand of the 2022 regular season against the Tampa Tarpons, the Florida State League affiliate of the New York Yankees. The series opens with another Shell Yeah Cookout. The $15 add-on includes the full "Bases Loaded" menu during a 90-minute buffet with hot dogs, hamburgers, pulled pork, baked beans, cookies, Pepsi products, and more. It is also a Breast Cancer Awareness Night presented by Radiology Associates Imaging. The Tortugas will don unique pink-clad uniforms that will be auctioned off at the end of the season with all proceeds to raise money and awareness in the fight against breast cancer. Silver Sluggers Night presented by Conviva is a part of the festivities. The exclusive 60-and-older club features deals at the team store, concession stands for members, and more. The series opener also marks a Taco Tuesday with options at the concession stands starting at just $3.
Multi-game plans, group packages, and single-game tickets are currently available and can be purchased online at www.daytonatortugas.com or by calling the Tortugas' Ticket Office at (386) 257-3172.
ABOUT THE DAYTONA TORTUGAS
The Daytona Tortugas are the Single-A Affiliate of the Cincinnati Reds and a member of Minor League Baseball's Florida State League. The Tortugas play at Jackie Robinson Ballpark in downtown Daytona Beach, Fla. Jackie Robinson Ballpark also plays host to Bethune-Cookman University, the Jackie Robinson Ballpark Museum, and many community events and initiatives of all sizes throughout the year.