Rome completes rare two-pitch inning
Braves reliever Deal earns win after completing quick frame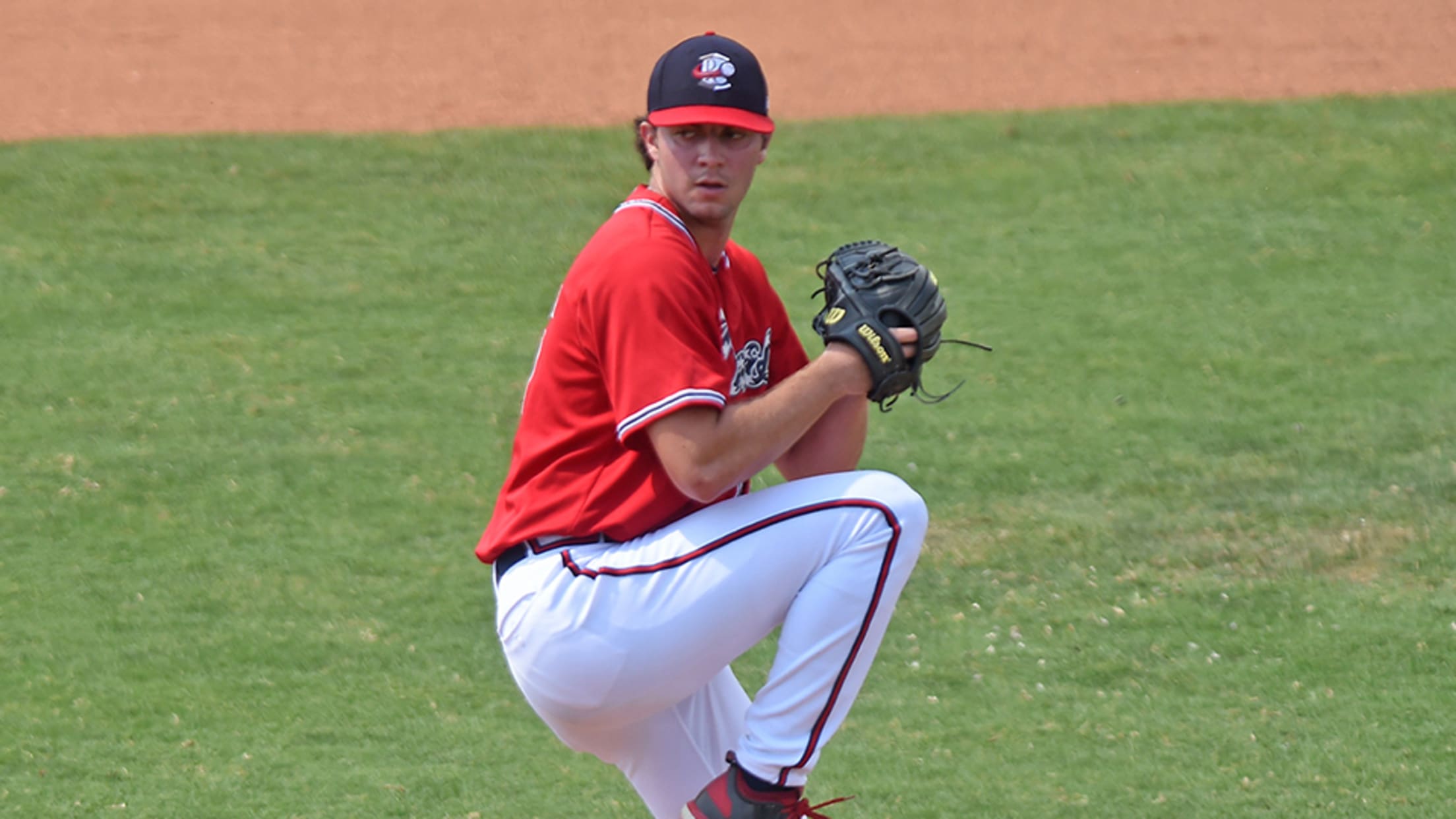 Hayden Deal leads Rome this season with seven wins in 23 games, including five starts. (Brian McLeod/MiLB.com)
A double play has almost always been considered a pitcher's best friend, but Hayden Deal might have a new favorite pal. Working in the top of the 10th on Friday, the Class A Rome reliever hurled what is believed to be the Minor Leagues' first-ever two-pitch inning before the Braves walked
A double play has almost always been considered a pitcher's best friend, but Hayden Deal might have a new favorite pal.
Working in the top of the 10th on Friday, the Class A Rome reliever hurled what is believed to be the Minor Leagues' first-ever two-pitch inning before the Braves walked off with a 4-3 win over West Virginia at State Mutual Stadium.
"Well, No. 1, we made history tonight. I don't think that's ever been done all year with the runner at second base to start the [extra] inning," Braves manager Rocket Wheeler said. "We had a two-pitch inning, so Hayden Deal set a record this year. I don't know if that'll ever be broken."
As for Deal, the inning unfolded so fast that he didn't get a chance to catch his breath and come to the realization of what had occurred until he got back to the bench.
Gameday box score
"I didn't even know what really happened until I got into the dugout," he said. "[My teammates] were like, 'You threw two pitches.' And I just said, 'What? That didn't feel like two pitches.' ... It was a pretty cool feeling, winning the game."
With the game tied heading into extra innings, fifth-ranked Pirates prospectOneil Cruz -- the last batter retired in the ninth -- started at second base in the 10th under the new rules adopted throughout the Minors this season. Deal (7-1), in his third full inning in relief of No. 26 Braves prospectJasseel De La Cruz, faced Bucs No. 10 prospect Calvin Mitchell.
With a chance for the Power to take the lead, Deal expected them to attempt a sacrifice bunt. But the lefty-swinging Mitchell got the green light and pulled an outside pitch to the right side, right to a perfectly positioned second baseman Derian Cruz, who ran to his right and stepped on the bag to nab Cruz -- who was running on contact -- for an unassisted double play. On Deal's next pitch, Deon Stafford lined to third baseman Marcos Almonte to end the inning in the blink of an eye.
"Oh, I never would have expected that to happen," Deal said. "I for sure thought [the Power] were going to bunt first, and when they didn't bunt, I threw a pretty good pitch [to Mitchell], but it could have been better. He just hit it off the end of the bat and it ended up being a double play. I was like, if he would have bunted that ball, they would have had a runner at third. It worked out even better on the second pitch."
While the two-pitch inning might have been a new phenomenon for Deal, he was one of the pitchers to work under the revamped extra-inning rules in the Rookie-level Gulf Coast League last summer. And the left-hander earned the win after tossing two innings on Aug. 5, 2017.
"It's pretty tough. I had it happen to me one time last year in the GCL," Deal said of the extra-innings rule. "But that was my first time this year having that happen. Just pitching with a runner with second and no out is difficult because you have to get the first out and also be able to hold the runners. In my case, it worked out the best way possible. It was pretty cool having that two-pitch inning."
Getting back to the dugout in a flash, the Braves quickly took advantage of their opportunity when Jefrey Ramos scampered home with the winning run on a wild pitch. It was the first time in 43 tries this season that Rome came back when trailing after eight innings.
"I think the first thing I told [Deal] was, 'You just made history, kid, with a two-pitch inning. That's never been done before,'" Wheeler said with a laugh. "But the best part is we came in and won the game, so that's the best part of it all."
Andrew Battifarano is a contributor to MiLB.com. Follow him on Twitter, @AndrewAtBatt.