Romo rips walk-off single in 10th as Grizzlies down Ports 4-3
Drew Romo extends hit streak and enjoys walk-off single; Eddy Diaz runs his way into Grizzlies' record book with 35th steal of season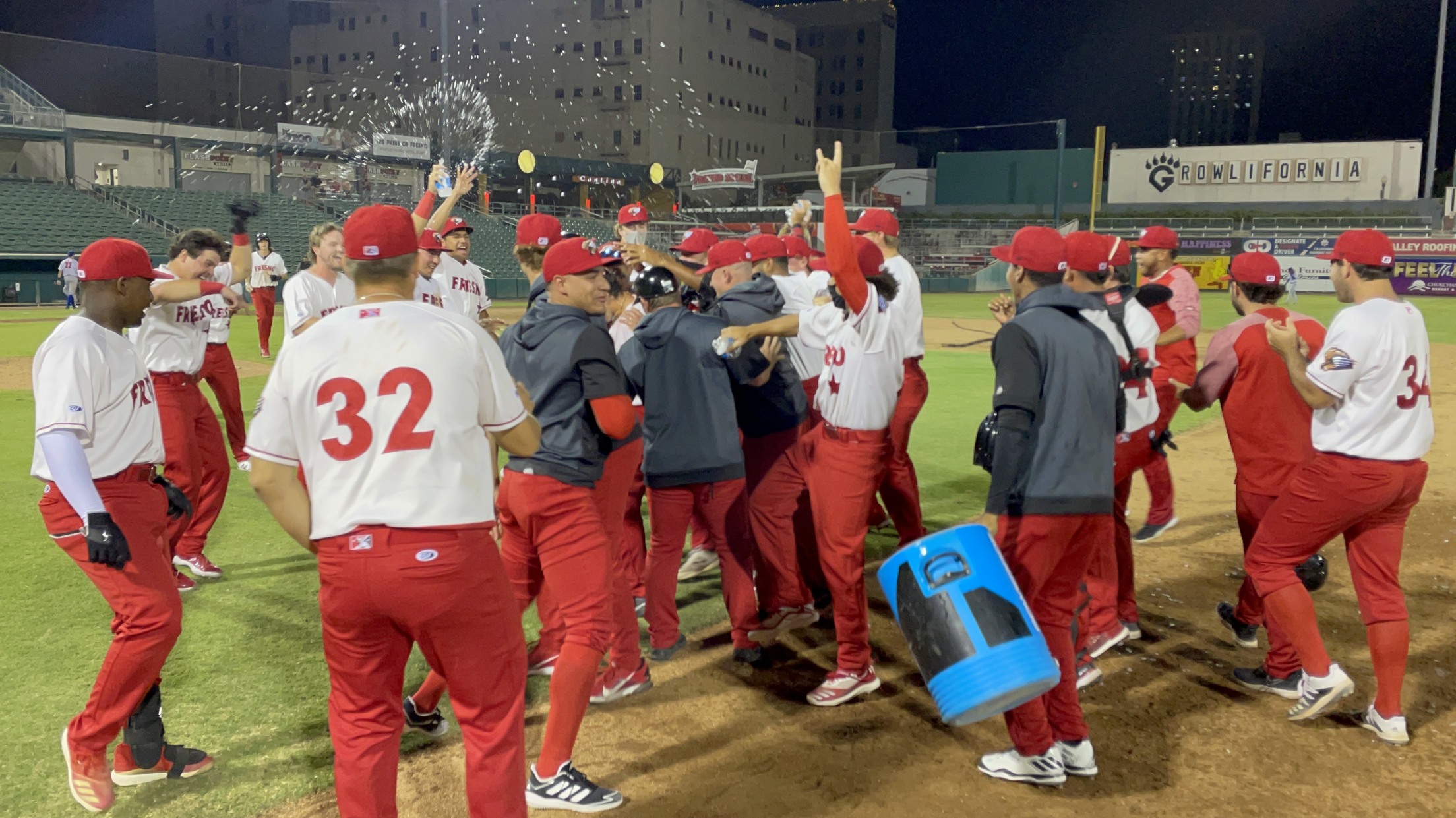 Fresno, CA (Wednesday, August 11) – The Fresno Grizzlies (58-28) walked-off on the Stockton Ports (36-50) 4-3 in 10 innings Wednesday night from Chukchansi Park. Fresno enjoyed their fifth walk-off of the season and 10th comeback in the seventh inning or later. The Grizzlies improved to 5-2 in extras, 20-8
Fresno, CA (Wednesday, August 11) – The Fresno Grizzlies (58-28) walked-off on the Stockton Ports (36-50) 4-3 in 10 innings Wednesday night from Chukchansi Park. Fresno enjoyed their fifth walk-off of the season and 10th comeback in the seventh inning or later. The Grizzlies improved to 5-2 in extras, 20-8 in one-run affairs and 12-3 on Wednesday's.
Stockton grabbed a 1-0 lead in the top of the second when Junior Perez smoked a double to left. Fresno would knot the game at one in the fourth when Warming Bernabel clobbered a solo shot to left field. It was his first homer with the Grizzlies. In the seventh, Alexander Campos sliced a two-run single to right, putting the Ports ahead 3-1. Then, the Grizzlies started to make their comeback. Eddy Diaz roped a double to right-center, plating Bryant Quijada. Mateo Gil tied the contest in the eighth with a single past the Stockton shortstop. With the game even at three, the squads would head to free baseball. In the top of the 10th, Robinson Hernandez got out of a bases-loaded jam to bring the offense up. In the bottom half, Fresno put ducks on the pond before Drew Romo lined a pitch to left-center, scoring Julio Carreras and securing a Grizzlies walk-off victory.
The late-inning heroics handed Hernandez (5-1) the decision and Joe DeMers (1-1) the defeat. Four Grizzlies' arms pitched prior to Hernandez. Starter Tony Locey hurled a career-high five innings, striking out seven. Anderson Pilar did not permit an earned run over two frames. Tanner Propst and Gavin Hollowell combined to fan three batters over a pair of shutout innings.
Overall, the Grizzlies lineup tallied 12 hits, giving them 29 total knocks in two games. Diaz recorded two singles and a double while swiping three bases, pushing him to 35 on the year. The 35 stolen bases places Diaz in the Top 10 for most steals in a single-season by a Grizzlies player. Zac Veen rocked two singles, bringing his hit streak to nine games. Bernabel also whacked a pair of hits, including the clout. Romo mashed three singles, expanding his hit streak to 18 contests. He is tied for the longest hit streak by a Fresno batter this season (Daniel Montano). Finally, Gil notched his second consecutive multi-hit affair. The Grizzlies will look to win their fifth straight contest tomorrow from Chukchansi Park.
Top Performers: Fresno Grizzlies (Colorado Rockies)
• C Drew Romo (3-5, RBI, R; walk-off single)
• 2B Eddy Diaz (3-5, 2B, RBI, 3 SB; Top 10 Grizzlies franchise history in single-season steals)
• 3B Warming Bernabel (2-4, HR, RBI, R, HBP)
• DH Mateo Gil (2-3, RBI, R, BB)
Top Performers: Stockton Ports (Oakland Athletics)
• 2B Alexander Campos (2-3, 2B, RBI, HBP)
• RF Junior Perez (2-4, 2B, RBI, R, SB)
• RHP Jesus Lage (2.0 IP, 1 H, 0 R, 0 ER, 1 BB, 2 K)
On Deck:
Thursday, August 12 vs. Stockton Ports, Stockton RHP Jake Walkinshaw (4-4, 5.01) vs. Fresno RHP Noah Gotsis (0-0, 0.00), 6:50 pm PT
ON THAT FRES-NOTE:
The Grizzlies have won eight consecutive games against the Ports, outscoring them 72-23 in that span.