Prospect Roundup: Games of May 18
Padres' Lauer, Yankees' Littell each throw seven strong innings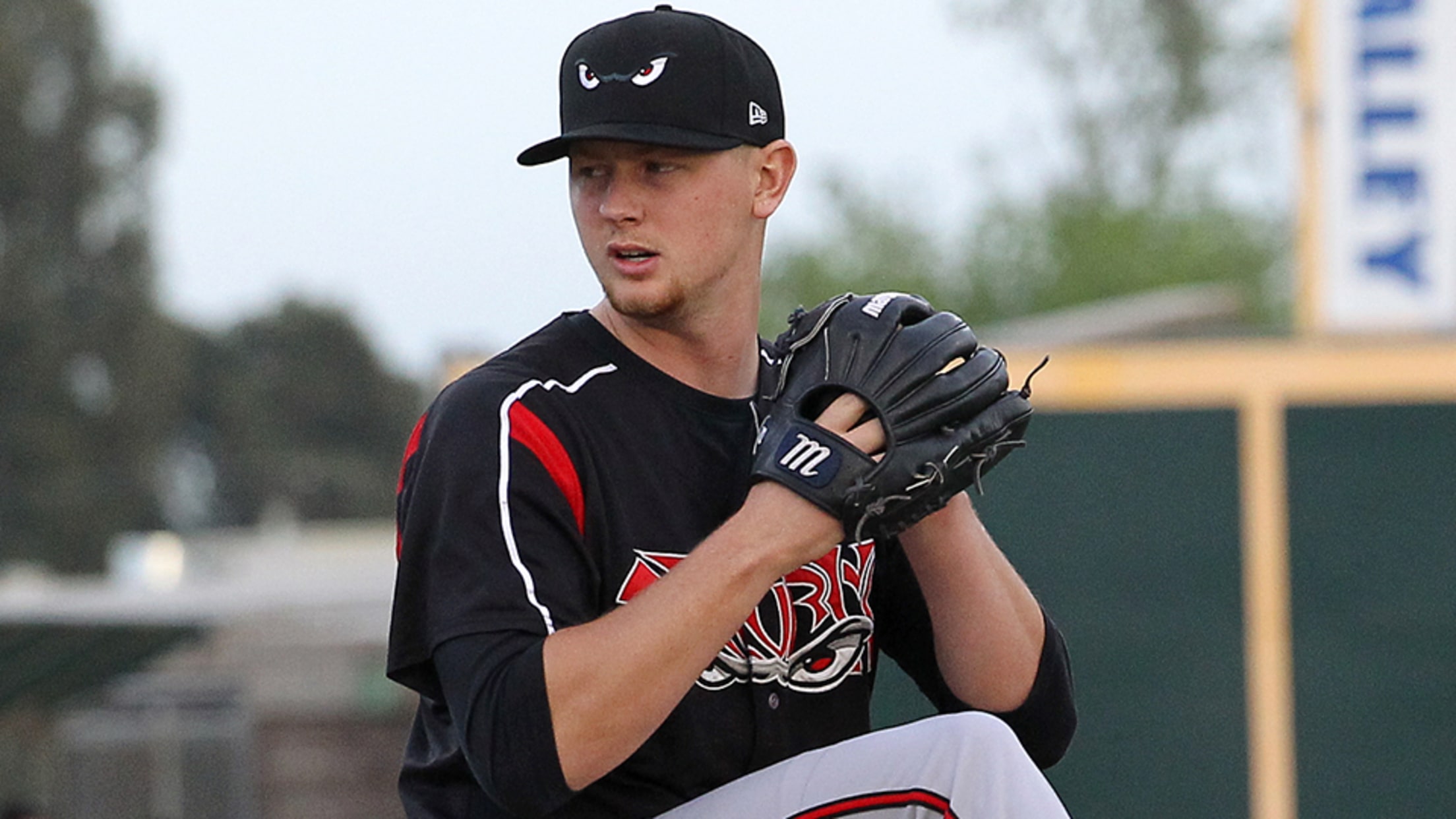 Lake Elsinore's Eric Lauer leads the California League with a 1.56 ERA over 40 1/3 innings. (Ben Sandstrom)
Royals RHP Josh Staumont, Triple-A Omaha: 6 IP, 2 H, 1 R, 1 ER, 7 BB, 8 K, 105 pitches, 65 strikes -- Talk about a funny-looking line. Allowing two hits in six innings is impressive, but it's amazing the Royals' No. 2 prospect lasted that long, given 15 of
Royals RHP Josh Staumont, Triple-A Omaha: 6 IP, 2 H, 1 R, 1 ER, 7 BB, 8 K, 105 pitches, 65 strikes -- Talk about a funny-looking line. Allowing two hits in six innings is impressive, but it's amazing the Royals' No. 2 prospect lasted that long, given 15 of the 26 batters he faced didn't put the ball in play. High strikeout and walk totals have been the story of Staumont's Minor League career, and this season has been no different with 60 K's and 30 free passes over 43 1/3 innings. In fact, his seven walks Thursday wasn't even a career high. (He issued nine with Class A Advanced Wilmington on July 11, 2016.) Staumont's 3.32 ERA and .181 average-against are still solid in his first go at Triple-A, but those hoping he'd find his control will have to keep waiting.
Padres LHP Eric Lauer, Class A Advanced Lake Elsinore: 7 IP, 4 H, 1 R, 0 ER, 0 BB, 9 K, 92 pitches, 67 strikes -- The Padres' No. 8 prospect continued to carve up the California League with another gem Thursday night. Lauer has not allowed an earned run over three starts this month while striking out 23 and walking only four over 19 innings. His 1.56 ERA in 40 1/3 innings on the season leads the Class A Advanced circuit, while his 2.71 FIP ranks second. The 25th overall pick in last year's Draft was advanced coming out of Kent State, where he posted a 0.69 ERA in 15 starts as a junior, and he's shown little trouble carrying those results to the pros. None of his four pitches received a grade higher than 55 on the 20-80 scale from MLB.com this offseason, but the 21-year-old southpaw is using impressive control and pitchability to dominate at the outset of his first full season.
Yankees RHP Zack Littell, Class A Advanced Tampa: 7 IP, 6 H, 0 R, 0 BB, 6 K, 1 HBP, 91 pitches, 65 strikes -- The Yankees' No. 21 prospect turned in his second seven-inning start of the season, but unlike his outing April 15, this one was scoreless. The 21-year-old also struck out a season-high six in a 1-0 win over Florida, outdueling No. 11 Braves prospect Touki Toussaint. New York acquired Littell from the Mariners in a straight-up deal for reliever James Pazos, and like Lauer, he's handled himself well without a true plus pitch. Littell owns a 2.29 ERA with 25 strikeouts and eight walks in 39 1/3 innings this season, and with 20 career appearances at Class A Advanced, he could be looking at a bump to Double-A shortly.
Orioles OF Austin Hays, Class A Advanced Frederick: 4-for-6, 2 2B, 3 RBI, R, K -- The Orioles' No. 7 prospect has been nothing if not consistent since Baltimore took him in the third round last June. The Jacksonville product notched his fourth straight multi-hit game Thursday, setting a career high for hits. He now owns a .324/.358/.507 line in 35 games this season, quite similar to his .336/.386/.514 line in 38 contests for Class A Short Season Aberdeen in 2016. The 21-year-old outfielder is bound to be tested eventually in the pros, but at this point, that might not happen until he sees more advanced arms at Double-A.
Angels OF Jahmai Jones, Class A Burlington: 3-for-5, 3B, 2 2B, 2 R -- This might be the breakout game everyone was waiting for from the Angels' top prospect. Jones pushed his average back up over the Mendoza line to .211 with his fourth three-hit game of the season. It was also his first game with multiple extra-base hits. The 19-year-old outfielder owns a .211/.264/.338 line with three homers, one triple and six doubles in 33 games, and it'll take a more sustained hot stretch before his numbers match his skill set. The good news is that he's talented enough defensively that he's rarely a net negative in any lineup.
Sam Dykstra is a reporter for MiLB.com. Follow and interact with him on Twitter, @SamDykstraMiLB.